Watch Miley Cyrus Troll Blake Shelton About Being The Sexiest Man Alive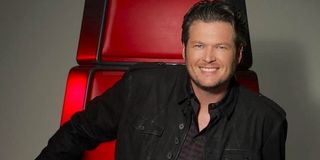 Recently, many social media users contributed commentary on whether or not country musician Blake Shelton was the right fit for People Magazine's 2017 Sexiest Man Alive. The reviews from most voices online seemed to skew negative. However, Blake Shelton's many colleagues in the music industry supported their music pal's triumphant moment. For example, Miley Cyrus had fun congratulating her The Voice colleague in a social media video using her particular sense of humor. Watch here:
In Miley Cyrus' video with Blake Shelton at The Voice, you can tell she and Shelton get along well at work. Did you catch how glam the "Malibu" singer looked? She called her new album Younger Now, but she looked mature and sophisticated in that outfit with her hair down and to the side. In the video, Cyrus offered laughs by saying Shelton pointing his pinky while sipping a beverage was an example of "being sexy." Then Cyrus brought the script back to her by amusingly adding,
Blake Shelton shook his head and grumbled before Miley Cyrus cutely apologized and sent love to her 37.8 million fans and followers on Twitter. Although we can consider this a moment of Cyrus trolling Shelton, it also showed off her fun-loving side and a cute aspect of their working friendship.
Since Blake Shelton became the 2017 SMA, many celebrities have given congratulations and support. Of course, there was Gwen Stefani, Shelton's pop icon girlfriend of about two years. Stefani expressed her pride for choosing an SMA as her BF. Other celebrities like Hoda Kotb also sent love without irony to Shelton. On the other hand, many of Blake Shelton's Hollywood pals chose the route Miley Cyrus took and sent congratulations through humor. For example, Carson Daly tweeted,
Similarly, past SMA Hugh Jackman expressed congratulations through a veiled joke and tweeted,
Also, on The Voice, Blake Shelton unveiled the news to Adam Levine of Maroon 5 by showing him an enormous poster of the magazine cover. Levine and Shelton have a friendly rivalry on the show, so Shelton wanted to push Levine's buttons. However, Levine, a previous SMA, seemed happy for Shelton and congratulated him. Then a few celebs were savage with their humor. Patrick Stewart got in on the fun with a tweet of himself looking fly on a 1990s TV Guide cover. Also, comedienne Fortune Feimster wrote,
Blake Shelton also had some laughs at the expense of the social media critics. He filmed a take on Jimmy Kimmel's Mean Tweets sketches and read several of the best mean tweets people directed at him. Come to think of it, I feel like other stars and social media users trolled Shelton more than Miley Cyrus did. In fact, Cyrus' Twitter video was tame in comparison. It goes to show it is good to have work friends who will have your back.
Your Daily Blend of Entertainment News