People Has Named A New Sexiest Man Alive, And The Internet Is Freaking Out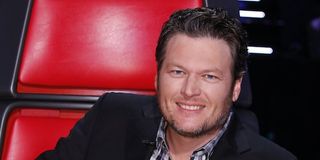 When you think of the sexiest man alive, do you think country-music singer Blake Shelton? People Magazine gave him the award this year, and the decision has split the Internet. Many fans of the 41-year-old music coach from The Voice are lapping up the love for their music icon. But haters on social media have criticized the choice. We can explore both sides of the coin together, but first here is Shelton's tweet of the cover:
Next, here is another upbeat tweet of a humorous video of Shelton revealing the news to Adam Levine, his The Voice colleague who held the title in 2013:
The Voice retweeted the video when People gave Blake Shelton the crown previously worn by hot tamales like Bradley Cooper in 2011, Hugh Jackman in 2008, and Denzel Washington in 2006. The Voice coach Gwen Stefani, whom Shelton dates, also tweeted a congratulatory message. She wrote:
Blake Shelton and Gwen Stefani began dating in 2015 after he had divorced country-music singer Miranda Lambert and she divorced Bush frontman Gavin Rossdale. Their romance has received positive support, so as we might expect, Stefani's tweet received an outpouring of love from many fans of she, Blake Shelton, The Voice, and evidently fans of their relationship itself. For example, Shelton received love from people like this person:
And this person, who also thought Blake Shelton deserved SMA this year:
But the decision to award Blake Shelton the Sexiest Man Alive did not impress everyone. In fact, based on a quick scan of Twitter, it appears the decision vexed most people. In the article, Shelton says he tries to keep fit by exercising, but then he talks about how he usually chooses Cheetos, Sonic Jalapeno poppers, fish sticks, and oversized pickles over exercise. This down-to-earth quality read as endearing to some of Shelton's fans, but it confused a lot of Twitter users. For example, this person wrote:
Similarly, this person wanted it to be known that:
Then this person felt like pizza was sexier than Blake Shelton. (Hmm. I wonder how people would react if that pizza had pineapple or strawberry on top.):
But for many other critics on social media, the basis of the disappointment was not Shelton's appearance but his past of saying and tweeting problematic statements about women, people of color, people of diverse heritages, and the LGBT community. Last year, Shelton apologized when news surfaced about offensive tweets he made several years ago and has since deleted; however, calling out Shelton and People were Twitter users like this person, who came with some receipts:
And this person, who felt like the decision was nonsense:
In fact, a lot of people offered up other options that People overlooked this year. A lot of them, like the one above, tweeted about actor Idris Elba. Similarly, actor Jason Momoa got a lot of mentions. For example, this person wrote:
The blowback was pretty ugly (no pun intended). But it seems not to have fazed Shelton, who has posted self-congratulatory tweets about his win with the hashtag "don't hate me because I'm beautiful." Comedian Billy Eichner also seemed to have Shelton's back. The AHS: Cult actor tweeted,
Regardless, Hollywood men will have another chance next year. After all, the Sexiest Man Alive article has been an annual feature since 1985 when People named Mel Gibson the first SMA. Last year, it went to Dwayne Johnson. Richard Gere, Brad Pitt, Johnny Depp, and George Clooney each took the honor twice in the '90s and '00s, and in 2014 the magazine selected Kate Upton as its first (and last) Sexiest Woman Alive. Hopefully, the people over at People are taking notes this time around.
Your Daily Blend of Entertainment News
Thank you for signing up to CinemaBlend. You will receive a verification email shortly.
There was a problem. Please refresh the page and try again.