A 6-Year-Old Made $11 Million Reviewing Toys On YouTube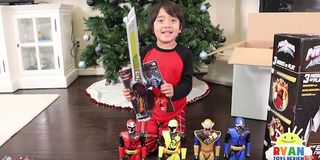 Meet Ryan. Ryan is the six-year-old host of Ryan ToysReview, a popular YouTube channel for kids. The channel is so popular, in fact, that in June it became the most viewed channel in the United States for the fortieth straight week. Essentially, the videos amount to young Ryan opening up box after box of surprises and toys. It sounds like every kid's dream job, right? Well, it is. And apparently, it also has every adult's dream salary, too, as little Ryan reportedly earned a whopping $11 million from his videos this year.
Ryan ToysReview began when Ryan was three-years-old. He used to watch videos of other kids in "unboxing videos," the style of videos Ryan now makes. According to Ryan's folks, the little guy was the one who first mentioned having an interest in becoming a Youtuber. So, the family started by uploading a video of him remarking about a Lego Duplo train set.
That particular video did not suddenly blast Ryan off into Youtube stardom, though. Instead, his parents continued working on his videos and letting him open more and more toys on camera. But the channel found success within months when a video of Ryan opening 100 toys in one sitting went viral. In other words, it was not an overnight success. But success did knock on Ryan's door pretty soon after he and his parents began the channel.
It has been three years since Ryan's channel became a hit, and now the channel is so popular that it even welcomes celebrity guests like NBA player Kevin Durant. The Washington Post likened Ryan to a young version of Mister Rogers, and from the sounds of it, that comparison would be a good one if Mister Rogers had been as enthusiastic about product placement as he was puppets. Evidently, Ryan's videos come jam-packed with advertisements and links to products, so the money keeps rolling in. No wonder Ryan's bank account is doing so well.
Besides, marketing experts who have weighed in on Ryan say his influence on the success of a product is phenomenal. By simply opening up a package and speaking with excitement about a product for a while, Ryan can drive sales of that toy in ways that used to be reserved for commercial phenoms who required a ton of agency support like Britney Spears. Ryan, on the other hand, can do it all from the comfort of his home thanks to his video editing savvy parents.
It will be interesting to see how kids like Ryan fare in the long run. Technically, having made $11 million this year alone, Ryan most likely could be set for life if his folks make wise investment decisions (which they surely are). And to think, we thought Kylie Jenner landing on the Forbes list of the highest-earning celebrities when she was but 19-years-old was a major feat. But Ryan is over there crushing it at the ripe old age of six. If Ryan plays his cards right, he could be at the Olsens level of success in no time.
Your Daily Blend of Entertainment News