It Turns Out Kendall And Kylie Jenner Kept Caitlyn's Secrets From Kris Jenner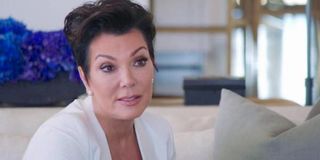 The Keeping Up With the Kardashians celebrities recently leaned into the discomfort of hard topics. In a KUWTK segment, Kris Jenner said her daughters, Kendall Jenner and Kylie Jenner, had kept Caitlyn Jenner's gender identity struggles a secret, and then Kendall Jenner acknowledged the truth in that statement. The talk got going when an interviewer asked Kris Jenner if she had "turned a blind eye" to her ex-husband's longing to transition from male to female. The momager responded:
As Kris Jenner described her thoughts, Kendall Jenner piped up and confessed there indeed were secrets she and Kylie Jenner kept from her. Kris Jenner said the bulk of her marriage to Caitlyn Jenner seemed perfect, and because everybody was keeping secrets from her, she felt like one of the last to know. She said:
The talk occurred on KUWTK's season 14 mid-season finale on E!, when the cast decided to broach tough topics and past dramas. Kim Kardashian urged her family to try a mock hard-hitting interview with a coach who posed questions about uncomfortable moments. For instance, the KUWTK personalities discussed questions about Kim Kardashian's sex tape, Kendall Jenner's Pepsi commercial, Khloe Kardashian's sour relationships with Rob Kardashian and Blac Chyna, and Kourtney Kardashian's past relationship with Scott Disick.
These days, the KUWTK personalities evidently have distanced themselves from Caitlyn Jenner. This year, Kris Jenner became furious about Caitlyn Jenner's description of their marriage in her memoir, The Secrets of My Life. By then, Kourtney Kardashian and Khloe Kardashian had already let go of their relationship with Caitlyn, ostensibly because of hurt feelings and misunderstandings. But when Kris Jenner expressed her disappointment and sadness about the memoir, Kim Kardashian also threw in the towel.
In fact, Kim Kardashian and Caitlyn Jenner have spoken about how long it has been since they have spent time together. This year, Caitlyn Jenner attended Kendall Jenner's birthday party and had brief interactions with Kris Jenner and the Kardashians. But according to Caitlyn Jenner, it had been months if not at least a year since she had seen those relatives. Her relationship with Kendall Jenner and Kylie Jenner is different because she is their biological father, which probably was why the supermodel and the entrepreneur kept their dad's secrets, too.
It must have been hard for Kendall Jenner and Kylie Jenner to hide such heavy information from their mom, but it is easy to see why they did. Today, the family seems to have the backbone to deal with any issue, but maybe that wasn't always the case. Regardless, it looks like honesty is helping the KUWTK cast to let go of past pain.
Your Daily Blend of Entertainment News