FUBAR: Where You've Seen The Cast Of The Arnold Schwarzenegger Series Before
The FUBAR cast has one hell of a cast!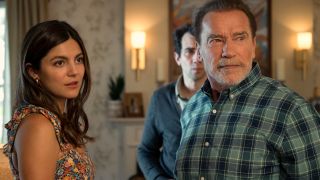 (Image credit: Amanda Matlovich/Netflix)
After decades of dominating at the box office and taking the action genre to new heights time and time again, Arnold Schwarzenegger has made his small-screen debut with the new action-comedy, FUBAR. The 2023 Netflix TV show, which follows his character as he teams up with his daughter to take on a common enemy, brings with it a lot of great actors and actresses, even when not counting the Governator.
If you just watched the new Netflix title, or plan on checking it out in the near future, there's a good chance that you're wondering where you've seen the FUBAR cast before. Well, buckle up, because we're about to break down all the stars and why they look so familiar.
Arnold Schwarzenegger (Luke Brunner)
Leading the FUBAR cast is Arnold Schwarzenegger, who takes on the role of veteran CIA operative Luke Brunner.
Though this is his first TV series, the actor is one of the most recognizable faces in all of Hollywood thanks to appearances in some of the best action movies of all time. With films like Kindergarten Cop, Last Action Hero, True Lies, and the Terminator franchise, it's easy to see why he has remained a leading Hollywood figure the past 40+ years.
Monica Barbaro (Emma Brunner)
Monica Barbaro shows up on FUBAR as Emma Brunner, Luke's daughter who initially has no idea that her father is also a CIA operative before getting put on a mission together.
If you were a fan of Top Gun: Maverick, then you'll certainly recognize Barbaro from her portrayal of Natasha "Phoenix" Trace, one of the breakout stars of the long-awaited Tom Cruise sequel. Fans of the One Chicago franchise might also remember Barbaro from her take on Assistant State's Attorney Anna Valdez on Chicago P.D. and Chicago Justice a few years ago. Barbaro's other small-screen appearances include shows like The Good Cop, Splitting Up Together, and Stumptown.
Fabiana Udenio (Tally Brunner)
Fabiana Udenio takes on the role of Tally Brunner, Luke's ex-wife, on FUBAR.
Fans of Austin Powers: International Man of Mystery will have a blast from the past with FUBAR, as Udenio famously played Alotta Fagina in the 1997 spy comedy. Over the years, Udenio has also appeared in movies like In the Army Now, The Wedding Planner, and Cloudy with a Chance of Christmas. She has also made multiple TV appearances throughout her career, including shows like Jane the Virgin, the 2008 reboot of 90210, and several others.
Jay Baruchel (Carter)
Next up is Jay Baruchel, who joins the cast as Carter, Emma's boyfriend, whose relationship is thrown into disarray due to the whole CIA situation.
Whether it's his spot in the Knocked Up cast, his lead role in the various How to Train Your Dragon movies, or the end-of-the-world comedy This is the End, there are plenty of reasons why he looks so familiar. Over the years, Baruchel has also popped up on TV shows like Are You Afraid of the Dark?, Undeclared, Man Seeking Woman, and even a couple of episodes of Letterkenny.
Gabriel Luna (Boro)
Though he played a more noble character on HBO's The Last of Us adaptation earlier in 2023, Gabriel Luna's character, Boro, is anything but on FUBAR.
Outside of his portrayal of Tommy on the sci-fi hit, Luna's other notable performances include turns in movies like Terminator: Dark Fate (where he co-starred alongside Schwarzenegger), Bernie, and Hala. If you were a fan of Agents of S.H.I.E.L.D., then chances are you'll recognize Luna from his portrayal of Robbie Reyes, a.k.a., Ghost Rider.
Aparna Brielle (Tina)
Tina, the analyst who joins Luke Brunner on his undercover mission throughout FUBAR, is portrayed by Aparna Brielle.
Despite having not been in the TV game for all that long (her first small-screen appearance was in a 2014 episode of Grimm), Brielle has been quite busy over the course of the past few years. This includes major roles on shows like A.P. Bio, starring It's Always Sunny in Philadelphia mainstay Glenn Howerton, and the 2022 Netflix comedy, Boo-Bitch. She also made a brief appearance in the 2019 Kevin Smith movie, Jay and Silent Bob Reboot.
Andy Buckley (Donnie)
Andy Buckley, who is probably best known for his portrayal of Dunder MIfflin CFO (and later CEO) David Wallace, shows up as Donnie, Tally's partner.
Outside of being a part of The Office cast, Buckley has appeared on TV comedies like Veep, Casual, It's Always Sunny in Philadelphia, Shameless, Arrested Development, and American Dad. His film appearances include movies like Jurassic World, A Million Little Pieces, Bombshell, Horrible Bosses 2, and The Other Guys, to name a few.
Fortune Feimster (Roo)
Fortune Feimster pops up as Roo, another core member of Luke and Emma's team of undercover agents, one who especially provides some of the show's biggest laughs.
Since making her small-screen debut on the 2010 competition series Last Comic Standing, Feimster has gone on to become one of the most recognizable faces in the world of standup comedy, and comedy in general. With multiple Netflix standup specials, appearances on talks shows like Chelsea Lately and competitions like RuPaul's Drag Race, Feimster's been a little bit of everywhere the past decade. She has also had recurring roles on shows like Bless the Hearts, Life in Pieces, and The Mindy Project over the years.
Those who watched Barb and Star Go to Vista Del Mar once, twice, or countless times, will probably recognize Feimster from the surprising 2021 comedy.
Milan Carter (Barry)
Milan Carter appears as Barry, the tech-wiz in Luke's group of undercover secret agents.
Prior to joining the cast, Carter made appearances in movies like Dolemite is My Name, and various TV shows such as The Neighborhood, Warped!, and Runaways.
Travis Van Winkle (Aldon)
And then there is Travis Van Winkle, who plays Aldon, a secret agent who has a major crush on Emma.
Throughout his career, Van Winkle has appeared on shows like The O.C., Two and a Half Men, The Last Ship, and Hart of Dixie, but fans of You, a.k.a., one of the best Netflix series, will immediately recognize him from his portrayal of Cary Conrad. Over the years, the actor has also popped up in movies like Transformers, Last Call, and the 2009 Friday the 13th remake.
You can watch all of FUBAR, along with scores of other great TV shows and movies, right now with your Netflix subscription. And if you want to see what's on the horizon for the streaming service (and various other channels), take a look at our 2023 TV schedule.
Your Daily Blend of Entertainment News
Philip grew up in Louisiana (not New Orleans) before moving to St. Louis after graduating from Louisiana State University-Shreveport. When he's not writing about movies or television, Philip can be found being chased by his three kids, telling his dogs to stop barking at the mailman, or yelling about professional wrestling to his wife. If the stars properly align, he will talk about For Love Of The Game being the best baseball movie of all time.