Kim Kardashian Just Showed Off Her Setup For How She Takes 'Candid' Photos With Her Siblings, And It's A Lot
They don't mess around when it comes to their photos.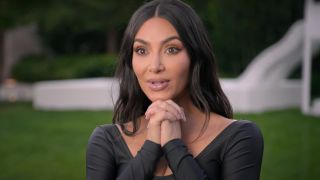 (Image credit: Hulu)
The Kardashian-Jenner clan is known for a number of things, including their longtime grip on the reality TV world and their active presence on social media. An extension of the latter is their tendency to share photos on their various channels. If you're a fan, chances are you've seen Kim Kardashian or one of her siblings share selfies or photos with each other. They really know how to strike a pose and get the perfect shot, and there's apparently a reason for that. Kim recently dropped photos of herself and sister Khloé, showing off her setup for taking "candid" photos in the process. Needless to say, it's a lot.
Kim Kardashian shared the images to her Instagram earlier this week, and they're honestly stunning. In them, she and Khloé pose on a stairwell and do the same against a gray backdrop. These kinds of shots aren't out of the ordinary when it comes to the family's candids, but it's not often that you see a professional photographer and lighting expert present as well. You can take a look at the post below to see just how the Kim gets the flawless snapshots:
It's not out of the ordinary to see any of the siblings without a crew of some sort but, typical, that only happens when they're in the midst of a major shoot. It's interesting to see the SKIMS founder and her sis utilize a team for what appear to be somewhat less superfluous photos. (And yes, these pics are pretty low-key compared to others that they've shared.) This all does make sense, though, considering just how well their photos typically come out. It just seems like it would be a tedious process to me.
At this point, it's fair to say that Kim Kardashian has mastered the art of taking photos. It may sound like I'm over exaggerating, but her selfies are pretty much the stuff of legend. Fans practically fawn over Kardashian's serene vacation snapshots. Of course, she's also taken a number of flawless and cheeky bikini pics in her time. The Internet simply can't get enough of her content, and it's unlikely that she'll slow down on delivering it any time soon.
Some of her posts do catch a little bit of flak on occasion, however. In one instance, fans caught her and younger sister Kylie Jenner in a social media faux pas. The older sibling shared a seemingly new pic of her and Jenner soaking up the sun while in bikinis. However, some noticed that the same photo was shared by Jenner weeks prior. It's not a huge deal, to be honest, but the snafu is a testament to the fact that people pay very close attention to the images the family shares.
It's fair to say that very few of us can afford the kind of resources that the Kardashian-Jenners have for their photographic needs. Yet those who are able are probably taking a few notes right now. I still say that this is a lot for candid photos but, then again, I can't argue with the results.
You'll be able to see more of Kim Kardashian and her family when The Kardashians Season 3 premieres as part of the 2023 TV schedule. So be sure to pick up a Hulu subscription so that you'll be able to tune in when it arrives.
Your Daily Blend of Entertainment News
Covering superheroes, sci-fi, comedy, and almost anything else in film and TV. I eat more pizza than the Teenage Mutant Ninja Turtles.