Peacock's The Traitors Reunion: The Biggest And Best Moments From The Episode
Kate Chastain and Rachel Reilly in the same room again? That must-see TV.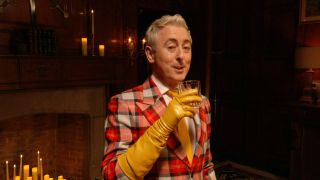 (Image credit: Peacock)
The Traitors had a very entertaining first season. This new Peacock show has everything reality TV show fans love: fun feuds, crazy characters, competitions, and a mystery surrounding it. The Traitors has already been renewed for a second season. This means that I can relax and not have to dread that it might join the growing list of cancelled TV shows. Instead, I could enjoy The Traitors reunion and all its reality TV glory.
Peacock made a smart decision and decided to give The Traitors a reunion special, like the popular Real Housewives reunion specials — but with less dramatic moments. Andy Cohen hosted the special, and it had plenty of entertaining moments. The Traitors reunion reminded me why this may be one of the best Peacock shows to watch right now.
Let's look back at some of the best moments from The Traitors reunion.
Warning The Traitors spoilers ahead. Proceed with caution.
Andy Cohen And Alan Cumming's Opening Skit
Only on The Traitors would Andy Cohen and Alan Cumming exist in the same reality TV universe. Alan Cumming starts the reunion by using his Traitors' host persona to set the mood. This then transitions to Andy Cohen coming out to host the reunion. It's a hilarious intro because Cumming's mysterious host persona clashes with Cohen's upbeat host persona.
Alan Cumming telling Andy Cohen that he's being too over-the-top is really a moment that will go down in TV history. They're the duo that we didn't know we needed to see. They play off each other so well. I loved every moment of their short interaction. It was entertaining and a way to give a little cheeky nod to their host personalities and The Traitors.
Cirie And Andie's Reconciliation
In order for Cirie Fields to finally win a reality TV show, she had to play a little dirty. It's been a long reality TV journey for Cirie, one full of regrets and disappointments. This made her win such a triumph for her and her fans. However, not everyone sees it that way. Quite a few players on The Traitors felt hurt by her actions.
Andie Thurmond was one of these people. Andie and Cirie got very close during filming. Therefore, Andie felt very hurt by Cirie for costing them money, especially with a baby on the way. They confront her about her actions. It was tense but it eventually ended in a hug and reconciliation.
Cirie made sure that Andie knew how much she cares about them, and that she saw their relationship as real, and not something just to win the game. It was a heartwarming moment that The Traitors reunion needed to end things on a positive note.
Kate Continuing Her Iconic Behavior At The Reunion
With Brandi Glanville's absence from the Traitors reunion, I initially worried that it wouldn't be as entertaining. Then I remembered that Kate Chastain was in the cast. Kate was one of the few reality stars that I was unfamiliar with before I watched The Traitors. For me, she easily became the runaway star of the season.
Kate is just hilarious. She has no filter and no fear. She embraces her potential villain title and role. Her rivalry with Rachel Reilly, who has a similar approach to reality TV, was a major highlight of The Traitors Season 1. Their feud remained ridiculous and entertaining until the very end.
Kate toned down her reality TV persona a bit for The Traitors reunion, but she was still fun to watch in every way. She spoke her mind, exposed secrets, and added some spicy commentary. Overall, she gave Peacock more than their money's worth for booking her on The Traitors. It's one thing to entertain on a reality show, but it's a whole other thing to continue that brilliance on a reunion special.
Kate needs to do every reality show. I welcome her brand of chaos into any reality TV situation.
The Callbacks To Traitors' Moments And Quotes
The Traitors streamed nearly two months ago, so with the fast-paced world of television, it's easy to already move on to the next show. This means that I (and many others) have already forgotten some of the show's big moments. Andy Cohen and crew made sure to remind us of them by mentioning quotes and scenes from The Traitors.
There was even a callback to Kate infamously criticizing Rachel's outfit. The show really may go into the reality TV hall of fame for that moment alone.
Andy Cohen's Admiration For Cirie
As The Traitors Season 1 winner, Cirie received a lot of praise and admiration from Andy Cohen. He even mentioned how people considered her one of the best to never win Survivor and now they should just call her simply the best. It was nice to see Andy praise Cirie so much. She deserved every moment of it for playing such a masterful game on The Traitors.
What she didn't deserve was so many former contestants being mad at her for playing the game. They considered her gameplay a little ruthless and took things personally. Andy not only praised her game but even kind of defended her. He asked Andie and Quentin Jiles what Cirie actually did wrong in trying to get them to eliminate Arie Luyendyk Jr.?
They defended their beliefs that Cirie shouldn't have used their families and situations to cause Arie's elimination. However, as Andy Cohen said it didn't really matter at that point because the Traitors had already won. Taking out Arie just helped Cirie get the entire prize money.
The Civilians Showing Their Reality TV Obsessions
Survivor, Big Brother, The Bachelor, and the Real Housewives franchise are considered some of the most popular and best reality TV shows of all time. Therefore, of course, some of the civilians were going to be familiar with some of their cast mates.
Michael Davidson showed his love for reality TV by discussing how much he adored Cirie, Rachel, and Stephenie Lagrossa from their time on Survivor and Big Brother. He also showed his Big Brother fandom status by not being a fan of Cody Calafiore, who is a divisive player among many Big Brother fans.
Anjelica Conti also shared that as part of Bachelor Nation, she wasn't a fan of Arie going into the show but changed her mind once she got to know him. It was fun to see them acknowledge that they were fans of these people before meeting them.
Arie Explaining His Final Hint To The Faithfuls
Arie was eliminated at the final hurdle of The Traitors, which cost him the prize money. He seemed to leave the show overall fine with the outcome. However, he revealed on The Traitors reunion that he actually tried to get Cirie eliminated so that Andie and Quentin could win the money.
He gave them subtle hints, like saying "good luck" instead of congratulating them. And strategically trying to cast suspicion on Cirie. However, no one picked up on it. Additionally, as a viewer, I didn't realize that that was what he was trying to do as well. The hints were too subtle.
It was interesting to learn Arie's true feelings and intentions at the end of The Traitors. This changed my entire perspective on his exit.
The Teasing Of Christian
To be frank, I found Christian de la Torre very stressful to watch on The Traitors. He seemed like a big liability, and I worried he was going to destroy Cirie's game. I wanted him out of the game. I celebrated his exit.
The Traitors reunion made Christian the focus of one segment, and it kind of made fun of him by showing how he annoyed the other contestants. It was lighthearted and Christian responded to it well. His entire reaction made me see him in a positive way. He can be a little too enthusiastic at times but seems like an overall nice guy that will probably be great on other reality shows. I look forward to seeing him on more reality TV shows, Peacock or otherwise.
If you haven't yet, make sure to use your Peacock subscription plan to watch The Traitors reunion. Also, hopefully, we see Alan Cumming and his fabulous outfits soon. I can't wait for The Traitors Season 2 to see what other reality stars join the cast and the show's addictive premise.
Your Daily Blend of Entertainment News
Spent most of my life in various parts of Illinois, including attending college in Evanston. I have been a life long lover of pop culture, especially television, turned that passion into writing about all things entertainment related. When I'm not writing about pop culture, I can be found channeling Gordon Ramsay by kicking people out the kitchen.