The Best Gift Ideas For Stranger Things Fans
You don't have to go to the Upside Down to get these presents.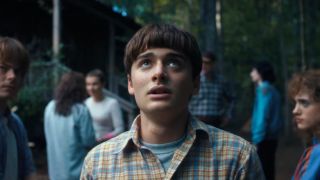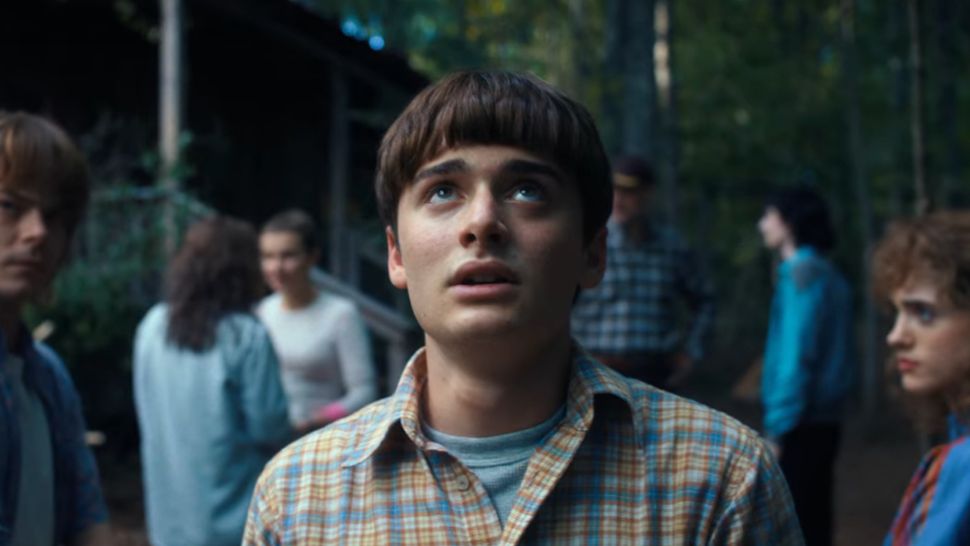 (Image credit: Netflix)
Demogorgons, Christmas lights, and old '80s songs - what do all of these have in common? They are all a part of gifts that you can get for the Stranger Things fan in your life.
The show finally came back in 2022, breaking records along the way and becoming bigger than ever. But now, we have to wait God knows how long for Stranger Things Season 5, and we have to re-watch all of the series over and over again to experience our lovely show.
That, and of course, fill the void with amazing Stranger Things memorabilia. If you're looking for some great gift options for Stranger Things fans to enjoy, check out these ideas…
This Hawkins '85 Halloween Stranger Things T-Shirt
To be honest, there are so many Stranger Things shirts out there that it's hard to pick just one, but I think Hot Topic is a great place to start. This 'Hawkins '85 Halloween' tee, along with many others, is available on their website to purchase, from shirts that show off Hawkins to the official logo on a nice sweatshirt.
Buy this Stranger Things T-Shirt at Hot Topic.
This Hawkins High School Shirt Because Our Kids Have Grown Up
I know, I know, we're all crying because somehow, someway, the kids we saw first in Hawkins Middle School are now in high school - cue the sadness at their impending adulthood. But it only makes sense that as they mature, we make sure our clothing choices grow with them – and that's why you should maybe buy a nice new Hawkins High School T-Shirt to show our pride. Go Tigers!
Buy the Hawkins High School shirt at Hot Topic.
This Candle That *Apparently* Smells Like Steve
Look, we can all acknowledge that there have been some awesomely developed characters on TV - like Zuko from Avatar: The Last Airbender, or maybe Negan from The Walking Dead - but Steve from Stranger Things is definitely one of my favorites, going from a bit of an asshole to a genuinely nice guy with great hair. And why wouldn't you want to smell like him? Dude looks like he takes his hygiene seriously with that Farrah Fawcett spray.
Buy the Steve Harrington Candle on Etsy.
The Stranger Things Novels
Did you know that Stranger Things actually has a whole book series dedicated to our favorite characters? From standalone stories about some of the main characters to interesting details about Hawkins and all the crazy stuff that goes down in it, these novels are a must for fans who want some cool easter eggs. Check out the first one if you're looking to start reading.
Buy the first Stranger Things novel at Barnes and Noble.
This Sick Hawkins, Indiana Fleece Blanket
I mean, I think all of us deserve a nice cozy blanket to snuggle in during this holiday season while we watch popular Christmas movies streaming - heck, we can do that any time of the year. But wouldn't it be better if that fleece blanket was themed around the demogorgon and Hawkins? I think our overall comfort would certainly improve.
Buy this Stranger Things Fleece Blanket on Amazon.
This Hellfire Club Member Shirt Because We All Want To Be A Part Of It
Eddie Munson was a new character in Stranger Things Season 4 that ended up becoming an all-star and literally one of the most popular characters of the show, with people actually starting a petition to bring him back to life after his tragic death in the Season 4 finale. But, how about we go back to where we first met Eddie, all the way back to the Hellfire Club – and buy this cool T-shirt while you're at it to show your support. We're all a bunch of weirdos here.
Buy this Hellfire Club T-Shirt on Amazon.
The Season 4 Soundtrack – So You Can Run Up That Hill Too
Music has and always will be such an integral part of Stranger Things and it was even bigger in Season 4 of the show. "Running Up That Hill" by Kate Bush exploded onto radio and music streaming platforms, as well as Metallica hits and a whole other bunch of great songs. What better way to celebrate the music of Stranger Things Season 4 than by getting the actual soundtrack from the series.
Featuring all the songs you heard in the fourth season, this soundtrack is available in CD form and on vinyl – or you can download it on whatever music streaming platform you like, but I always prefer an actual album.
Buy the Stranger Things Season 4 soundtrack on Amazon.
This "Not Today, Vecna" Shirt On Etsy
If you don't know the classic phrase, there's a meme about people saying "Not Today, Satan" when something feels like it's going to go wrong in their life and they find a way to counteract it so it doesn't happen. And yes, I agree, this "Not Today, Vecna" shirt is the perfect Stranger Things-adjacent item for that, because I am laughing my butt off.
I can already imagine myself saying that straight to Vecna's face – before I got folded up like Chrissy in that first episode of Season 4…Oof, too soon?
Buy the "Not Today, Vecna" shirt on Etsy.
The Ultimate "Mom Of The Year" Mug
Okay, I swear this is my last Steve item, but let's be honest - Steve Harrington became the babysitter I think we all wanted as a kid, someone who genuinely cares about the safety of the kids but is fun as all heck, as well. To me, he will always be the gang's honorary "mother" in Stranger Things for taking care of them when no one else was there - or at least getting beat up in the process.
Buy the Mom of the Year mug on Etsy.
A Custom-Made Stranger Things Ornament
Simple for fans of the series, this Christmas tree ornament will please both fans of Stranger Things and people who don't know about the show and its connection to Christmas lights. What a cute little ornament for your tree.
Buy this Custom-Made Ornament on Etsy.
A Demogorgon Plushie For Your Nightmare Fuel – And It's Cute
You know, when I think of the holidays, I think of cute little stuffed animals like reindeer, or a snowman or elves – but nope, we're going full horror and I am saying you should get this custom-made Demogorgon plush if you're a fan of Stranger Things. Why? To fuel your own nightmares.
And I also think it is kind of cute, so there's that. I do love my horror plushies.
Buy this custom-made Demogorgon plush on Etsy.
This Amazing Poster Art For The Season 4 Finale
Arguably, the ending for Stranger Things Season 4 was one of the best of the show and that cliffhanger was awesome. And now, if you liked "The Piggyback" as much as I did, you can get official art from the Netflix Shop that shows Eddie Munson shredding his guitar in the Upside-Down – a moment we will never forget. For those who love the finale, this is the item for you.
Buy the official poster art for the Stranger Things Season 4 finale on Netflix Shop.
Stranger Things Funko Pop Figures
I mean, you knew it was coming. Funko Pop figures are everywhere, but I think some of the coolest have been the Stranger Things ones. Get yourself a figurine of Eleven, one of the most badass characters, eating her Eggos - or Steve, serving up scoops of ice cream at Scoops Ahoy. Or, you can even get Max with her walkman from that Vecna scene. From each season, there is one to love.
Buy some awesome Stranger Things Pop Funko Figures on Amazon.
Christmas Lights (Ya Know, To Communicate With The Upside-Down)
How else are you going to communicate with the Upside-Down? The people down there need your help! Where's my paint for the letters??
Buy some Christmas lights on Amazon.
I know the wait for Stranger Things Season 5 is going to take forever, but at least we have some fun gifts to get (or just buy for yourself) to hold us over until then. If you don't mind me, I'll be listening to "Running Up That Hill" on repeat.
Your Daily Blend of Entertainment News
Big nerd and lover of Game of Thrones/A Song of Ice and Fire. Will forever hate season eight. Superhero and horror geek. And please don't debate me on The Last of Us 2, it was amazing!