Your Place Or Mine Cast: Where You've Seen The Actors Before
Meet the stars of the new Netflix rom-com.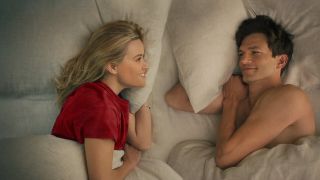 (Image credit: Netflix)
More so than with pretty much every other type of film, a great romantic comedy needs to have a strong cast (both the leads and supporting characters) with a lot of chemistry to make the story seem believable and work. The best romantic comedies of all time, like When Harry Met Sally, Pretty Woman, and The Princess Bride, all have that in common. It's too early to say if the new Netflix movie, Your Place Or Mine, will find a spot on that list in the future, but the cast, led by Reese Witherspoon and Ashton Kutcher, could put it in the running.
If you have watched, or are planning to watch the new romantic comedy, there's a good chance you are wondering why certain members of the Your Place Or Mine cast look so familiar. Well, buckle up, because we're about to go through all the major stars who appear in the movie, and break down where you've seen them before.
Reese Witherspoon (Debbie)
In Your Place or Mine, Reese Witherspoon plays Debbie, a single mom who swaps houses with her longtime best friend, Peter (Ashton Kutcher) for a week as a nice sea change that also leads to some major discoveries about the man she's known for so long.
Witherspoon is in a league of her own in Hollywood, having not only won an Academy Award, a Golden Globe, a Primetime Emmy, and scores of other accolades for performances in movies and shows like Walk the Line and Big Little Lies, but also as one of the Hollywood's most prolific producers, having worked on book-to-movie adaptations like Where the Crawdad Sings and the upcoming Daisy Jones & the Six Amazon series. The ever-growing list of Witherspoon's best movies includes something for everyone, with popular movies like Legally Blonde, Sing, and Wild appealing to multiple age groups. With multiple upcoming projects (both in front of and behind the camera), we haven't seen the last of her yet.
Ashton Kutcher (Peter)
Ashton Kutcher shows up in Your Place or Mine as Peter, Debbie's long-time best friend, who couldn't be any more unlike the single mother living on the opposite side of the country, or so he thinks.
Though this is his first romantic comedy in more than a decade, Kutcher appeared in his fair share of rom-coms in the early 2000s, including Just Married, My Boss's Daughter, Guess Who, and What Happens in Vegas, to name a few. Over the course of the past decade or so, Kutcher has mostly worked in TV, appearing on shows like Two and a Half Men, The Ranch, and most recently, That '90s Show, reprising the role of Michael Kelso from the original That '70s Show.
Jesse Williams (Theo)
Next up is Jesse Williams, who appears as Theo, a book editor who catches Debbie's eye while she's trading places in New York City.
Longtime fans of Grey's Anatomy (as well as Station 19) should instantly recognize Williams from his portrayal of Dr. Jackson Avery, a major part of the show's cast dating back to the sixth season. Sticking with TV, Williams previously appeared alongside Witherspoon on the Hulu original series, Little Fires Everywhere, in 2020. His film appearances include movies like The Cabin in the Woods, Random Acts of Violence, Secret Headquarters, and multiple others dating back a decade-and-a-half. Williams also portrayed one of the main characters in the 2018 PlayStation game, Detroit: Become Human.
Steve Zahn (Zen)
Steven Zahn shows up as Zen, Debbie's retired neighbor who has left his days in the tech industry behind to focus on putting his green thumb to use with landscaping.
For more than 30 years now, Zahn has remained an incredibly busy actor in film and TV, showing a wide range in the process. Whether it's appearing in quintessential '90s classics like Reality Bites, That Thing You Do!, You've Got Mail, and Happy, Texas, Zahn was everywhere in the first decade of his career. He only got busier in subsequent years, landing roles in Riding in Cars with Boys, Shattered Glass, Sunshine Cleaning, and National Security, to name a few. More recently, he's put on amazing performances in shows like The White Lotus (Season 1) and The Good Lord Bird, and in movies like Uncle Frank, and 8-Bit Christmas.
Tig Notaro (Alicia)
Comedian Tig Notaro shows up as Alicia, Debbie's best friend in Los Angeles.
Over the years, Notaro has gone from being one of the most underrated standup comedians in the industry to a talented actor with a long list of credits to her name. One of the biggest movies she's been in at this point is Army of the Dead, Zack Snyder's 2021 zombie movie in which she was digitally added to replace Chris D'Elia. Notaro has also appeared on shows like Star Trek: Discovery, One Mississippi (which she created), and multiple others.
Zoë Chao (Minka)
Zoë Chao is another hilarious addition to the Your Place or Mine cast, taking on the role of Peter's ex-girlfriend Minka, who ends up helping Debbie when she temporarily takes up residence in New York City.
Chao has been on a roll as of late with memorable roles in everything from Richard Linklater's 2019 dramedy, Where'd You Go, Bernadette, to the 2022 Netflix original comedy Senior Year, with multiple others in between. Since 2022, Chao has also been a major player on the Apple TV+ original series The Afterparty, including the upcoming second season of the hilarious murder mystery. Her other TV appearances include Strangers, The OA, Love Life, and the Amazon original anthology series, Modern Love.
Wesley Kimmel (Jack)
Rounding out the main portion of the cast is Wesley Kimmel, who takes on the role of Debbie's shy and sheltered son, Jack.
The nephew of Jimmy Kimmel, the up-and-coming actor landed his first acting gig as the "Baby Bachelor" on a segment of his uncle's talk show, Jimmy Kimmel Live, which he revisited alongside Witherspoon in early 2022. He has also appeared on shows like WandaVision and The Book of Boba Fett, the latter of which saw him play a young Tusken kid. He's also appeared on Good Girls, The Rookie, and Crank Yankers in recent years.
But, this is just a portion of the cast, as other actors appearing in Your Place or Mine include Griffin Matthews (She-Hulk: Attorney at Law), Rachel Bloom (Crazy Ex-Girlfriend), Vella Lovell (Mr. Mayor), and Shiri Appleby (Roswell, New Mexico). You can see all of these actors in action in Your Place or Mine, which is streaming for anyone with a Netflix subscription.
Stream Your Place or Mine on Netflix. (opens in new tab)
Your Daily Blend of Entertainment News
Philip grew up in Louisiana (not New Orleans) before moving to St. Louis after graduating from Louisiana State University-Shreveport. When he's not writing about movies or television, Philip can be found being chased by his three kids, telling his dogs to stop yelling at the mailman, or yelling about professional wrestling to his wife. If the stars properly align, he will talk about For Love Of The Game being the best baseball movie of all time.