The Bachelorette Spoilers: Looks Like Luke P.'s Family Doesn't Get Why Hannah Kept Him Around, Either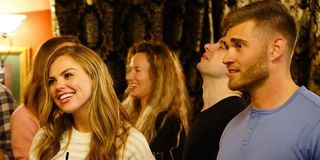 Many fans of The Bachelorette (and pretty much every one of Hannah's suitors) have wondered why Luke P. is still around. Well, it turns out that Luke's family is kinda confused, too. As we all know, hometown visits are coming up on the next episode, and since Luke managed to get yet another rose out of Hannah, she'll be heading to Gainesville, Georgia to meet his clan, along with those of her remaining gentlemen callers.
In a clip of the visit that Luke and Hannah took to see his folks, which was obtained by Entertainment Weekly, the sorta couple is surrounded by his family in a pleasant enough living room, and as they tell how things have gone, well, they're pretty honest. (I know honesty is a brand new thing to talk about when discussing something Luke says on the show, but just hang in there with me.)
Hannah begins by telling the assembled assortment of parents / aunts / uncles / siblings / what-have-yous that when she and Luke met at the beginning "it was great, great, great," with a big dimpled smile on her face. Luke then adds that it was "fireworks," but was then "downhill from there," which he also manages to say with a giant grin plastered on his mug. Well, Luke keeps getting roses, so I guess there's really no reason for him not to smile right now, is there?
Then Hannah gets into the dirt, but, you know, in the most pleasant way possible since she's talking to the dude's family. She explains to them that a lot of their time has been taken up with Luke and "basically the rest of the house" going against each other, and admits that they haven't had many real conversations that didn't include her "getting on him" about everything the other guys were saying about him.
During this reveal, Luke's family looks mostly uncomfortable and rapt with attention, which is fair. Who knows how someone is going to act when they get cameras on them for roughly 24 hours a day several weeks at a time? Luke then notes that he felt like he "was walking on eggshells and I had to be cautious and say and do all the right things, which is, obviously, the worst mindset." If what we saw in the past few weeks was Luke being "cautious" we, and Hannah, are in for a world of hurt when he lets loose.
This is when a mystery male relative says that it sounds like Luke wasn't being himself, to which Luke (of course) says is true, and the mystery male relative then asks Hannah, with a generous smile, "So, why...why is he here?!" And, what does Hannah say? Nothing about them having a connection, sharing a similar faith or them being hot for each other's bodies. Oh no. Hannah responds with an emphatic and giggly "I DON'T KNOW!" and she, Luke and his whole grouping of relations burst out into uproarious laughter.
Ugh.
The next thing we get a hint of in the clip is Luke sitting down to talk with his very confused dad, who wants to know "how this dynamic could have occurred," and it will be interesting to see how much truth Luke is willing to spill to his father, knowing that many of his worst moments will be televised for all to see in just a few weeks. Of course, that fact didn't stop him from lying to Hannah or any of the other guys, so maybe that will just never be a consideration for him.
So, where does this leave Bachelor Nation and the odd, mostly unwanted relationship between Hannah and Luke? Considering that Luke still has to slut shame Hannah for having sex with another suitor (In a windmill!) in a coming episode, I can only guess that he'll nab yet another rose and continue to baffle us for at least another week. I can't help but wonder, though, if Luke's family has been watching the season and what they would say about his behavior as they watched it unfold.
Obviously, we might never get the answer to that query, but other answers are sure to be revealed when The Bachelorette continues on ABC, Mondays at 8 p.m. EST.
Bachelor Nation, Gilmore Girl; will Vulcan nerve pinch pretty much anyone if prompted with cheese...Yes, even Jamie Fraser.
Your Daily Blend of Entertainment News
Thank you for signing up to CinemaBlend. You will receive a verification email shortly.
There was a problem. Please refresh the page and try again.