When Penn Badgley's You Season 2 Will Finally Premiere On Netflix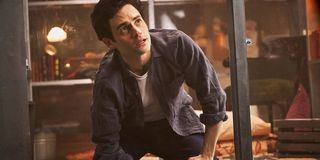 Season 1 of the spicy thriller You was a whirlwind. From killer stalkers to undead ex-girlfriends, the show was an amalgamation of every addictive and dramatic trope in the book. (The metaphorical one, not just the You novel.) The series, which initially premiered on the Lifetime network before moving permanently to Netflix, officially has a Season 2 premiere date for Penn Badgley's Joe Goldberg to getback to terrorizing someone new.
Penn Badgley, who was left injured and nauseous by Joe in Season 2, took to Twitter to tease You's upcoming premiere, which will go down on Friday, December 26. That timing allows everyone to experience holiday cheer (hopefully) before diving back into this chaos.
Joe is "ready for a fresh start," according to Penn Badgley. Though the 15-second teaser he shared doesn't offer much in the way of what will happen in Season 2, the music is enough to carry on with the creepy vibe. December 26 can't come soon enough. Check out the teaser below!
The last we saw of super-stalker and murderer Joe Goldberg, he had just killed Beck and then went on his merry way. Seriously, the guy always acts so nonchalant about his kills after the fact. He thought he'd gotten away with everything, too. What he didn't expect was for his supposedly dead ex-girlfriend Candace to pop back up in the bookstore where he worked. Season 2, which is said to share similarities with HBO's True Detective, will be delving into more of her storyline, with Ambyr Childers having recent been promoted to series regular,
In fact, Candace might be following Joe from New York City to Los Angeles, where he'll be taking up residence. While there, he'll also be getting to know Victoria Pedretti's Love Quinn, Joe's new love interest and potential victim. Besides that location change, however, little is known about You's Season 2 plot. The show is based on Caroline Kepnes' novel of the same name, though, so curious fans might want to read the second book in the series ahead of the December 26 release date.
The series is adding Russian Doll star Charlie Barnett and Gotham's Robin Lord Taylor in Season 2, and You has the potential to get a bit darker now that it's no longer on Lifetime. Penn Badgley teased that there are "certain liberties" You is now able to take after the series moved to Netflix last December, and we can wait to be disturbed by them.
After all of the traumatizing events that happened during You's first season, which reportedly became one of the top ten most-watched series on Netflix this year, it'll be interesting to see how Season 2 tries to top that. I'm sure the writers have plenty of new (and murderous) tricks up their sleeves.
Stay tuned to CinemaBlend for more coverage on You Season 2 and get ready to not leave your couch when the sophomore season premieres on Friday, December 26, at 12:01 a.m. PT. In the meantime, be sure to check out our complete TV guide to every new and returning show premiering through the end of the year.
Your Daily Blend of Entertainment News
Thank you for signing up to CinemaBlend. You will receive a verification email shortly.
There was a problem. Please refresh the page and try again.