How To Watch Hallmark Christmas Movies On TV And Streaming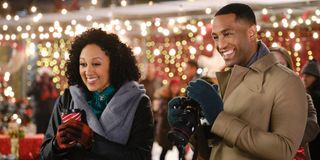 Well, friends, it's once again that time of year. The weather is chilly, we're all drinking our hot toddies, busting out our favorite sweaters and bundling up in flannel pajamas to cozy up on the couch and do what? WATCH HALLMARK CHRISTMAS MOVIES!! That's right, the network that's been Christmas crazy for 10 years running is not letting up in 2019.
Between Hallmark and Hallmark Movies and Mysteries there will be a whopping 40 brand spanking new Christmas movies on TV this holiday season, and you need to know how to catch up on all of the Christmas cookie, Santa magic and heartwarming family celebration-filled films! So, we're here to help.
We've gathered all the info on just how you can watch all of the Hallmark Christmas movies, whether you'd like to see them live as they debut or catch reruns right on your TV, or stream them on any of your most-loved devices. Let's go!
Your Cable TV Subscription
I know, I know. This might seem too basic to even count on this list, but, hey, people do still subscribe to cable. The easiest way to watch Hallmark Christmas movies is to make sure your cable provider offers access to at least one of the three Hallmark channels. As a rule, Hallmark is debuting new movies on Saturdays and Sundays at 8 p.m. EST, but there are some exceptions.
A Christmas Duet is coming at you first on Monday, November 25, and it kicks off a full week of nightly Christmas movie premieres which will run through Sunday, December 1. Then, after going back to the Saturday / Sunday schedule for most of December, When Calls the Heart: Home for Christmas will debut on Wednesday, December 25. Also known as Christmas Day! Well, Christmas Day night, but you see what I mean. Premiere times remain the same for all of these films, by the way.
Let's not forget about Hallmark Movies & Mysteries. The network will debut it's new movies at 9 p.m. EST, but as far as the days for these premieres, it's a bit less set than the films for the Hallmark Channel proper. They started with a Thursday / Friday schedule, but will move to more of a Saturday / Sunday schedule on November 17, so be sure to check the network's schedule.
Even more good news is coming, friends! Because this is Hallmark we're talking about here, you know the network goes hard on holidays. If you're looking to get in the Christmas spirit and need more than a few weekly film premieres to help you out, Hallmark Channel, Hallmark Movies & Mysteries and Hallmark Drama are playing Christmas movies nearly 24/7 right now. This means that whenever you need a helping holiday boost, you're pretty much guaranteed to get one!
Hallmark Channel Everywhere
If you have a cable subscription, but are doing a lot of traveling for the holidays and won't be at home for the many, many premiere nights that Hallmark has in store for us, never fear, because Hallmark Channel Everywhere is here! This is a free streaming service that allows you to log in with your cable TV provider information so that you can access programming from Hallmark and Hallmark Movies & Mysteries. Now you never have to worry about missing all those Christmas movies you've added to your viewing schedule.
Streaming
This is quickly becoming the age of the cord-cutter, and there are a number of ways to watch all or some of the Hallmark channels without an extremely expensive cable subscription.
Frndly TV: This service offers all of the channels needed to see all of the new Christmas movies and many reruns for only $5.99/month. You get 12 channels total, all focused on family friendly entertainment, and all three Hallmarks (proper, Movies & Mysteries and Drama).
Sling TV: Sling has three different packages, starting at $15/month. Unfortunately, none of those base packages come with any Hallmark networks, but you can add on the Lifestyle Extra and get all three for only an additional $5/month.
Philo: For only $20/month you'll get all of the Hallmarks included in a 58 channel package.
Fubo TV: Now, with the exception of there being no contract or hidden fees, this service borders on the cost (and options) of having cable. For $54.99/month you get a wide variety of channels based on your location. My area offers 178 channels and all three Hallmark networks, so we can hope that other locations around the country don't vary from that too much.
Hallmark Movies Now
This service allows you to watch a selection of Hallmark movies and shows (some of which are exclusive to HMN) on demand, on any of your devices and commercial free for $5.99/month. Now, here's the kicker: you won't be able to watch this year's Christmas movies here, and, HMN doesn't come close to having all of the popular movies Hallmark has made for the holidays.
I know! But, wait! They do currently have a nice collection of about 65 holiday films, and more with your favorite actors get added on a regular basis. The holiday movies that fill the service tend to be at least a year old (usually more), but, considering how many Christmas films Hallmark has made for the past 10 years, you'll be certain to find at least a few you haven't seen before.
Amazon Prime
In keeping with the fact that Amazon is a place where you can get pretty much anything you could ever want, you can also get a heaping helping of Hallmark Christmas movies from past years there, and (surprise, surprise!) some of the 2019 movies as well. The good news is that there are a lot of movies available here. The bad news: for the most part, you have to buy them.
Unfortunately, Hallmark likes to keep its films close to home, so even though there are many of the company's Christmas movies available through Amazon, only a tiny amount seem to allow streaming, and then you'd need an Amazon Prime subscription to do so. But, if you have some beloved Hallmark holiday fare from past years, as mentioned above, buying a few movies from Amazon would be a good option. Most of the films sell for $9.99, but prices can get as low as $5.99.
Now, if you're interested in buying one of the 2019 films, that'll set you back $12.99. That makes a bit of sense, because of the newness and all, but when I continued scrolling through the selections, there were also a lot of Hallmark Christmas movies which are actually from as far back as 2017 which are listed as being from this year. And, they also cost $12.99. So, maybe do a quick bit of Googling before buying to make sure you're paying premium price for a movie that's actually brand spanking new this year.
If you're not in the mood to buy, there are some films that allow you to rent, which usually ranges from $1.99 to $3.99, giving you a cheaper option for all your holiday HEAs (Happily Ever Afters, for the uninitiated).
As you can see, there are actually some good options available regardless of how you'd like to watch your Hallmark Christmas movies or how much money you're willing to spend to bring some holiday cheer into your life, so, enjoy!
Bachelor Nation, Gilmore Girl; will Vulcan nerve pinch pretty much anyone if prompted with cheese...Yes, even Jamie Fraser.