How To Watch Hallmark Christmas Movies On TV And Streaming
We're already deep into Hallmark Christmas movie season, here's how to watch!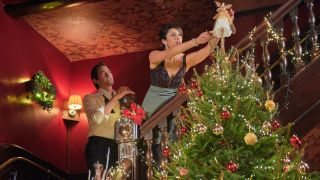 (Image credit: Hallmark)
Well, friends, it is, once again, that time of year. The weather is chilly, we're all drinking our hot toddies, busting out our favorite cozy clothing and bundling up in our warmest pajamas to curl up on the couch and do what? WATCH HALLMARK CHRISTMAS MOVIES!! That's right, the network that's been Christmas crazy for 10 years running is not letting up at all in 2022.
While the 2022 Christmas movie schedule will tell you that their holiday offerings started on October 21, between Hallmark and Hallmark Movies & Mysteries there will still be a dozen brand spanking new Christmas movies from the channels this holiday season. You'll need to know how to catch up on all of the Christmas cookie-baking, Santa magic-having, heartwarming family celebration-filled films, and how to watch any of the upcoming Hallmark movies, so, we're here to help.
We've gathered all the info on just how you can take a gander at all of the Hallmark Christmas movies, whether you'd like to see them live as they debut or catch reruns right on your TV, or stream them on any of your most-loved devices. Let's go!
Your Cable TV Subscription
Yes, I get it. This might seem too basic for us to even think about here, but, you know, people do still subscribe to cable. The easiest way to watch Hallmark Christmas movies is to make sure your cable provider offers access to at least one of the three greeting card specialist's channels, with the main Hallmark network being the one to offer the most movies, particularly when it comes to new films. There will be debuts on Fridays, Saturdays, and Sundays, between 6 p.m. EST and 8 p.m. EST (unless you're watching Hallmark Movies & Mysteries, which we'll get into more in a bit).
Coming up first for new December films will be A Big Fat Family Holiday on Hallmark, Friday, December 2 at 8 p.m., with another new movie (A Fabled Holiday) the following evening at the same time. Meanwhile Hallmark Movies & Mysteries will debut The Holiday Stocking on Saturday, December 3 at 10 p.m., just in time for you to switch over from the Hallmark premiere you just watched. And, Sunday, December 4 will have the 8 p.m. premiere of Undercover Holiday on Hallmark.
Even more good news is coming, friends! Because this is Hallmark we're talking about here, you know the network goes hard on holidays. If you're looking to get in the Christmas spirit and need more than a few weekly film premieres to help you out, Hallmark Channel and Hallmark Movies & Mysteries are playing Christmas movies 24/7 right now. This means that whenever you need a helping holiday boost, you're pretty much guaranteed to get one!
Peacock
OK, while getting a Hallmark Christmas movie into your eyeballs used to require a cable subscription or for you to subscribe to one of the cable-light streamers we will discuss in a minute, things are now quite a bit easier. As of late October 2022, Hallmark reached a deal so that those with Peacock subscriptions (NBCUniversal's streaming service) can now watch the films (and some series) whenever they want.
Not only are there currently offerings from Movies & Mysteries, Hallmark Drama, and Hallmark available on-demand at Peacock (with about 40 titles on the streamer), but the service also now gets next-day movies, meaning that you can watch new films there the day after they premiere. Also? Once you subscribe to Peacock and go to their Channels page, where different types of content streams freely all day and night, you will find dedicated Channels for each of the three Hallmark networks. This means that if you've missed several years of holiday content, you'll be able to catch up by marathoning one of the stations here. Even better, Hallmark and Movies & Mysteries on Peacock are also showing Christmas movies around the clock right now!
Hallmark Movies Now
This service allows you to stream a wide selection of Hallmark movies and shows (some of which are exclusive to HMN) on demand, on any of your devices and commercial free for $5.99/month. Now, here's the kicker: you won't be able to watch this year's Christmas movies here, and HMN doesn't come close to having all of the popular holiday movies Hallmark has made for the holidays.
I know! But, wait! They do currently have a nice collection of holiday films, and more with your favorite actors are always added on a regular basis. The holiday movies that fill the service tend to be at least a year old , but, considering how many Christmas films Hallmark has made for the past decade or so, you'll be certain to find at least a few you haven't seen before.
Other Streaming Options
This is definitely the age of the cord-cutter, and there are a number of ways to watch all or some of the Hallmark channels without an extremely expensive cable subscription.
Frndly TV (opens in new tab): This service offers all of the channels needed to see all of the new Christmas movies and many reruns for only $6.99/month. You get all of the service's 40+ channels, all focused on family friendly entertainment, and all three Hallmarks (proper, Movies & Mysteries and Drama).
Sling TV (opens in new tab): Sling has three different packages, starting at $40/month (though at the time of this writing that's dropped to $20/month for the first month). Unfortunately, none of those base packages come with any Hallmark networks, but you can add on the Lifestyle Extra and get all three Hallmark channels for only an additional $6/month.
Philo (opens in new tab): For only $25/month you'll get all of the Hallmarks included in a 70+ channel package.
Fubo TV (opens in new tab): Now, with the exception of there being no contract or hidden fees, this service borders on the cost (and options) of having cable, but it does have at least some of your local channels included. For the basic, Pro, package at a cost of $69.99/month you get a wide variety of channels based on your location. My area offers 137 channels and all three Hallmark networks, so we can hope that other locations around the country don't vary from that too much.
YouTube TV: Here's another rather expensive service, but it does also come with your local channels and lots of other features. The basic plan here will set you back $64.99/month for over 100 channels, including, again, all of the Hallmark networks so that you can watch all those holiday films live as they debut!
Amazon Prime (opens in new tab): In keeping with the fact that Amazon is a place where you can get pretty much anything you could ever want (and pretty quickly, to boot), you can also get a helping of Hallmark Christmas movies from past years there, and (surprise, surprise!) some of the 2021 movies as well. The good news is that there are several movies available here. The bad news: for the most part, you have to buy them.
Unfortunately, Hallmark likes to keep its films close to home, so even though there are many of the company's Christmas movies available through Amazon, only a tiny amount seem to allow streaming (with many of those leaving Prime at the end of November), and then you'd need an Amazon Prime subscription to do so. But, if you have some beloved Hallmark holiday fare from past years, as mentioned above, buying a few movies from Amazon would be a good option. Most of the films sell, digitally, for $9.99 in HD or $7.99 in SD.
If you're not in the mood to buy, there are some films that allow you to rent, which usually ranges from $1.99 to $3.99, giving you a cheaper option for all your holiday HEAs (Happily Ever Afters, for the uninitiated). And you can buy three-movie collections of the Christmas movies, which range in price from $7.29 to $29.99, and a few nine-movie collections were the price ranges from $32.99 to $49.99, with the obvious caveat being that if you've never seen the movies you purchase before, you won't know whether or not you'll want them in your permanent collection.
As you can see, there are actually some good options available regardless of how you'd like to watch your Hallmark Christmas movies or how much money you're willing to spend to bring some holiday cheer into your life, so, enjoy!
Your Daily Blend of Entertainment News
Yennefer's apprentice, Gilmore Girl; will Vulcan nerve pinch pretty much anyone if prompted with cheese...Yes, even Jamie Fraser.
Your Daily Blend of Entertainment News
Thank you for signing up to CinemaBlend. You will receive a verification email shortly.
There was a problem. Please refresh the page and try again.