10 New Hallmark Christmas Movies That Are Perfect For The Holidays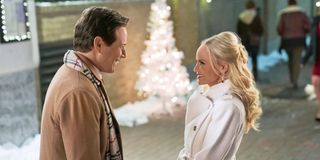 It's the most magical time of the year for Christmas-movie fans, because Hallmark holiday movies are here! For 2019, the Hallmark channel announced 40 new films set during various winter holidays. Many of the films star Hallmark favorites like Danica McKellar, Candace Cameron Bure, Andrew Walker, and Lacey Chabert. A few of these films also take place in Hallmark's favorite places: picturesque small towns.
This year, Hallmark started airing holiday movies in July, but the official start of the 10th annual Christmas movies celebration began on October 25 with A Merry Christmas Wish. The 2019 batch of holiday movies will continue airing until December 28, with A New Year's Resolution. Christmas movies fans have plenty of options with so many delightful holiday movies airing on Hallmark this year. Nevertheless, these ten films have winning Hallmark formulas, exciting casts, and plenty of Christmas magic.
Write Before Christmas
Write Before Christmas premiered on November 17 and stars Torrey DeVitto and Chad Michael Murray. Feeling the "new Christmas, new me" spirit, the newly single Jessica tries something different by sending Christmas cards to five people who influenced her life: her aunt, a former music teacher, her younger brother, a pop star (Drew Seeley), and her best friend.
Write Before Christmas gives One Tree Hill fans another unexpected reunion, with Chad Michael Murray and Torrey DeVitto once again sharing the screen. This time, Hallmark fans get to watch them fall in love, and forget all that craziness with Nanny Carrie. In premiere clip, Murray points out that Write Before Christmas has a lot to do with fate intervening with life, and the power of trying something new. It also has a bit of music added with DeVitto portraying a cellist. This Hallmark Christmas movie reminds everyone about the power that sending heartfelt Christmas cards still has.
The Mistletoe Secret
The Mistletoe Secret marks Kellie Pickler's third collaboration with the Hallmark Channel. Clearly, Hallmark wants to capitalize on a good thing, since her first Hallmark Channel original, Christmas at Graceland, became their most watched movie of 2018. In Mistletoe Secret, which premiered on November 10, Aria (Kellie Pickler) tries to get famous travel writer Sterling Masters (Christopher Russell) to craft a feature on her beloved town of Midway, Utah, as well as her family's business, The Mistletoe Diner.
The big twist with The Mistletoe Secret is that Sterling Masters is the face behind the show, but Alex Bartlett (Tyler Hynes) really writes the content. Aria and Alex fall in dislike at first sight, but eventually they fall in love, of course. Kellie Pickler brings her infectious charm to The Mistletoe Secret, with Pickler and Tyler Hynes creating a sweet, genuine romance. The Mistletoe Secret has enough romance and Christmas spirit to turn up the holiday cheer for Hallmark movie fans.
A Christmas Love Story
Hallmark plans to give viewers a harmonious Christmas, with Broadway great Kristin Chenoweth starring in A Christmas Love Story. Chenoweth plays a youth choir director who becomes distracted from writing her big Christmas Eve song. The distraction comes in the form of a young boy, Danny (Kevin Quinn), and his widowed father (Scott Wolf). A Christmas Love Story premieres on December 7.
Kristin Chenoweth: Do we really need to say more? A Christmas Love Story is sure to bring some holiday glee with the actress belting out holiday classics, and possibly a Hallmark original song or two. The TV movie is also bound to hit all the emotional holiday check marks: widowed parent, children singing, choirs, and romance. A Christmas Love Story could be one of Hallmark's greatest Christmas movies, as lifted by Kristin Chenoweth and Scott Wolf's chemistry, and the directorial efforts of Eric Close, star of Hallmark's Christmas in the Air and director of all Hallmark's Graceland movies.
Christmas At Graceland: Home For The Holidays
Hallmark premiered Christmas at Graceland: Home for the Holidays on November 23. Not to be mistaken with Kellie Pickler and Wes Brown's Graceland series of movies on Hallmark, Christmas at Graceland and Wedding at Graceland, Christmas at Graceland: Home for the Holidays follows an entirely different cast. Christmas at Graceland: Home for the Holidays is about Harper Ellis (Kaitlin Doubleday), a world traveler who returns to Memphis for the holidays. As she prepares for an interview for an overseas position, she decides to work as an au pair for widowed father, Owen Reed (Adrian Grenier), and his three children. The two originally clash over Owen's structured way of raising his children, but of course, they fall in love.
Christmas at Graceland: Home for the Holidays boasts directing from the previously mentioned Eric Close, as well as the iconic location of Graceland. Throw in the widowed parent, couple-clashing and romance, and you've got all the Hallmark standards. It also adds vibrant actors Kaitlin Doubleday and Adrian Grenier to the mix. Christmas at Graceland: Home for the Holidays brings another entertaining (and wholesome) tale to Elvis Presley's home.
Christmas At Dollywood
Dolly Parton herself makes a cameo in this Hallmark original movie set in her famous theme park. In Christmas at Dollywood, Niall Matter plays Luke, a New York City event planner who comes to Tennessee to plan a Christmas celebration at Dollywood. Luke clashes with Rachel Lewis (Danica McKellar), head of operations at Parton's theme park, because Luke believes he can do a better job of running the celebration on his own. Rachel, as you might imagine, doesn't agree.
Christmas at Dollywood brings Dolly Parton's land of wonders into full focus, with a big sprinkle of holiday cheer for some extra pizazz. Dollywood is already such a magical place for so many people, so it'll be fun to see how Hallmark highlights the location in this film. It also doesn't hurt that Christmas at Dollywood made sure to include Dolly Parton in the film, which is sure to include a performance or two by the country music legend. Christmas at Dollywood premieres on December 8.
Sense, Sensibility And Snowmen
Premiering November 30, Sense, Sensibility and Snowmen is Hallmark's take on the Jane Austen classic. Erin Krakow and Kimberley Sustad play Ella and Marianne Dashwood, two sisters who love Christmas and own a party planning business. The women, especially Ella, clash with one of their clients Edward (Luke Macfarlane), a toy company CEO.
Melissa De La Cruz, best-selling author and writer of the Descendants and Witches of East End series, wrote the novel version of Sense, Sensibility and Snowmen. De La Cruz's involvement with this holiday film adds an additional layer of excitement for those who are already excited to see this spin on the Dashwood sisters. Sense, Sensibility and Snowmen obviously includes some major changes from the source material, like switching up Ella and Marianne's personalities, which gives Ella and Edward an opposites-attract romance.
A Christmas Duet
In A Christmas Duet, Chaley Rose and Rome Flynn play Averie and Jessie, a former couple and singing duo who reunite during the holidays. Jessie's music tour brings him to the inn that Averie now owns, and the pair team up to organize a Christmas festival for the inn. Collaborating again reminds them of their old music, and romantic sparks develop.
A Christmas Duet kicked off the network's 7 Night Thanksgiving Movie event on November 25. We're all for more music-themed Hallmark movies, so it was exciting see if these exes can still make beautiful music together.
Time For You To Come Home For Christmas
In 2018, Blake Shelton produced a Hallmark original movie called Time for Me to Come Home for Christmas, based on his hit song of the same name. Now Blake Shelton is back with a follow-up called Time for You to Come Home for Christmas. This film stars Allison Sweeney and Lucas Bryant. Sweeney plays Katherine, a recently widowed mother returning home for Christmas. She meets veteran Jack (Bryant) on the train. The two bond over their experiences, but they really connect while volunteering to help raise money for military families.
Time for You to Come Home for Christmas seems to take a more serious route than Shelton's Time for Me to Come Home for Christmas, with a bigger emphasis on loss and patriotism. Either way, we're ecstatic to see what Hallmark alumni Allison Sweeney and Lucas Bryant bring to Shelton's latest Hallmark collaboration.
Christmas On My Mind
Christmas on My Mind stars Ashley Greene as Lucy and Andrew Walker as Zach. In the Hallmark film, premiering on December 19, Lucy wakes up with temporary short-term amnesia. She doesn't understand why she's in a wedding dress, and why she's engaged to a new man, instead of her ex-boyfriend Zach. In search of answers, Lucy heads back to Harbor, Maine.
Christmas on My Mind's concept strays a little from the Hallmark formula, which makes us curious to see just how things will play out. However, it doesn't stray completely from the norm, considering the movie features one of Hallmark's staple actors in Andrew Walker. The dynamic Jackée Harry also lends her talents to a supporting role in Christmas on My Mind.
Angel Falls: A Novel Holiday
Book editor Hannah (Jen Lilley) teams up with her former rival, Ryan (Carlo Marks) to help potential writers. An Angel named Anthony (Eric Close) stops by to help them remember the importance of community. It premieres on December 15, and serves as a loose sequel to Hallmark's 2017 Christmas in Angel Falls. Angel Falls: A Novel Holiday, like the original, is written by Melissa De La Cruz.
Angels helping people remember to be good? Sounds like a perfect holiday movie to us. Angel Falls: A Novel Holiday could be Hallmark classic in the making.
If you like romance, singing, merry and cheer, then you'll find plenty to watch this Hallmark movie season. Stay tuned to the cable favorite throughout the Christmas season to tune into the great movies listed above and much more.
Your Daily Blend of Entertainment News
Spent most of my life in various parts of Illinois, including attending college in Evanston. I have been a life long lover of pop culture, especially television, turned that passion into writing about all things entertainment related. When I'm not writing about pop culture, I can be found channeling Gordon Ramsay by kicking people out the kitchen.