In Defense Of Liz In The Blacklist Season 7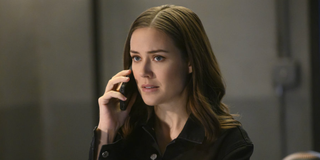 (Image credit: Scott Gries / NBC)
Season 7 has been a tough one for The Blacklist's Liz Keen. Her father figure got held prisoner by her estranged mother and Katarina subsequently impersonated Liz's neighbor to get closer to her. Liz did not learn until right before the midseason finale. Cue her reunion with Katarina and the bombshell revelation that Liz still does not know who Red really is, and you have a recipe for disaster.
Liz is caught between what she knows, suspects, and feels. It has made for a slippery slope in Season 7. The Blacklist regularly puts Liz into tight spots, but it has painted her into her most uncomfortable corner yet. Her back caught between two competing walls – her mother's and Red's. Hence, the drama to come when the series returns!
In The Blacklist's midseason finale, the series ushered in what was undoubtedly a controversial decision by Liz. She helped her mother evade the authorities, and she learned her mother had faked her death. Liz is yet again keeping a massive secret from Red, who believes Katarina is dead. Yes, the same man she already crossed to nearly deadly results in the past.
I do not think that Liz is making the right call with Katarina, even though The Blacklist's creator said viewers can "trust" her. However, I totally understand why she made it. Liz and Red already have a lot of trust issues and it sounds like they are not going to improve. She wants the truth, and Liz (naively?) believes that Katarina can give it to her.
Remember, Katarina scored a significant point with Liz in revealing that Red had yet again let Liz believe something untrue. He is not Ilya Koslov. So, I think The Blacklist is totally staying within the confines of Liz's behavior for her to be wary of him. Everything that she thought she knew about Red just got re-written all over again.
As for Liz, she sadly has reasons not to trust Red. He has not trusted her with the truth of who he really is, and that revelation continues to ripple throughout The Blacklist. From the moment the show started, viewers knew that Red was keeping stuff from Liz. Fast forward to Season 7 and he would not even tell her that Katarina kidnapped him.
Should Liz have figured out that her mother was the next-door neighbor sooner? She had a lot going on. Liz is a working single mother with a demanding job. Why would she necessarily suspect Maddy Toliver of being Katarina? When The Blacklist Season 7 began, Liz strangely indicated that she did not even think her mother was still alive.
Liz, like anyone trying to get through their day-to-day, put her defenses down. She wanted to see what she wanted to, and Liz even admitted to Katarina that she had suspected the truth before their confrontation. While Liz desires honesty, she wanted to believe an illusion. Who can blame her?
Liz has had a rough go of it on The Blacklist. Throughout the series' seven seasons, Liz has never come across as malicious. She is a person caught in a world that forces her to lie to protect the people she loves. I do not think that Liz sets out to deceive people. Many times, she does the wrong thing for all the right reasons.
In my opinion, Liz's latest decision on The Blacklist was made out of a misguided affection for her mother and a desperation for answers. I wish that Red and Liz could be on even ground and work together. However, there is too much secrecy right now.
Liz has reasons to be skeptical of Red. Not of his intentions, rather his ability to be honest with her. It pains me to say it, but he has not been. If Red came clean, would Liz still be making the same choices? I do not think so. Liz is trying to walk an incredibly thin red line. For this Blacklist viewer, she has not crossed it.
The Blacklist will make its long-awaited return during the midseason, starting in March 2020 on NBC. An exact return date for Season 7 has not been announced yet, so stay tuned. You can watch previous seasons of The Blacklist on Netflix alongside content arriving in 2020.
Your Daily Blend of Entertainment News
Like a contented Hallmark movie character, Britt happily lives in the same city she grew up in. Along with movies and television, she is passionate about competitive figure skating. She has been writing about entertainment for 5 years, and as you may suspect, still finds it as entertaining to do as when she began.