A MacGyver Alum Is Heading To Hawaii Five-0 In A Major New Role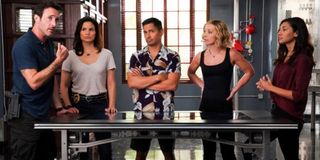 Ten seasons in and Hawaii Five-0 is still thriving. While the CBS drama currently has a great cast, it's always good to add new people to the series every once in a while to shake things up a bit. In a fun turn of events, MacGyver alum Lance Gross will be headed to Hawaii Five-0 in a major new role and his storyline will require the Five-0's full cooperation.
Lance Gross, who played bounty hunter Billy Colton in six episodes of CBS' MacGyver, has been cast as Lincoln Cole in Season 10 of Hawaii Five-0. Lincoln is a former Marine Gunnery Sergeant with the Fleet Anti-Terrorism Security Team. When his attempts to do good land him in a dangerous situation, Alex O'Loughlin's Steve McGarrett and the rest of the Five-0 team work together to ensure his safety and protection.
The former Star and Sleepy Hollow actor will appear in the final two episodes of Hawaii Five-0's Season 10, which had an Easter egg-filled crossover with Magnum P.I. in January. Lance Gross will be credited as a guest star in the episodes, but Deadline is reporting that there's an option for Gross to become a series regular should Hawaii Five-0 be renewed for Season 11.
However, while Hawaii Five-0 hasn't officially been renewed for another season, showrunner Peter M. Lenkov says that he hopes the show "goes a few more seasons" because there are still plenty of character stories to tell. Considering that the opportunity to become a series regular is on the table, it sure seems like Lance Gross' character will be hitting it off fairly quickly with the Five-0 gang.
Season 10 is still a couple of months away from ending, so there's still hope that CBS will renew Hawaii Five-0 for another season. Whatever happens, though, the Five-0 crew will have their hands full protecting Lincoln and there's no telling what these Season 10 episodes will bring. As is usually the case with the drama, I expect the final episodes to be full of action and suspense.
Earlier this season, Hawaii Five-0, which got very dark and twisted for Adam, lost Jorge Garcia's Special Consultant Jerry Ortega, who departed the series at the end of the Season 10 premiere. Although Katrina Law's Quinn Liu filled that void when she joined the series this past season, there's always room for other characters like Lincoln to join in on all the fun.
Look for Lance Gross' Lincoln to make his debut in Season 10's final episodes, which will air back-to-back on April 3. Hawaii Five-0 airs every Friday at 9 p.m. ET on CBS. For more on what to watch, be sure to check out our 2020 midseason schedule for updated premiere dates and times.
Your Daily Blend of Entertainment News
Your Daily Blend of Entertainment News
Thank you for signing up to CinemaBlend. You will receive a verification email shortly.
There was a problem. Please refresh the page and try again.