On My Block Reveals The Kids' Abductor And Premiere Date In First Look At Season 3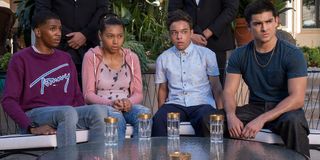 It's been almost a year since Season 2 of On My Block left off on a major cliffhanger that saw the Freeridge kids kidnapped by unknown assailants. Since then, many have wondered what's in store for Monse, Ruby, Jamal, and Cesar in Season 3. On My Block reveals the kids' abductor and the premiere date in Netflix's first look at Season 3.
Netflix, which recently cancelled Insatiable, wasted no time in revealing that the kids were going to be alright in the preview for Season 3 next month. With the On My Block crew unexpectedly kidnapped at the end of Season 2, the usual suspects were the inner city gangs, the Santos and the Prophets, or the Freeridge robbers.
However, an image from On My Block's Season 3 premiere quickly reveals who the abductor is and, in a surprise twist, it's someone wholly unexpected and unfamiliar. Take a look!
While the picture doesn't tell us who this person is, the fact that it's a woman is a bit shocking, though welcome, because all of the show's previous agitators have been men. This woman seems confident, extremely rich, and foreboding enough to instill fear among Monse, Jamal, Ruby, and Cesar. I mean, she has golden snake jewelry adorning her belt and neck and she sits on a throne-like chair. If that doesn't exude power and fear, I don't know what does.
What's more, the On My Block Season 3 teaser reveals a bit more about this mysterious captor. Not only does she love snakes, but her mansion is decorated with mounted animal heads. The foursome are brought to her by several hired guns and she's seen grabbing a knife. The teaser ends with the Season 3 release date, so mark your calendars for March 11! You can watch the full teaser trailer below:
The remaining preview images seem to confirm that the four friends will be freed at some point, likely early on in the season. In fact, it seems Ruby and Jamal still have a hold of their RollerWorld money from Season 2, which they used to ensure Cesar's life was protected. That said, it might not be the RollerWorld money. It's possible they've found some other way to make cash.
Nothing's off the table just yet, though it's possible the mystery abductor has put the teens to work with the promise that she would pay them in return. It's hard to tell how big of a threat she is until the season premieres, though. Whatever the case may be, it wouldn't be a season of On My Block if there wasn't a mystery to solve or trouble to get out of.
The picture above suggests Jasmine has a bigger role to play in Season 3 and it seems she'll even be joining the foursome on their sleuthing. What or who they're investigating is a mystery, but the secrets seem to lie in the hallways of their high school. Thankfully, it won't be long before we find out.
On My Block Season 3 premieres Wednesday, March 11 on Netflix (opens in new tab). For more on what to watch, be sure to check out our 2020 midseason schedule for updated premiere dates and times.
Your Daily Blend of Entertainment News
Your Daily Blend of Entertainment News
Thank you for signing up to CinemaBlend. You will receive a verification email shortly.
There was a problem. Please refresh the page and try again.