Insatiable Fans React Strongly To Netflix's Cancellation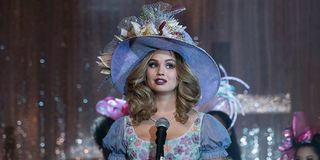 Netflix is pressing down on that cancellation button very firmly these days. After recently cancelling Soundtrack and Spinning Out, the streaming giant is giving Insatiable the axe after just two seasons. Fans found out about the Netflix cancellation and they reacted very strongly to the news.
Netflix renewed Insatiable for Season 2 last September, despite the backlash it received during Season 1. In short, many critics didn't find the series very funny and criticized the show for its problematic premise and storylines. The series starred Debby Ryan as Patty, a teenager who decided to become a pageant queen as revenge against her high school bullies.
While Insatiable Season 1 was heavily buzzed about, Season 2 premiered last October with little fanfare. Although the show had its naysayers, there were plenty of viewers who did enjoy what it offered and were none too happy that it was cancelled. One viewer didn't have much to say about the cancellation. Rather, the Twitter user used an gif to properly describe their feelings.
Meanwhile, another Insatiable fan had more than enough to say about the shocking cancellation, and called out both Netflix and CBS for axing the series.
Another Insatiable viewer took to social media to express sadness over the cancellation and thanked those involved with the series.
This fan was so angry about Insatiable's cancellation that nothing but all caps could express their frustration.
While there were many who didn't like the show's premise, one Insatiable fan did appreciate what the show was trying to do with Patty's storyline in Season 2 and was sad to hear the show's not coming back.
Not all cancellations mean the permanent end of a series, though. Multiple shows have gotten picked up after cancellation. Lucifer was picked up by Netflix after Fox cancelled the show, while Pop TV picked up One Day At a Time after Netflix pulled the plug on the sitcom. Might the same thing happen with Insatiable? I wouldn't bet on it at this point, but stranger things have surely happened in the television business.
Star Alyssa Milano is also sad that Netflix cancelled the series and responded to the news on Twitter, thanking fans for watching and engaging with the show. In her words:
Alyssa Milano first revealed the series wouldn't return on February 4 when responding to a fan on Twitter. Now that news of cancellation is confirmed, Milano's line about not knowing what will happen to the characters after Season 2 really hits home.
Insatiable Seasons 1 and 2 are still available to stream on Netflix. For more on what to watch, be sure to check out our 2020 midseason schedule for updated premiere dates and times.
Your Daily Blend of Entertainment News