Big Brother 21 Cast: Where Are The Houseguests Now?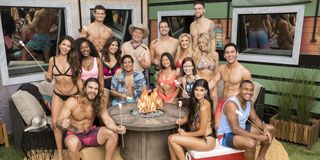 With over six months having passed since Big Brother 21 came to a close, now is as good a time as any to check in on the Houseguests who made up one of the show's most controversial seasons. What happened to both our favorite players and our least favorite players of the season, and where have their lives gone post-Big Brother?
Here are all the answers, at least for the Houseguests who made jury and beyond. From Jack Matthews to Jackson Michie, everyone has had their lives change in some way thanks to Big Brother. So let's kick things off with the former.
Jack Matthews
Jack Matthews was one of the most controversial players of Big Brother Season 21, thanks in large part to some controversial and racially charged statements overheard by fans on the show's live feeds. In terms of gameplay, Matthews won one Head of Household, and was one of the people dictating the moves first in the Gr8tful alliance, and then in the 6 Shooters. Eventually, Jack became the first member of the jury when Jessica Milagros put him up on the block next to Jackson Michie.
Following his apologies to Houseguests for things he'd said, Jack Matthews went back to being a fitness trainer, and he has a nutritionist service called Worth Nutrition. He even managed to bury the hatchet with former Houseguest David Alexander, though not all of his relationships panned out after leaving the house. Jack's showmance with Analyse Talavera ended not long after Big Brother 21 did, though Jack said at the time of the split that the two are still friends.
Kathryn Dunn
Kathryn Dunn was always on the lookout for "conspiring bitches" in Big Brother Season 21, but unfortunately, her instincts were often off. Kat managed to survive being on the block once, and even won a veto competition, but ultimately became the second person to join the jury house. If only she had done some conspiring of her own, and tried to make some moves from within her alliance before she got too low on the totem pole.
Post-Big Brother, Kathryn Dunn is still living the influencer life on social media. She's also been carrying on a romance with fellow Houseguest Nick Maccarone for quite a while, though there are no signs of wedding bells just yet. For now, Kat seems just fine living life with her newfound Big Brother fans, and pushing merch for them to buy when she can.
Analyse Talavera
Analyse Talavera made nice with all the right people at the start of Big Brother, but was inevitably at the mercy of the House once alliances started to fall apart. Because she was so unimposing from a competitive standpoint, Talavera's real saving grace was not having a big target on her back. Unfortunately, Christie Murphy used that to her advantage when she targeted Nick Maccarone, and the house voted Analyse out, knowing they might need Christie to vote out Nick the following week.
As previously mentioned, Analyse Talavera continued her showmance with Jack Matthews for a short time after Big Brother 21, but ultimately the two went their separate ways. The 23-year-old, a former Division 1 college soccer player, is doing some influencing of her own on Instagram, and is advocating for a lot of different brands on the platform. Overall, Talavera looks happy in her post-Big Brother life, though it doesn't seem like she makes mention of the reality competition these days as much as her other castmates.
Nick Maccarone
Nick Maccarone may not have been the most controversial player on Big Brother Season 21 in the eyes of fans, but that argument probably wouldn't be made by his fellow Houseguests. Nick played both sides of the house, and his flip-flop romance from Bella Wang to Kathryn Dunn caused some real drama online and during the finale. Nick ended up being voted out of the house after a disastrous "Taco Tuesday" argument with Christie Murphy, though he didn't face the reckoning until the following week.
These days, Nick Maccarone is repping brands on Instagram, and is in a relationship with Kathryn Dunn. Maccarone noted that leaving the show was quite an experience for him, and he did not expect the level of backlash he received on social media after leaving. No word on how his career as a therapist is going after Big Brother, though Maccarone did mention that some fans tried to get him fired from that job while he was in the house.
Jessica Milagros
Jessica Milagros was typically known as the person in the house who never knew what was happening, and was generally seen as a floater in Big Brother Season 21. With that being said, she managed to make a major move in putting both Jackson Michie and Jack Matthews on the block. She also essentially blew up everyone's game one week, which began the string of events that ultimately led Holly Allen and Jackson to the Final 2. None of what Jessica did ever really helped her game or prevent her own elimination, but it did make things more interesting!
Since Big Brother 21 ended Jessica Milagros has done some big things. She's continuing her career as a plus-sized model and even got a guest spot on The Bold And The Beautiful. No word on if the acting thing is something Jess is trying to do long-term, but as of this writing, she has no upcoming projects on the horizon.
Christie Murphy
Christie Murphy started out strong with an early Head of Household victory in Big Brother 21, but it wasn't her competition-winning abilities that kept her in the game. In fact, Christie was pretty awful at competitions, yet managed to remain in the game quite a long time by having an aggressive social game. It saved her from the block more than a couple times, but her luck finally ran out when she and Tommy were unable to sway the final-four alliance Cliff and Nicole had with Jackson and Holly.
After Big Brother, Christie went back to running her store Mystic Earth Boutique and is repping brands on her personal Instagram. Christie doesn't go on Twitter, and has stated she's not a fan of the constant negativity on there. In fairness, Christie angered many fans with her gameplay in the house, so heading to Twitter may not be the best idea.
Tommy Bracco
Tommy Bracco was the perfect version of a Big Brother super-fan playing the game. He laid low at the start, found quick safety by hiding behind the right people, then finally started to be more physical of a threat midway in. Tommy had a solid shot at winning the game, but ended up falling short in tremendous fashion thanks to Jackson's well-constructed lie that tipped Nicole and Cliff's vote to keep the showmance in the game.
Tommy isn't up to a lot following Big Brother, and per his interview with PeopleTV back in October 2019, that's by design. Tommy said a lot can change when someone takes part in the reality series, and it can take some time to adjust to all that. Tommy also said the first thing he did after leaving Big Brother was call his aunt, who'd previously dated Christie Murphy, and she thankfully, understood the difficult decision he faced in forging an alliance with her. Overall, things are looking good for Tommy, and hopefully they stay that way because he's on a short list of Houseguests that fans would like to see return.
Cliff Hogg III
Cliff Hogg entered the Big Brother house as the oldest competitor in Season 21. Cliff had a bullseye on his back based on that alone, and was frequently targeted in the early stages of the competition. He was evicted, but won the Camp Comeback competition to re-enter the game. Cliff flipped that into a tremendous run that resulted in him being the 4th-place finisher. To be fair he could've finished in the Top 3, but foolishly squandered the opportunities he had to get rid of Jackson and Holly, believing Jackson would stay loyal to him.
Cliff Hogg is back with his family, and enjoying life after Big Brother. His social media shows he's made public appearances with former Survivor stars also from the Houston area, and he's keeping tabs on Big Brother Canada. It looks like being in the house hasn't changed his love of the game in the slightest. He also seems to be on pretty good terms with everyone who was in the house, though that's not surprising, considering how friendly of a player he was.
Nicole Anthony
Nicole Anthony entered Big Brother as the silent underdog, and exited as America's favorite Houseguest of Season 21. It wasn't hard to see why, given her genuine and honest gameplay throughout the entire game, not to mention her clutch competition wins down the stretch that kept the final four alliance alive. She did make a terrible mistake in taking a showmance to the Final 3, and ultimately paid the price for it when she lost her shot at being in the Final 2.
Nicole Anthony is thriving after Big Brother with her a podcast, her loyal following on social media, and her new love! Yes, Nicole is in a semi-showmance, but only in the sense that she's dating another castmate's relative. Nicole is currently dating Tommy Bracco's brother Philip, and things are going pretty well between the two. Basically, Nicole is almost another person entirely since Big Brother, and it's hard not to love that.
Holly Allen
Holly Allen entered the Big Brother house as part of the majority alliance, and managed to stay in that circle throughout the entirety of the game. Her two Head of Household wins and showmance with Jackson Michie all but ensured her making it to the Final 2. Without their strong alliance throughout the late stages of the game, there's a good chance neither would've made it to the end of Season 21.
It turns out all that talk about Holly not being too attached to Jackson was all an act, because she's still dating the Big Brother winner at the time of this writing. The two have been traveling all over the place, according to her Instagram, and have found time to visit a few Big Brother alumni along the way. There isn't much current evidence of her former job as a wine sommelier up on social media, so perhaps she's committed to whatever next step comes with Jackson.
Jackson Michie
From a competitor's perspective, Jackson Michie played a dominant game. He kept with the majority alliance, had four veto wins, and was HoH 3 times (not including his opening role as Camp Director). Despite always seeming to be a target, he only found himself on the block for eviction one time. Though it's possible his partner Holly Allen got more nominations as a passive aggressive way of weakening him. Jackson ended up winning it all, though not without controversy, with fans questioning the validity of his win due to the "Have Not" scandal.
Jackson Michie's continued survival within the Big Brother house may have been a shock to the system, especially given the passionate fan outcry regarding his gameplay and various controversies. Michie has released a few statements defending himself since the ending of Big Brother 21, and seems to enjoy working out as a way of combating the negativity he sees online. He's also still dating Holly Allen, and going on vacations with former castmates and Big Brother alumni.
Season 21 and all prior seasons of Big Brother are currently available to stream on CBS All Access (opens in new tab). Continue to stick with CinemaBlend for updates on the franchise, and for the latest news happening in television and movies.
Mick likes good television, but also reality television. He grew up on Star Wars, DC, Marvel, and pro wrestling and loves to discuss and dissect most of it. He's been writing online for over a decade and never dreamed he'd be in the position he is today.
Your Daily Blend of Entertainment News
Thank you for signing up to CinemaBlend. You will receive a verification email shortly.
There was a problem. Please refresh the page and try again.