What To Watch On Netflix If You Love Hawaii Five-0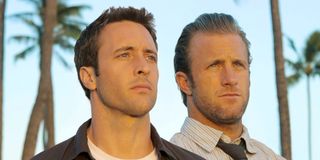 The bad news: Hawaii Five-0 has ended. The worse news: the series is not available to stream on Netflix. The good news: there is plenty of content available on the streaming service that will appease fans of the long-running drama.
For 10 seasons, the hit CBS crime procedural, itself a remake of creator Leonard Freeman's classic CBS crime procedural that ran from 1968-1980, gave viewers a taste of the darker side of paradise. Reserve Naval officer Steve McGarrett (Alex O'Laughlin), Detective Danny Williams (Scott Caan), and their task force dubbed "Five-0" investigated a series of crimes in the Hawaiian Islands ranging from organized crime as far as terrorism.
Now that the series is over, where can fans find more justice under the sun (not including CBS's Hawaiian-based remake of the classic Hawaiian-based CBS crime show Magnum P.I.)? While I cannot promise a tropical climate for all of them, I have compiled numerous TV shows, and even a few movies, available to stream on Netflix that those already missing Hawaii Five-0 will have a ball with. Let's "book 'em."
Criminal Minds
A federal law enforcement team that specializes in the psychological analysis of the most dangerous people in the United States tries to predict their next move in an effort to catch them in the act in this fan favorite that recently had its series finale after 15 seasons.
Why Hawaii Five-0 fans will love it: Inspired by the cases of FBI's Behavior Analysis, but presented in a far less brutal fashion than Netflix's Mindhunter, Criminal Minds is yet another long-running CBS procedural drama featuring an ever-evolving, often interchanging cast of likable people (initially led by Mandy Patinkin, but then by Joe Mantegna from the series' third year until its end) who have dedicated their lives to studying some very unlikable folks.
Stream it on Netflix here
The Blacklist
On her first day as an FBI profiler, Elizabeth Keen (Megan Boone) finds an unexpected ally in elusive master criminal Raymond "Red" Reddington (James Spader), who shocks the bureau by turning himself in with a proposal to offer his assistance in the hunt for the country's most wanted criminals.
Why Hawaii Five-0 fans will love it: This Golden Globe-nominated hit crime drama, currently in its seventh season on NBC, is a deliciously mysterious and addictively exciting series about unlikely partnerships that happen to pay off nicely.
Stream it on Netflix here
Person Of Interest
Outside the knowledge of the authorities, a wealthy tech wizard (Michael Emerson) teams up with a former CIA agent (Jim Caviezel) to form a preemptive task force that uses a highly sophisticated artificial intelligence software he designed capable of detecting impending crimes in the New York City before they happen.
Why Hawaii Five-0 fans will love it: This Emmy-nominated series, executive produced by J.J. Abrams and creator Jonathan Nolan (Christopher's brother, and co-creator of Westworld), may not have ran for as long as most CBS procedurals tend to last, but its grounded, Minority Report-esque concept and dynamite cast make for five seasons of unique and clever entertainment.
Stream it on Netflix here
Lethal Weapon
Veteran Los Angeles detective Roger Murtaugh (Danny Glover) must set aside his differences with loose cannon Martin Riggs (Mel Gibson) when they are thrown together as partners and assigned to nab a drug smuggling.
Why Hawaii Five-0 fans will love it: This 1987 buddy cop classic directed by Richard Donner, and also one of many Shane Black-penned thrillers appropriate for the holiday season, is one of the top action films of its time, or any time, especially for the dynamics of its mismatched pair of heroes.
Stream it on Netflix here
Limitless
An ordinary, young New Yorker (Jake McDorman) comes into possession of a pill that unlocks the full extent of his brain, which at first makes him the prime suspect in a murder tied to the drug, before eventually earning him a consulting position with the FBI.
Why Hawaii Five-0 fans will love it: Bradley Cooper produces, and occasionally appears on, this continuation of his 2011 film of the same name that, despite lasting only one season on CBS, is remembered as an enjoyable combination of science fiction, comedy, and, of course, good old fashioned crime procedural drama.
Stream it on Netflix here
Taken
Speaking of TV series inspired by popular movies, a vengeful former Green Beret named Bryan Mills (Clive Standen) is enlisted by the CIA to use his "particular set of skills" for a potentially "long career" of dangerous operations involving people whom he could prove to be "a nightmare" for.
Why Hawaii Five-0 fans will love it: This short-lived prequel to the blockbuster action movie franchise of the same name starring Liam Neeson was two seasons of high-octane thrills that took audiences on adventures all over the world.
Stream it on Netflix here
NCIS
Former marine turned special agent Leroy Jethro Gibbs (Mark Harmon) leads his team from the Naval Criminal Investigative Service in cracking cases, particularly involving Marine or Navy personnel and their family members, in Washington D.C.
Why Hawaii Five-0 fans will love it: Currently in its 17th season and having inspired two hit spin-offs along the way, this top-rated drama from veteran producer Donald P. Bellisario is one of the longest-running procedurals of all time, and most definitely the longest to air on CBS, kept afloat by its first-rate writing, Emmy-nominated action choreography, and dynamic cast of colorful characters.
Stream it on Netflix here
The Good Cop
For straight-laced New York City detective Tony Caruso (singer turned actor Josh Groban), solving crimes is nothing compared to sharing a home with his father, Tony Caruso Sr. (Tony Danza), a troublesome former police officer recently released from prison.
Why Hawaii Five-0 fans will love it: This is yet another Netflix original series which the streaming service's premature cancellation of had fans devastated, wishing they could see more of the irresistible wit and endearing characters that this crime dramedy from the creator of Monk had to offer in its sole season.
Stream it on Netflix here
Haywire
After enduring a double-cross against her by the government agents who hired her, a highly skilled black ops soldier turned freelance covert operative (MMA athlete and future The Mandalorian star Gina Carano) seeks to punish on her betrayers.
Why Hawaii Five-0 fans will love it: Director Steven Soderbergh convinced screenwriter Lem Dobbs into rewriting the central protagonist of Haywire as a woman so that Carano could lead the all-star cast (which includes Michael Fassbender, Ewan McGregor, and Channing Tatum to name a few) of this action-packed espionage thriller that, like Steve McGarrett character arc in Hawaii Five-0 began, is a thrilling quest for revenge.
Stream it on Netflix here
Quantico
After becoming the prime suspect of a devastating terrorist bombing, FBI agent Alex Parrish (Priyanka Chopra) recalls the early days of her recruitment in hopes to figure out which her former fellow trainees may have framed her.
Why Hawaii Five-0 fans will love it: Like any good network television drama, Quantico is a decent balance of lighthearted, sometimes funny, and often sexy character-driven side stories wrapped up in dark, titillating mysteries that, in this case, lasts over the course of three seasons.
Stream it on Netflix here
Spenser Confidential
After being released from prison, ex-Boston cop Spenser (Mark Wahlberg) teams up with his aspiring MMA fighter roommate (Winston Duke), his longtime friend and landlord (Alan Arkin), and his feisty on-and-off girlfriend (Iliza Schlesinger) to investigate the murder of two of his former colleagues, one of which he was suspected of killing.
Why Hawaii Five-0 fans will love it: Inspired by author Robert B. Parker's famous private investigator, director Peter Berg's offbeat Netflix original feels a bit like the pilot of network TV procedural drama (despite frequent F-bombs) extended to 110 minutes, from the tense score, cinematography, and the creation of a ragtag group of justice seekers right before your eyes.
Stream it on Netflix here
Malibu Rescue: The Series
A team of scruffy young lifeguards run into the occasional problems faced by the average teenager while carrying out their oath to protect the beachgoers of Malibu, even if it does not involve the same glamorous style, action-packed thrills, and slow motion running shots they had anticipated.
Why Hawaii Five-0 fans will love it: This comedy series that acts as a continuation of a 2019 Netflix original movie of the same name, may not have the same grit and dramatic narrative style of a crime procedural targeted at a more adult audience, but it has its fair share of high-stakes adventure in a sunny, ocean side environment and what more can a Hawaii Five-0 fan ask for?
Stream it on Netflix here
What do you think? Do these shows and movies remind you of why you fell in love with CBS's Hawaii Five-0 reboot in the first place, or do these selections just make you miss it more? Let us know in the comments and be sure to check back for more recommendations of crime procedurals or other television genre staples available to stream on Netflix here on CinemaBlend.
Jason has been writing since he was able to pick up a washable marker, with which he wrote his debut illustrated children's story, later transitioning to a short-lived comic book series and (very) amateur filmmaking before finally settling on pursuing a career in writing about movies in lieu of making them. Look for his name in just about any article related to Batman.
Your Daily Blend of Entertainment News
Thank you for signing up to CinemaBlend. You will receive a verification email shortly.
There was a problem. Please refresh the page and try again.