Lost In Space Actor Reveals Netflix Is Really Hands Off, Despite The Big Budget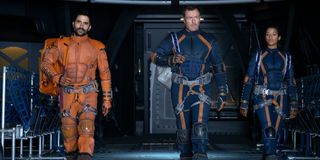 Netflix has invested a lot of money in original programming. Considering how big of a company Netflix is, the presumption might be that execs are micromanaging productions. According to Lost in Space actor Toby Stephens, however, Netflix is really hands off despite the show's big budget.
Netflix rebooted Lost in Space in 2018. A reimagining of the 1965 series, the show was renewed for a third and final season in March. In terms of set visits and how involved Netflix is with the show, Toby Stephens says execs aren't intrusive at all. Here's what the actor told The Spectator:
That's good to know. Big-budget studio productions have a lot at stake, so it's pretty great that the folks at Netflix only check in every so often rather than all the time. That likely gives Lost in Space's creative team the freedom to do what's best for the story and characters without worrying too much about their higher-ups.
Toby Stephens, who plays U.S. Navy SEAL John Robinson, adds that the hands-off approach might be indicative of Hollywood's trust in British actors, who "turn up and actually know our lines." The actor acknowledges that being trained in acting is helpful, though I doubt very much that knowing one's lines is the only reason the folks at Netflix aren't constantly checking in with the sci-fi series.
There's also the fact that Lost in Space shoots in Vancouver, British Columbia, while Netflix headquarters are in California. That said, the Lost in Space actor has appeared in a myriad of other big-budget productions, including Starz's Black Sails, the James Bond film Die Another Day, and Michael Bay's 13 Hours, and he's done a lot of smaller budget projects as well.
Netflix's Lost in Space remake originally premiered back in 2018 and its third and final season is expected to debut on the streaming service at some point in 2021. However, the announcement came right around the time that the Hollywood-wide production shutdowns began taking place. So, there's no telling whether the series' filming schedule will be pushed back and, if so, for how long. Whatever the case, I'm guessing that Netflix will remain lenient and only check in to make sure "everything's okay."
Stay tuned to CinemaBlend for updates. In the interim, you can watch the first two seasons of Lost in Space on Netflix. For more on what to watch in the coming months, be sure to check out our 2020 summer TV premiere schedule. If you're looking for more series to binge on Netflix, swing by our complete streaming guide to see what's new.
Your Daily Blend of Entertainment News
Thank you for signing up to CinemaBlend. You will receive a verification email shortly.
There was a problem. Please refresh the page and try again.