Shameless Is Trending On Netflix, But Season 11 Could Still Be A Long Way Off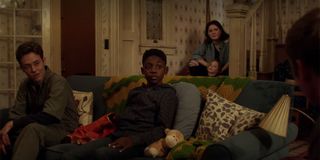 Shameless may no longer feature the talents of Emmy Rossum, but the series is still pretty popular. Case in point: the most recent season of Shameless just hit Netflix at the tail end of last month and has been exceedingly popular in the time since it hit the service, ranking #2 in the U.S. at the time of this writing. In other good news, the show's already been renewed for Season 11; however, new episodes could still be a long way off.
Here's the deal for all you cord cutters just catching up with Season 10. Season 11 of Shameless was greenlighted for its eleventh and final season and the powers that be at parent network Showtime had a great plan to air the final set of episodes in the summer, as in this summer. Obviously, a lot of things have changed since January.
Instead, by March of 2020 we had to Covid lockdown and productions shut down entirely. Obviously this has delayed what has been called "the last hurrah for the Gallaghers" and there hasn't been a ton of movement on that front in the time since.
In fact, the last time we checked in on Shameless Season 11 was when series lead Emma Kenney mentioned in an Instagram post that the final season had been supposed to start filming. Here's her last post on the subject:
That was 20 weeks ago. Seemingly there's been no movement on production since then as various cast members have continued social distancing and spending time outdoors. In fact you know things have been halted for a long time when Cameron Monaghan's had time to grow a full beard.
This summer was originally setup to be a huge moment for Shameless, between the originally accelerated premiere date for its final season (last season kicked off in November and subsequent seasons had been January premieres) and the show's Season 10 appearance on Netflix. I assume the goal would have been to follow the final season with a splashy Netflix final season premiere date. All of this should still happen, but is absolutely going to be spaced out over a much longer time period.
Meanwhile, Covid shutdowns have been sticky for a few different reasons. The actors on Shameless often have multiple projects going at once. For example, Emma Kenney in particular has a very notable gig on network TV right now filming myriad episodes for The Conners. That series has been open about making sure her schedule works, but that does complicate matters when a lot of different productions will be trying to go back right at once.
The good news is that the final season of Shameless will happen eventually, but like a lot of Hollywood productions right now, plans have changed and certain programming has been sluggish or unwilling to get back into the groove while there are still health concerns. Meanwhile, all the fanbase can really do is wait. Luckily, while we wait, there are 10 whole seasons we can always revisit, or watch for the first time. Or alternatively, see what else is coming to Netflix with our full schedule.
Amazing Race & Top Chef superfan with a pinch of Disney fairy dust thrown in. If you've created a rom-com I've probably watched it.
Your Daily Blend of Entertainment News
Thank you for signing up to CinemaBlend. You will receive a verification email shortly.
There was a problem. Please refresh the page and try again.