Yellowstone And 7 Other Neo-Western TV Shows You Can Stream Now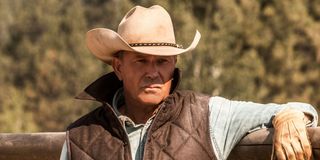 These days, a western does not need to be a period piece, especially when a show like Yellowstone feels just the same while set in the modern day (or the future). Even if that series, somehow, failed to satisfy the most die-hard fans of the genre, perhaps they can look to Timothy Olyphant on Justified or Robert Taylor in the title role of Longmire as the new 21st Century gunslinger to call their hero.
In fact, there are even more shows on television, and currently available to stream, that qualify under the category of the Neo-Western, which treats viewers to familiar tales of good vs. evil, defending one's territory, stumbling upon coveted fortune, and maybe a good number of big hats, too. However, these shows are different from something like Bonanza or Deadwood as they are set in a world in which people travel by car instead of carriage, a pistol can more than just six rounds, and sending a message to someone miles away only takes mere seconds.
Are curious to see just how wild the Wild West has come to be since the late 19th Century? Allow us to show you why you will find what you are looking for in Yellowstone and seven other TV shows that bring the feelings of a classic western into the present, or even further beyond that.
Yellowstone (Peacock)
A family of ranchers from Montana, with Academy Award-winner Kevin Costner starring as leader John Dutton, go to great lengths to maintain ownership of their vast spread of land, an ongoing battle which sees them endure stand-offs with land developers, greedy corporations, and even tourists.
Why It's A Good Neo-Western TV Show: From co-creators Taylor Sheridan, the Neo-Western master behind acclaimed films Hell or High Water and Wind River, and former Sons of Anarchy producer John Linson, Yellowstone is a country-fried soap opera in the vein of Dallas, that is currently in the third season of the Dutton family's continuing struggle to hold onto what matters the most to them, even if that means that things might play out like they would have in the Old West.
Stream Yellowstone on Peacock here (opens in new tab).
Justified (Hulu)
Speaking of how things were done in the Old West, that is just the way U.S. Marshal Raylan Givens (Timothy Olyphant) likes to take care of things while continuing his own ongoing struggle to protect what means the most to him in his childhood home in rural Kentucky after reassignment garners his return.
Why It's A Good Neo-Western TV Show: After years of a playing a rebellious, 19th Century lawman on HBO's Deadwood, Emmy nominee Timothy Olyphant channeled that same kind of grit for his six seasons as the lead of Justified, a contemporary TV show inspired by a series of novels from prolific crime writer Elmore Leonard, which also stars western alum Walton Goggins as Boyd Crowder, an off-and-on again felon who makes up the other half of Raylan's most conflicted friendship.
Stream Justified on Hulu here (opens in new tab).
Longmire (Netflix)
With a menacing smirk and a disgruntled sense of humor, Sheriff Walt Longmire endures the daily struggles of cleaning up crime in Absaroka County in Wyoming, which seems to be the only keeping him going after the death of his wife.
Why It's A Good Neo-Western TV Show: In yet another modern day western TV show based on a series of books, Longmire spent the first half of its six-season run on A&E before Netflix revived it from the cable network's cancellation, much to the satisfaction of fans who adore this exciting redemption tale. It's appreciated for its raw take on an old school war against crime and Robert Taylor's portrayal of the title character as rambunctious, emotionally damaged man of the law.
Stream Longmire on Netflix here (opens in new tab).
Firefly (Hulu)
A mismatched crew of interplanetary outlaws (Nathan Fillion, Gina Torres, Alan Tudyk, Adam Baldwin, Morena Baccarin, Jewel Staite, Sean Maher, Summer Glau, and the late Ron Glass) embark on a series of high-stakes adventures as they travel the furthest reaches of space hunting for jobs while on the run from the authority.
Why It's A Good Neo-Western TV Show: From the southern twang of its musical score, Clint Eastwood-inspired costume design, and old fashioned shootout choreography, Firefly, and its 2005 cinematic sequel Serenity (referring to the name of their ship), may appear to be a futuristic space opera, but Joss Whedon's Emmy-winning cult favorite, unfairly cancelled before it could finish its 14-episode first season, is a western down to its very bones.
Stream Firefly on Hulu here (opens in new tab).
Hap And Leonard (Netflix)
A free-wheeling, white former convict (James Purefoy) and a black, openly gay Vietnam veteran (Michael Kenneth Williams) head down into the Deep South to search for the supposed spot of an abandoned fortune, but it seems that misfortune is all they are ever able to find.
Why It's A Good Neo-Western TV Show: With the unlikely partnership of its titular duo of treasure hunters, savage gunslingers with a greedy agenda, and a healthy dose of blood-soaked black comedy, Hap and Leonard, a three-season adaptation of the novel by Joe R. Lansdale, sounds an awful lot like what Sergio Leone's The Good, the Bad, and the Ugly could have been like if it was set in the late 1980s.
Stream Hap And Leonard on Netflix here (opens in new tab).
The Mandalorian (Disney+)
In an out-of-character act of rebellion, a lone, interplanetary bounty hunter (Pedro Pascal) makes himself the protector of his most recent target: a child from a rare alien species with abilities that resemble a fallen order of powerful warriors whom most of the galaxy want to get their hands on.
Why It's A Good Neo-Western TV Show: If you really think about it, Star Wars has always had its moments of western flair, but nothing in the franchise has invoked the classic tone of the genre with such purity as the laser gunfights and high plains hoverbiking our title hero encounters in The Mandalorian, Jon Favreau's post-Empire spin-off series set to return to Disney+ in October 2020 for a second season of, arguably, the most exciting story to come out of this beloved universe since the original cinematic trilogy.
Stream The Mandalorian on Disney+ here (opens in new tab).
Westworld (HBO Max)
An innovative scientist (Sir Anthony Hopkins) creates a theme park that grants visitors the chance to live out their greatest fantasies in a town bearing a most authentic resemblance to the Old West and occupied by citizens of a most inauthentic nature, unbeknownst to them.
Why It's A Good Neo-Western TV Show: From co-creators Lisa Joy and Jonathan Nolan and producer J.J. Abrams, this Emmy-winning, much darker interpretation of Michael Crichton's 1973 B-movie Westworld, which appropriately starred The Magnificent Seven's Yul Brynner as the malfunctioning villain, is really a technophobic parable set in the future that only appears to be a drama in the tradition of a spaghetti western, even to its unwittingly robotic characters, but has sees great changes by its fourth and final season.
Stream Westworld on HBO Max here (opens in new tab).
The Walking Dead (Netflix)
After waking up from a coma into a world ruled by the undead, a former sheriff's deputy (Andrew Lincoln) is at a crossroads between what is humane and what is best for the safety of his family and friends as they attempt to navigate the post-apocalyptic landscape without becoming a meal or falling victim to even worse fates.
Why It's A Good Neo-Western TV Show: When adapting Robert Kirkman's groundbreaking Image comic book series The Walking Dead for television, Frank Darabont envisioned its initial lead character, Rick Grimes, as "a cross between Gary Cooper and Sam Shepard," which is, truly, a perfect match for this long, long-running series that, excluding the threat of George A. Romero-inspired flesh-eaters, is, essentially, the story of ordinary people vying for civilization in a state of lawlessness, which is the basis of every great western.
Stream The Walking Dead on Netflix here (opens in new tab).
Honorable Mentions
While we pretty much covered all of the TV shows that most fittingly fall under the Neo-Western umbrella (especially with the Chuck Norris favorite Walker, Texas Ranger currently missing in action), there are a still a few well-regarded series that make notable allusions to western tradition, if not in more subtle ways. For instance, Narcos (opens in new tab), a Netflix original about the hunt for Pablo Escobar, and the 1993 Texas standoff at the center of six-part series Waco (opens in new tab) both offer thrills reminiscent of the genre within a history lesson. On another hand, Breaking Bad (opens in new tab), which chronicles a family's man evolution into a drug lord, and the story of a biker gang's attempts to stay above the law in Sons of Anarchy (opens in new tab) are both parables centered on a "hero's" violent war over their own Western territory and, more importantly, their own morality.
What do you think? Do these TV shows prove that westerns are just as good today as they were over a century ago or does it not count will nothing ever come close to the classics? Let us know in the comments and be sure to check back for additional information and updates on Yellowstone and other examples of Neo-Westerns these days, as well as even more of own recommendations for movies and TV shows currently available to stream, here on CinemaBlend.
Jason has been writing since he was able to pick up a washable marker, with which he wrote his debut illustrated children's story, later transitioning to a short-lived comic book series and (very) amateur filmmaking before finally settling on pursuing a career in writing about movies in lieu of making them. Look for his name in just about any article related to Batman.
Your Daily Blend of Entertainment News
Thank you for signing up to CinemaBlend. You will receive a verification email shortly.
There was a problem. Please refresh the page and try again.