TV Goes On A Wild Renewal Streak As That '90s Show, Harrison Ford's 1923 And Two More Get Renewed
It's a happy day for many TV shows.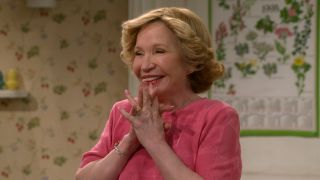 (Image credit: Netflix)
While many shows have faced some really bad news from streamers like Netflix and HBO Max (who both canceled numerous shows) over the last few months, tons of others have gotten the best news they could possibly receive. And that train of good news continues following in the footsteps of renewals for shows like Wednesday, Cobra Kai and Fire Country, as four networks just picked up four new shows, including That '90s Show, Harrison Ford's 1923, Alexandra Daddario's Mayfair Witches and the reboot of Night Court.
That '90s Show Is Set For Another Season
After less than two weeks on the streamer, Netflix has renewed That '90s Show for a second season. The series is a spinoff of its beloved predecessor That '70s Show, and features character's from the original series, as well as their kids. The streamer announced the exciting news via Twitter, check it out:
That '90s Show is returning for season 2! pic.twitter.com/6UtsNQwrGTFebruary 3, 2023
While critics were mixed on That '90s Show, the fans have enjoyed the nostalgic ride through the 1990s. Especially when it comes to getting to learn about what their favorite kids have been up to in the time between the '70s and '90s, even if Mila Kunis wasn't thrilled about a major relationship swap.
It's exciting that we get to spend more time with this new cast of kids who are living it up in the '90s, and hopefully, the next season will also include even more cameos from the OG '70s Show cast.
The first season of That '90s Show can be streamed with a Netflix subscription.
1923 Will Continue To Expand The Yellowstone Universe
The renewal of 1923, according to TV Line, will mark the continuation of the Dutton Family origin story, and the expansion of the Taylor Sheridan world of television. The creator managed to convince Harrison Ford and Helen Mirren to join the cast, adding to the list of A-Listers in the Yellowstone universe, as he tells the story of the Big Sky-based family in the 1920s.
At the moment of renewal, 1923 is halfway through its eight episodes, and from the jump this show has been super successful, bringing in one of the biggest audiences ever on Paramount+. Along with its predecessors Yellowstone and 1883, 1923 gets to continue telling the story of the Dutton's ranch.
The next episode of 1923 drops on February 5 and can be streamed with a Paramount+ subscription.
Alexandra Daddario's Mayfair Witches Gets A Speedy Season 2 Renewal
Mayfair Witches has only been airing on the 2023 TV schedule for a month, and it's exciting news to see it renewed so fast, as AMC's statement announced. The AMC+ series is based on the trilogy of novels by Anne Rice called Lives of the Mayfair Witches, and is the second of Rice's books to be adapted for the channel.
The show has brought in the biggest audience ever for AMC+, per the press release, and has dethroned Interview with a Vampire and the final season of The Walking Dead as the most-viewed series on the streamer.
Production for Season 2 is scheduled to start this summer, but for now, you can continue to watch new episodes of the Alexandra Daddario starring series every Sunday at 9 p.m. ET on AMC.
Night Court Will Be In Session For Another Season
After only four episodes, NBC renewed Night Court for a second season. The reboot series starring Melissa Rauch and John Larroquette will be returning for its second season, and continuing its production into the summer.
Since its January 17 premiere, Night Court has brought in 25 million viewers across platforms and has proven to be a quick success. While the renewal isn't all that surprising, the swift decision is, and I'm positive fans are stoked that they'll get to spend more time in court with these beloved characters in the season to come.
New episodes of Night Court air on NBC every Tuesday at 8 p.m. ET and can be streamed the day after with a Peacock subscription.
All things considered, it's such an exciting day for all these wildly different shows. From the continuation of That '90s Show, to Taylor Sheridan's ever-growing story about the Dutton Family, to the expansion of Anne Rice's adaptations on AMC, to the reboot of a beloved series on NBC, there's something for everyone to be excited about as this year's TV programming continues, and we rev up for another season.
Your Daily Blend of Entertainment News
Riley Utley is a Weekend Editor at CinemaBlend. She spent many years working in local journalism across the country writing about art, news and sports. One of her favorite films is When Harry Met Sally and she walks around constantly quoting Ted Lasso.