Patriot Act's Hasan Minhaj's Reaction To Netflix Cancellation Is Kinder Than The Fan Reactions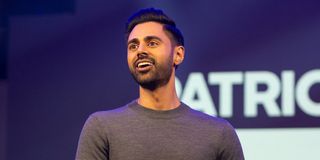 (Image credit: Netflix)
Patriot Act with Hasan Minhaj is the latest Netflix show to get the axe, and some people are handling the cancellation better than others. Despite premiering relatively recently in 2018, Patriot Act ran for six seasons before the talk show was officially cancelled. Hasan Minhaj, who made a name for himself on Comedy Central's The Daily Show before making the switch to Netflix, shared his reaction to the cancellation and what his time on the show meant to him.
Hasan Minhaj took to Twitter to address the cancellation, and he chose an image from Patriot Act to go along with his message:
The six seasons of Patriot Act were clearly important to Hasan Minhaj personally as well as professionally, as both of his children were born between 2018-2020, and he made sure to acknowledge the team behind the scenes at the show. He was the face of Patriot Act, but a lot of people contributed to make the show run for six seasons, and the show even won an Emmy for Outstanding Motion Design in 2019.
Patriot Act stood out among most Netflix series by releasing episodes on a weekly basis rather than a full season at once, and the format worked for Hasan Minhaj's show in a way that didn't for Joel McHale's short-lived The Joel McHale Show with Joel McHale. Patriot Act tackled everything from affirmative action to civil rights to, most recently, taxes. The sixth and now final season debuted its last episode on June 28, so fans have already seen the end.
Some of those fans took to social media with considerably less kind reactions to Patriot Act getting cancelled.
For one person on social media, cancelling Patriot Act was an act of "pure buffoonery" on Netflix's part, and they chose an appropriately disapproving picture. Subscribers have threatened to quit Netflix in the past over the cancellation of a show, so perhaps the axing of Patriot Act will cost the streaming giant some subscribers. For another on Twitter, the cancellation of Patriot Act seems like proof of something unfortunate:
This person was pretty clearly calling out the format of many cable news programs, some of which do end up pitting guests against each other with their hot takes. In many ways, Patriot Act was similar to John Oliver's Last Week Tonight on HBO with the focus on particular topics from episode to episode. Is the end of Patriot Act a sign that such shows are better fits for more traditional broadcast rather than a streaming platform?
Between the all-caps message and the image, I think it's safe to say that this person wasn't ready to lose Patriot Act with Hasan Minhaj from streaming. It's definitely also safe to say that not all fans who are upset about the cancellation care about a "kind way" to vent their feelings. For somebody else on Twitter, Netflix axing the show provided a prime opportunity to roast Netflix for some of its offerings:
The 2019 rom com Tall Girl wasn't the biggest critical hit that Netflix has ever produced, and no sequel has been ordered. The Kissing Booth, on the other hand, already had one sequel and another is on the way. For somebody who loved Patriot Act but isn't into Netflix's rom coms, the cancellation must have felt extra harsh.
The fan reactions to Patriot Act with Hasan Minhaj's cancellation range from anger to sadness to resignation, but I for one am glad to know that Hasan Minhaj himself seems to be focusing on the good that came from the show rather than anything more negative. The good news for viewers is at least that Patriot Act isn't going anywhere, as the six seasons will stay up on Netflix. Minhaj also stars in a stand-up comedy special, called Homecoming King, available on the streamer.
For some options that have yet to premiere on the streaming giant, check out our 2020 Netflix premiere schedule. For some non-streaming options, swing by our 2020 fall TV premiere guide!
Resident of One Chicago, Bachelor Nation, and Cleveland. Has opinions about crossovers, Star Wars, and superheroes. Will not time travel.
Your Daily Blend of Entertainment News
Thank you for signing up to CinemaBlend. You will receive a verification email shortly.
There was a problem. Please refresh the page and try again.