Netflix's Cheer Coach Responds To Co-Star's Arrest On Child Pornagraphy Charges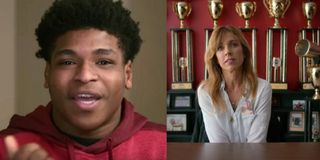 Netflix's Cheer made waves when it premiered in January. The documentary series followed Navarro College's nationally-ranked cheerleading squad as they prepared to compete in the NCA College Nationals in Daytona, Florida. Suffice it to say that it was a hit among viewers. Now, Cheer is back in the spotlight once more after team member Jerry Harris was arrested on child pornography charges. Now, Cheer coach Monica Aldama has responded to the incident.
For some background, Jerry Harris was being investigated by the FBI for child pornography. He was arrested on the charge of allegedly enticing an underage boy to send Harris sexually explicit photos and videos of himself. In another account, teenage twin boys have accused Harris of harassing them online and at cheer competitions, as well as seeking them out for child pornography. Monica Aldama, Harris' Navarro College coach, was thrown by the news. Here's what she wrote on Twitter:
Monica Aldama didn't elaborate any further and asked for privacy from fans of the show while the investigation continues. The coach has been leading the acclaimed cheerleading squad for several years now, and she sounded quite surprised by this "unexpected news" regarding one of her own cheerleaders.
At this time, the investigation into Jerry Harris' alleged pornography solicitations is still ongoing. The cheerleader appeared in federal court on September 17 and is reportedly being held without bond until his next hearing, which is currently scheduled for September 21. Harris allegedly first made contact with a minor over social media in 2018. He has denied the allegations made against him by the twin teenage boys, whose accusations reportedly sparked the FBI investigation.
The allegations were also reported to the police by Varsity Brands, which co-sponsors the NCA Nationals and sells uniforms and other cheerleading gear. A legal representative of Varsity stated (opens in new tab) that Jerry Harris has since been barred from "having any affiliation with Varsity Brands."
Jerry Harris rose to national prominence after appearing in Netflix's Cheer. In the docuseries, he was shown to be supportive and encouraging of his fellow teammates. Like other members of Navarro College's cheerleading squad, Harris appeared on major talk shows like The Ellen DeGeneres Show and also interviewed multiple celebrities on the Oscars red carpet.
This story is ongoing, so be sure to check back with CinemaBlend for updates. In the meantime, check in with other TV news and swing by our fall premiere schedule for more on what to watch.
Your Daily Blend of Entertainment News
Thank you for signing up to CinemaBlend. You will receive a verification email shortly.
There was a problem. Please refresh the page and try again.