Shameless' Emma Kenney Shares Fun Post As The Last Season Finally Gets A Premiere Date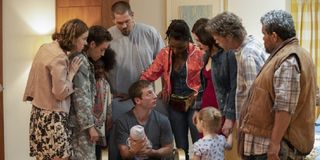 After eleven seasons, Shameless is coming to an end on Showtime. The series was expected to begin airing its final season during the summer. However, the pandemic-related shutdowns in March delayed Shameless and many other shows. The series went back into production in September, but it remained unclear when it would begin airing. Now, Season 11 finally has a premiere date and Shameless star Emma Kenney shared a fun cast photo that coincides with the happy news.
Mark your calendars! Shameless Season 11 is officially scheduled to premiere on Sunday, December 6. Series star Emma Kenney, who plays Debbie Gallagher on the Showtime series, shared a fun photo on Instagram. The picture is of her and her castmates as they prepare for a promo photoshoot for Season 11. And yes, all masks are firmly in place. Take a look below!
That's pretty exciting! I'm not sure how many episodes have already been filmed as it's only been a month or so. However, a promo shoot for Shameless Season 11 sounds about right considering that the series is now a little less than two months away from returning.
The cast photo is a nice behind-the-scenes look, and I can see Cameron Monaghan goofing off in the background and striking a pose. I don't know about you, but it's nice to see them back together once more (even if they have to wear masks while working).
It sounds like production on the show has been going well, and there have been no positive COVID-19 tests or additional delays and shutdowns that we know of. In the past, Shameless has premiered new seasons in January, though Season 10 premiered last November, a couple of months ahead of the usual release schedule.
In that vein, a December release date for Season 11 is atypical. But, considering that the series was supposed to launch this past summer, I'd say that a pre-holiday release isn't too shabby. Shameless Season 10 debuted on Netflix in late July. By August, the popular drama was already trending in the U.S. top ten. That's pretty impressive for any series, especially one that has been around as long as Shameless.
I'm still crossing my fingers that Emmy Rossum will reunite with her castmates and make an appearance in the Shameless series finale. The actress left the show after Season 9 and hasn't been back to reprise her role as Fiona. However, showrunner John Wells is hopeful that Rossum's schedule will allow for her return, if only "for a little bit."
Shameless Season 11 will premiere on December 6 on Showtime. For more on what to watch during the wait for new episodes, be sure to swing by our 2020 fall TV premiere schedule.
Your Daily Blend of Entertainment News
Your Daily Blend of Entertainment News
Thank you for signing up to CinemaBlend. You will receive a verification email shortly.
There was a problem. Please refresh the page and try again.