Netflix's Blood Of Zeus: 9 Questions We Have After Season 1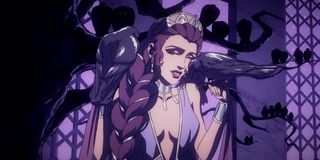 Netflix's Blood of Zeus is not the average anime, with a focus on ancient Greek myth rather than super strong school children, a guy with a notebook that kills people, or something else a little more bizarre. The shorter but visually stunning series left a great impression on me, and I'm really hoping Netflix decides to pick up the series for Season 2.
If it doesn't, I may never get answers to some of the questions about Blood of Zeus I had during my binge through Season 1. Should this anime return for another season or more, here are some of the questions I hope the series will answer after this first set of episodes.
What Are Hades' Plans For Seraphim?
Hades only appears right at the end of Blood of Zeus, though it's possible he had some role in Season 1 from the shadows. He seems ready to make some sort of move, as he offered Seraphim a ticket out of hell if he swore to serve him. The move enraged Seraphim considering he had only just escaped Hera's grasp, but when the other option is eternal suffering beyond your wildest imagination, you take whatever out you can get. My assumption is Seraphim will act as an enforcer for Hades' plans, and that whatever Hades is planning isn't good.
Are Zeus And Hera Really Dead?
Perhaps the biggest shock of Blood Of Zeus was the apparent deaths of two of the show's most powerful gods: Hera and Zeus. The two fell trying to take on one of the Titans, who was only defeated when the two combined their abilities for a massive explosion. Again though, these two are the cream of the crop in regards to the Greek pantheon, so I refuse to believe they are simply dead and gone forever. Zeus already had one fake-out death in Season 1; I don't think it's crazy he'd have another.
What Are Heron's Demigod Abilities?
Heron's ability to fight amongst the gods was well-demonstrated by the end of Blood of Zeus Season 1, but it wasn't entirely clear what his powers were. He appeared to have some measure of strength and durability to survive the enhanced strength of demons, and we briefly saw him channel some electricity like his father Zeus. Heron had only just begun to channel his abilities, so I wonder if his ceiling is much higher than it may seem. I mean, his half-brothers are Apollo, Ares, and Hermes, who looked far more powerful in comparison. I wouldn't be surprised if he's just as strong, though as Zeus said, being the child of a god doesn't immediately grant someone powers.
Who Runs Olympus Now?
Zeus and Hera aren't around, and by all accounts, it seemed like they were the ones running Olympus. If Blood of Zeus returns, will the gods act independently of each other, or will another rise up to take charge of the realm? I think in terms of power Poseidon would be the most worthy candidate, but I'd think he'd prefer to stay in the ocean. If he's out, will this create a power vacuum that only creates more chaos amongst the gods?
Is There A Budding Romance Between Heron And Alexia?
From the moment Heron and Alexia met in the first episode, I just had that feeling the two were going to have some sort of romance going on. So imagine my surprise when we get all the way through Season 1, and it doesn't seem like the two were any closer to revealing any romantic feelings for one another. I'd like to say this is a case where two people of the opposite sex are close confidants and just platonic friends, but c'mon, "shipping" is an undeniably big part of anime. I'd be really impressed if these two don't become a thing at some point, and would commend Blood of Zeus for bucking the trend.
What About Kofi And Evios?
Maybe it was the lack of chemistry between Heron and Alexia, but I couldn't help but think there was some potential romance happening between Kofi and Evios. This is really just a shot in the dark because I know these two had a history before they met up with Heron, but they do seem to have an awfully close bond. I wouldn't be the least bit surprised if there was some romance storyline between them, though I may just be getting the wrong vibes on what could just be a solid bromance.
What Will Be Done With The Titans' Bodies?
The Titans were defeated once again with their souls being sucked from their bodies and locked away. Still, I have to ask: why aren't the bodies destroyed? These giants have already come back to their corpses once, so it seems rather foolish just to let the bodies fall into the ocean again and allow for more demons to be created by eating their flesh. If there's even a chance these creatures may return, why not destroy them in any way possible when you get the chance?
Which Gods May Get A Bigger Spotlight Going Forward?
Blood of Zeus featured quite a lot of gods in Season 1, but the story mainly revolved around Zeus and Hera. While Hermes, Apollo, and Ares also got some solid chunks of screen time, their roles in the season were relatively thin in comparison to Heron or other main characters. With Zeus and Hera potentially dead, there would be an opening in a potential Season 2 for more gods to be showcased. Perhaps we could even see some gods who weren't featured, such as Aphrodite and Artemis.
Will Netflix Give Blood Of Zeus A Renewal?
Season 1 has come and gone, and as of writing, Netflix has yet to give Blood of Zeus a renewal. Showrunners Charley and Vlas Parlapanides do have plans for future seasons and have stated they have enough material for a five-season arc. Netflix has been finicky on which shows have it has renewed and which ones it hasn't lately. Blood of Zeus did spend some time after its launch on Netflix's Top 10 shows list, but even popularity does not guarantee renewal. Essentially, fans can only wait and hope we see more seasons!
Blood of Zeus (opens in new tab) Season 1 is currently available to stream on Netflix right now. Continue to stick with CinemaBlend for more happening with streaming, and for more news happening in television and movies.
Your Daily Blend of Entertainment News
Mick likes good television, but also reality television. He grew up on Star Wars, DC, Marvel, and pro wrestling and loves to discuss and dissect most of it. He's been writing online for over a decade and never dreamed he'd be in the position he is today.