SEAL Team Is Losing A Series Regular For Season 4, But There's Good News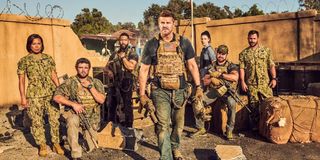 Following the Hollywood-wide production shutdown earlier this year, networks are finally back to cranking out new episodes of TV. One of the shows that will be returning soon is CBS drama SEAL Team, which will be kicking off its fourth season. The show has already experienced behind-the-scenes changes due to the new COVID safety measures that are likely in place for production. But now, the series is facing another change, as a member of its cast is now confirmed to be exiting the show as a series regular ahead of the new season. There is, however, still a bit of good news.
Jessica Paré, who has played the role of Mandy Ellis on SEAL Team since the show began, will reportedly not return as a series regular for Season 4, per Give Me My Remote. The site didn't give an exact reason for the actress' exit, and reps from CBS have not commented on the matter at this time.
While it may be disappointing that Mandy won't be returning to the show on a full-time basis, sources say that Jessica Paré will make a few more appearances during the fourth season. This includes the two-hour season premiere that will air next month.
Amanda "Mandy" Ellis was introduced on the show as Bravo Team's CIA liason but, at the end of Season 2, she was demoted to an interrogator after giving up the location of a CIA asset. Season 3 saw the character navigate this new reality and, in the de facto season finale, she and David Boreanaz's Jason Hayes shared a passionate kiss. While it's unclear how things will proceed between the two now that Paré is leaving, Boreanaz (who is directing the first hour of the season premiere) teased something surprising for their morning after.
Boreanaz's episode, "God of War," was originally planned for Season 3, and he was working on it before COVID-19 forced production to shut down indefinitely. The episode will see Bravo team aiming to capture a terrorist leader in the Spin Ghar Mountain Range. They'll also seek out the son of a different high-profile target, one that Jason took down early in his career.
The episode will also be significant because it will thrust Cerberus the dog into the spotlight, as both Jason and the canine will get separated from the others following an attack. This should be exciting news for fans of the courageous mutt.
The departure of Jessica Paré adds an interesting layer to the new season of SEAL Team, because you have to wonder how the character might be phased out. There's no telling what the producers have chosen to do but, hopefully, her limited presence on the show will be explained in a way that makes sense.
SEAL Team returns to CBS for its two-hour season premiere on Wednesday, December 2 at 9 p.m. ET.
Your Daily Blend of Entertainment News
Covering superheroes, sci-fi, comedy, and almost anything else in film and TV. I eat more pizza than the Teenage Mutant Ninja Turtles.