Gabriel Iglesias Reveals Where He Wants Mr. Iglesias To Go If Netflix Renews It For Season 4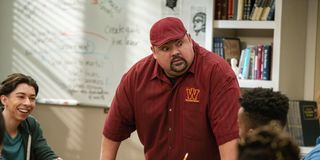 In addition to his standup comedy career, Gabriel Iglesias is now the star of his own Netflix sitcom. Mr. Iglesias debuted its third season recently and the series has already covered quite a bit of ground in its first 22 episodes. While the sitcom has not been picked up by Netflix for a fourth season — or Part 4, as it is also referred to, with each part consisting of about five to seven episodes — Iglesias revealed where he would want Mr. Iglesias to go in the future.
The cast and crew of Mr. Iglesias were able to wrap filming on Season 3 prior to the pandemic, so the production and release date were not impacted, and the sitcom is really settling into its groove. However, when asked about the future of the series, Gabriel Iglesias seemed content to go with the flow despite not knowing what might happen in terms of renewal. Here's what he told Vanyaland:
It sounds like Mr. Iglesias might tackle the pandemic in a storyline, which is as "current events" as it gets. If the series is renewed, it won't be the first to work the health crisis into the narrative of its show. This is Us, Superstore, The Good Doctor, and Grey's Anatomy are just a few of the many series that have touched upon COVID-19.
In addition to current events, Gabriel Iglesias says that the series will "definitely be expanding on the romance" between his character and Jackie, who is played by Elora Casados. Jackie was first introduced at the end of Mr. Iglesias Season 2. When Season 3 finally rolled around, Jackie's role was much bigger and Gabe was quickly falling in love with her. Here's hoping that the series will be picked up for Season 4 so that viewers can find out where this romance goes.
Stay tuned to CinemaBlend for updates on Mr. Iglesias and the status of its potential renewal. Meanwhile, Season 3 of the show is currently available to stream on Netflix. For more on what to watch in the coming months, be sure to check out our 2021 winter and spring TV premiere schedule.
Your Daily Blend of Entertainment News
Your Daily Blend of Entertainment News
Thank you for signing up to CinemaBlend. You will receive a verification email shortly.
There was a problem. Please refresh the page and try again.