5 Marvel Characters Carla Gugino Would Be Perfect To Play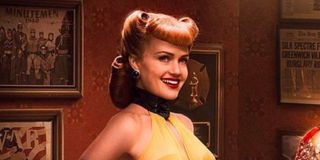 While some actors are known for one comic book character role, others achieved the honor of playing multiple, such as Jeffrey Dean Morgan, who appeared in four DC movies before playing The Walking Dead's Negan. Not to mention, Carla Gugino, Morgan's co-star from Zach Snyder's adaptation of Alan Moore's Watchmen, voiced a Kryptonian computer in two DCEU installments and a Supergirl episode, was once considered to be the next Catwoman, and had a major part in Sin City, based on Frank Miller's Dark Horse title. Surprisingly enough, the Marvel movies have yet to cast either of these prolific comic book movie veterans.
Now, since I have already imagined what personalities from the other comic book giant Jeffrey Dean Morgan should play, it is about time I put the spotlight on the Silk Spectre to his Comedian from the aforementioned 2009 film. Of course, the 49-year-old actress' versatility goes far beyond transitioning characters from their inked birthplaces to a new life on celluloid, as her roles in Mike Flanagan's two Haunting mini-series on Netflix will prove. However, she is clearly really, really good at it and I am curious to see what she would could bring top the Marvel Cinematic Universe, or to a Sony-owned property, even.
In fact, I have a few names in mind who I believe would be the perfect vehicle for the DC queen to enter a new continuity. I managed to narrow it down to five Marvel characters total, starting with one that reminds me of my first introduction to Carla Gugino, when I was a child, but with a superhero edge.
Sage
Some recall her role as Michael J. Fox's girlfriend on Spin City, in the Nicolas Cage thriller Snake Eyes, or even Pauly Shore "classic" Son in Law as the moment they first laid eyes on Carla Gugino, but her role as Ingrid Cortez in Robert Rodriguez's Spy Kids was that moment for 8-year-old me. Despite the film's childish appeal, she really plays it straight as the ass-kicking mom of Carmen and Juni, convincing you a seasoned secret agent could exist in such a world of pure fantasy.
A Marvel character who can relate is Sage - a telepath by birth, a badass by practice, and Professor Charles Xavier's personal spy by request. The mutant spy did not get the live action debut she deserved in Fox's short-lived series The Gifted, but could be redeemed if Gugino brought that same Ingrid Cortez moxie in an MCU X-Men movie reboot.
Abigail Brand
A proper live action debut could be even closer to becoming a reality for Abigail Brand - another highly-skilled secret agent who also happens to be part-mutant, but also part-extra-terrestrial as well - hence the green hair. Her alien expertise would earn her a position as director of S.W.O.R.D., a subdivision of S.H.I.E.L.D. specializing in otherworldly threats, which hints in the WandaVision teaser and the announcement of a Secret Invasion TV show suggest will be a major presence in the MCU.
According to the comics, Brand takes over S.W.O.R.D. at 28, but I would age her just a bit to allow Carla Gugino the chance to portray with the same bold authority, quick-wit, and ass-kicking stamina she would bring to roles in San Andreas, on her recent TV crime drama Jett, and in Sin City as no-nonsense parole officer Lucille.
Jean DeWolff
Mention of the latter Frank Miller creation reminded me of another potential Marvel heroine for Carla Gugino. It would mean a demotion from secret agent, but a welcome return to the same femme fatale persona she played to perfection in Sin City and other projects like Faster in 2010 or Hotel Noir from two years later.
The character is named Jean DeWolff - a sharp NYPD detective whom you could call the James Gordon to Spider-Man's Batman for their mutual devotion to upholding the law with honor until her heartbreaking murder by the hands of the Sin Eater. It would be interesting to see this dark story brought to life as something more than a subtle Easter Egg with Gugino in the role of the 1930s fashion-lover, based on the way the actress rocks an old-fashioned trench coat alone.
Black Rose
Horror is another genre I associate Carla Gugino with, particularly for of her gripping performance in The Haunting of Hill House as a mother slowly losing herself to the control of an evil presence. We never saw her possession go much further than becoming a vessel for her family's psychological manipulation, which is why I would love to see just how crazy Gugino could get as a terrifying, monstrous force to be reckoned, much like what happened to Roxanne Simpson.
Once the wife of Johnny Blaze (better known as Ghost Rider), a powerful villain named Hellgate killed her before she was later resurrected by Blackheart as his demonic servant called Black Rose. We never got to see this tragic element in their story when Eva Mendes played the character in 2007 opposite Nicolas Cage's Blaze, which is just one reason I think the character could use a reboot.
Shiklah
Speaking of reboots, I am especially excited to see two-time Oscar-winner Mahershala Ali's reinterpretation of Blade, a half-vampire hunter of vampires, and what horror-centric elements and characters he will bring to the MCU, such as Dracula, for instance. Plus, getting the quintessential bloodsucker into the mix would also mean there would be a chance for the screen debut of his current wife, Shiklah.
I also believe this powerful succubus, co-created by comedian and Deadpool writer Brian Posehn, could be a perfect mix of the alluring disposition Carla Gugino is known for and the more brutal, animalistic side I said I would be interested in seeing from her earlier. Not to mention, her husband before marrying Dracula was actually Deadpool, which also sounds like golden opportunity for Gugino's sense of humor shine beyond all this darkness.
What do you think? Does a romance between Wade Wilson and a vengeful succubus sound like a match made in hell for the Marvel Cinematic Universe, or would you rather see Carla Gugino be a hero again? Let us know in the comments and be sure to check back for additional information and updates on the Jett actress, as well as even more hypothetical comic book movie casting sessions, here on CinemaBlend.
Jason has been writing since he was able to pick up a washable marker, with which he wrote his debut illustrated children's story, later transitioning to a short-lived comic book series and (very) amateur filmmaking before finally settling on pursuing a career in writing about movies in lieu of making them. Look for his name in just about any article related to Batman.
Your Daily Blend of Entertainment News
Thank you for signing up to CinemaBlend. You will receive a verification email shortly.
There was a problem. Please refresh the page and try again.