Simone Ashley: 7 Cool Things To Know About The Bridgerton Season 2 Actress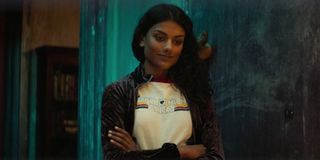 Shonda Rhimes's Bridgerton, a romantic period drama about high society, has become one of Netflix's biggest series ever. It follows various families as they search for suitable mates for their children. The Bridgerton family is at the center of the series. During Season 1, Bridgerton fans watched The Duke of Hastings, Simon (Regé-Jean Page) and Daphne (Phoebe Dynevor) find love. For Bridgerton Season 2, fans will watch the eldest Bridgerton Anthony (Jonathan Bailey) find love with Kate Sharma (Simone Ashley).
Many Bridgerton fans are excited to see how Simone Ashley brings Kate Sharma (Kate Sheffield in the books) to life. Everyone wants to know if Kate and Anthony will be able to bring as much chemistry and passion to the screen as Daphne and Simon. Before Kate enters the world of Bridgerton, let's get to know Simone Ashley, the actress behind this highly anticipated character.
Simone Ashley Considers Herself A Romantic
To appear in a series like Bridgerton, you have to at least believe in love, or just be very good at pretending to believe in love. Simone Ashley claims to be just as hopelessly romantic as the people who adore the romance on Bridgerton. When talking to The Crazy Mind, Ashley revealed that one of the things that made auditioning for Sex Education so appealing was the relationships. She shared that she's a romantic and "fell in love with the heartwarming relationships and encounters in the script." She also stated that the brilliant writing and the fresh approach to high school life were also what drew her to the series.
Bridgerton is also about heartwarming relationships, so she'll have plenty to fall in love with when season two begins filming.
Simone Ashley Based Her Sex Education Character Off Of RollerGirl in Boogie Nights
Netflix fans first were introduced to Simone Ashley on Sex Education. She plays Olivia, a member of the popular girls' group in the series called "The Untouchables. Olivia is often seen chewing bubble gum and blowing bubbles. Simon Ashley decided to base her Sex Education character on Rollergirl (Heather Graham) from Boogie Nights.
Simone Ashley revealed this tidbit to The Crazy Mind, and she revealed to them that she decided to develop a backstory about why Olivia chews so much gum. She does it as a way to distract people and keep them from getting to know her because she's more sensitive and nice than she wants people to believe.
Simone Ashley Attended The Same Theater School As Kate Winslet
An old Facebook post from Redroofs School for the Performing Arts revealed that Simone Ashley used to attend it. She attended the school from 2011 to 2013. Redroofs School for the Performing Arts is located in Maidenhead, England, and is open to children ages 10 to 18.
The school has a lot of successful alumni, but the most recognizable name associated with the school may be Kate Winslet. The Redroofs official site reveals that Winslet attended the school from ages 11 to 17. Other Redroofs alumni include Jo Froggatt, Lucy Benjamin, and Kris Marshall.
According to Redroofs' Facebook post, Simone Ashley joined the school for her 6th form only and gained a three-year Musical Theatre at Arts Education honors. While attending school, she also performed in theater productions of Romeo & Juliet.
Simone Ashley Is Also A Talented Singer
Another old Facebook post from Redroofs School for the Performing Arts revealed that Simone Ashley used to go by Simone Pillai. As Simone Pillai, Ashley had a YouTube page. She only posted one video on it from 2012. It was of her singing "Songbird" by Fleetwood Mac. The video highlights Ashley's beautiful singing voice.
In an interview with Veylex, Ashley shared more about her love of music, especially Fleetwood Mac. In the interview, she mentioned that her father had a deep love and passion for films and music, and that helped lead to her love of both. She also shared some of the artists that she listened to and fell in love with growing up.
She further shared that she still loves rock artists, but now has expanded her musical taste to include other genres and some of her favorite artists now include Alicia Keys, Nina Simone, and Rihanna.
Simone Ashley Is Proud To Represent Dark-Skinned Asian Women
One of the best things about Bridgerton, and all of Shonda Rhimes's programs, is that it includes a cast mainly made up of different races and ethnicities, making them some of the most racially and ethnically diverse series on-air and on streaming platforms. Bridgerton continues its diverse casting by making a woman of South-Asian descent the main lead of Season 2.
Having dark-skinned Asian women represented in the media is something Simone Ashley is very passionate about. In her interview with The Crazy Mind, she spoke about colorism and how it impacts Black dark-skinned girls and Asian women. She spoke of being proud to have her Sex Education character as a popular girl because it helps show other girls who look like her that they can embrace their imperfections and shine just as bright as anyone, and not have to live up to any beauty standards.
She also shared this quote with Veylex about colorism:
Simone Ashley also spoke to Harper's Bazaar India and had this message to share about her vision for the future:
Simone Ashley's Parents Found Her Career Choice Unsettling
In her Veylex interview, Simone Ashley shared that her parents were a little concerned when she told them that she wanted to pursue a career in the arts. She gave this answer when asked, "How did your family feel about you pursuing a non-traditional career path?"
She then said that she's a bit of a rebel and has to do what makes her happy, not what makes others happy. She said her parents sometimes still have a hard time understanding her career choices because they're overprotective, but she just reassures them that she'll be okay.
Simone Ashley Already Has A Diverse Acting Resume That Includes Pokémon Detective Pikachu And Broadchurch
Simone Ashley is still relatively a newcomer to the acting world, only making her first major film and TV debut in 2016 on Wolfblood, but she's already been in some major motion pictures and buzzed-about series. She had a recurring role on Broadchurch, appeared on C.B Strike, and had a small role in Pokemon Detective Pikachu.
Of course, she's best known for her role in Sex Education and she appeared in the mini-series The Sister that is currently available on Hulu. Simone Ashley's star power will definitely rise more with her Bridgerton role.
You can catch Simone Ashley's Bridgerton debut when Season 2 premieres on Netflix. Netflix has not announced a premiere date yet, but make sure to bookmark CinemaBlend's Netflix 2021 TV premiere date list for all updates on premiere dates.
Spent most of my life in various parts of Illinois, including attending college in Evanston. I have been a life long lover of pop culture, especially television, turned that passion into writing about all things entertainment related. When I'm not writing about pop culture, I can be found channeling Gordon Ramsay by kicking people out the kitchen.