What's Really Going On With Bridgerton Season 2 On Netflix, Dear Reader, After Viral Post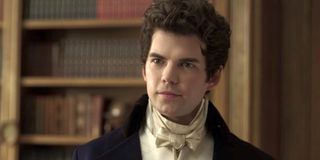 Bridgerton basically took over Netflix viewership when it released on Christmas Day, and made a home on Netflix's Top 10 list for months. It's been pretty quiet this past month for Shondaland's scandalous period drama, but it looks like that's coming to an end. Bridgerton fans were pleased recently to see that Season 2 of the sexy series looked like it had started filming, with star Luke Newton (Colin Bridgerton) seemingly making a delightful post about the development. There was some confusion after his post went viral, though. So, dear reader, we're here to set the record straight!
Apparently, the Bridgerton brothers' fondness for each other translates well to the real-life actors, because Luke Newton has shared some on-set pictures of himself, Luke Thompson, and Johnathan Bailey, who play his big brothers, Benedict and Anthony (the head of the Bridgerton household), respectively. Well, that is if you don't count Mama Bridgerton (which you definitely should). You can check out the photos he posted to his Instagram below, and we'll discuss later:
Well, here's the problem, even though Luke Newton captions the post with, "The boys are back in town," the post looks to be a throwback to filming on Season 1, per the rest of his caption. The post alludes to the the actors being back at their day jobs as Bridgerton boys, and the wink wink hint hint has not been lost on fans. However, the addition of Newton's hashtags of #Throwback and #Season1, have some fans feeling a little teased.
Comments on Luke Newton's post are full of love, however you swing it, though. Some fans are reminiscing about Season 1 and some are just plain star struck with how handsome their favorite Bridgerton brothers are. For some commenters, though, it's all about looking ahead. His promising caption has put a second season of Bridgerton on the radar of everyone who spent the last few months binging the show over and over again.
Unfortunately, some fans are confused as to the true status of Bridgerton Season 2, but, luckily, after Newton's viral post, his co-star Nicola Coughlan (Penelope Featherington) came in with a post of her own to clarify things a bit:
Well, that helps, right? According to Nicola Coughlan's post, Season 2 is still in the pre-production stages, with wigs and costumes being worked on by the show's very own Madame Delacroix. Doesn't it just suit that the actress who plays Pen would figure out a last minute save for something rather confusing which was done by the actor who plays Colin? As fans know, Pen certainly kept Colin from making a big, potential mistake during Season 1.
Colin is the third oldest male member of the Bridgerton family. We left off with Colin being freshly heartbroken by Marina Thompson (sorta thanks to Pen and her unrequited love for him) at the end of the season, and deciding to head off to Greece. With his exit from the Bridgerton estate, it's tough to tell how much he will be in Season 2. Will we get a look at his life in Greece? Will there be a dramatic turn of events for the young Bridgerton? Or will we simply just not see him as much?
While we can't be sure of the capacity we'll see Luke Newton in during the second season of Bridgerton, it seems pretty promising that we'll at least catch glimpses of him if his caption holds any weight on the next season. What we do know for sure, though, is that a second season is definite - although a release date is yet to be determined. A girl can only hope for a debut similar to the first season, for prime holiday Bridgerton binging later this year!
Your Daily Blend of Entertainment News
Constantly thinking about books, coffee, and the existential dread I feel from Bo Burnham's Inside. While writing I'm also raising a chaotic toddler, who may or may not have picked up personality traits from watching one too many episodes of Trailer Park Boys.