The Best Historical Docuseries To Stream On Paramount+ Right Now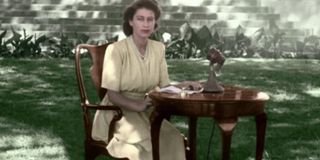 CinemaBlend participates in affiliate programs with various companies. We may earn a commission when you click on or make purchases via links.
When I was younger, history was something I found myself learning how to love. It started off slow in high school, and as I got older, I realized that my love for learning about the world and everything that was a part of it only grew. Knowledge is power, and I suppose I wanted to have the most of it out of all my friends – with strange historical facts that no one else seemed to know.
However, most of those facts came from historical docuseries, and random videos I've stumbled across. While there are plenty of those on other streaming platforms like Netflix and Hulu, I'm here to talk about Paramount+, and the best docuseries that you can find on the brand new platform. From stories you may be familiar with to lesser known historical tales, these are the shows you want to watch on Paramount+.
America's Hidden Stories
Ever wondered about the secrets of the country that we hold so dear in our hearts? If there were possible spies at the bombing of Pearl Harbor? Or how about some more information about the Salem witch trials? Maybe some unsolved mysteries as well? Look no further than America's Hidden Stories.
As one of the many entries on this list from the Smithsonian Channel, America's Hidden Stories tells the tales of many people and events – all of which have their own side of their story and secrets that are revealed throughout this limited docuseries. It's most certainly interesting to hear about the possible controversies and conspiracies that few really talk about. America is full of mysteries – are you ready to dive into them?
Stream America's Hidden Stories on Paramount+.
Epic Warrior Women
Who runs the world? Girls! At least that's who runs my world in this limited docuseries titled Epic Warrior Women. While the series is a bit shorter than many other docuseries on this list, with only three specials to choose from, that doesn't change the fact that they're still just as intriguing and so cool to watch.
Stand back and learn about the famous Amazonian women, what many pieces of media culture were based on, like Wonder Woman. Or take a glance at the Gladiatrix's of Rome, the female version of what you would expect a gladiator to be. While the options aren't endless, the stories themselves are enough to hold you over to learn about some truly awesome women of ages past.
Stream Epic Warrior Women on Paramount+.
Britain In Color
One of two entries on this list, Britain in Color shows exactly what you would expect – old videos from the early 1900s and beyond, in utterly beautiful color, an image you never thought you'd get to see due to how old some of this footage is.
And truly, Britain in Color is not only a feat of incredible technology but super engrossing to learn about. With shows like The Crown capturing the audience's attention for the last couple of years, the interest in the lives of the monarchy – as well as the powerful people that surrounded them – is there. It's only up to you if you want to truly dig deep down and discover the history of Britain for yourself – only this time in color.
Stream Britain In Color on Paramount+.
Rest In Power: The Trayvon Martin Story
Now we take a look at modern-day history, and how one event can spark an entire movement. Rest in Power: The Trayvon Martin Story tells the entire history of the unfortunate death of Trayvon Martin, a young African American teen who was gunned down by George Zimmerman.
For those who don't know, this case was covered for weeks in the United States due to the controversy of the killing. The police in Florida, where this took place, refused to arrest George Zimmerman for some time due to Florida's "Stand Your Ground" law. It's a story that has been well documented by the media and will likely be taught to kids in schools due to its historical impact – however, for anyone who wants to learn the whole story, this docuseries is for you.
Stream Rest in Power: The Trayvon Martin Story on Paramount+.
Europe's Last Warrior Kings
I think everyone in the world has some appreciation for dramas that take place in medieval times (or fantasy stories inspired by the age). I mean, look at the phenomenon that was Game of Thrones? So then why not carry that same passion for the past over into the real world by learning about some of the last warrior kings alive from long ago? That is what Europe's Last Warrior Kings covers.
From the Battle of Hastings, we discover every single bit of what happened with some of the last kings that went straight into battle, from the planning to the execution of battle, the fights themselves. It's super interesting if you're not only into warfare but medieval times as well.
Stream Europe's Last Warrior Kings on Paramount+.
The Real Story
This is my absolute favorite on this list – mainly because the whole topic is about films! The Real Story features awesome behind-the-scenes facts about some of the most popular and influential movies of all time, things that few people have probably heard about prior to these documentaries.
There are several episodes of this popular docuseries, talking about all sorts of genres of film. Are you a fan of sci-fi thrillers? Check out their episode on Close Encounters of the Third Kind. Are you a fan of war movies? There's a whole special on Saving Private Ryan. How about horror movies? Look no further than the episode on Scream. While there's only two seasons currently available on the streaming platform, the episodes are worth the watch.
Stream The Real Story on Paramount+.
Finding Justice
Moving back into modern-day history, Finding Justice is sort of a continuation of the Trayvon Martin Story, except it really digs deep into the lengths some activists have to go in order to somehow, quote-unquote, "find justice."
What's super interesting about this series as well is that it doesn't just focus on that one singular topic, as it breaks down into the depths of what is wrong with America. They talk about voter suppression, the criminalization of young kids, police brutality, and many more topics that truly paint a picture for people who might not see the big picture. After watching this, you'll feel inspired to do even more research into the subject, and to find the ways you can help, either up close or from a distance.
Stream Finding Justice on Paramount+.
The Real Jesus Of Nazareth
As a Catholic, I've always been a bit reluctant to hear the theories people have on the years of Jesus' adulthood that weren't written about in the Bible, so I was a little resistant at first with this docuseries. However, The Real Jesus of Nazareth is extremely informative, captivating, and downright enjoyable, even as a religious person. What this series covers are the lost years between Jesus' childhood and adulthood – that time where, in the bible, Christians really know nothing.
With only four episodes in this docuseries, Robert Powell covers more than you would expect him to. He tries to connect the strings together and comes up with some surprising twists and turns that you would never expect out of the bible. Since Jesus life' is often portrayed in movies like The Passion, we never really get to see these years in the media. I know for fans of religious media, this is most certainly a great pick for you.
Stream The Real Jesus of Nazareth on Paramount+.
Secrets Unlocked
Secrets Unlocked explores the common biblical and mythical stories that you have been told, and tries to see if they were truly real or not – or if there was even a possibility of it being real, henceforth trying to "unlock those secrets."
I'm talking about some of the most basic tales that all of us have heard at least once. The Garden of Eden, Jonah and the Whale, The Ark of the Covenant, just for a few examples – we've all seen them covered in the media, one of the most famous being Raiders of the Lost Ark, but what about the people who actually spend their lives dedicated to finding out about these mysterious places and objects? That's what Secrets Unlocked would provide for you – some questions and some answers, but a whole lot of entertainment.
Stream Secrets Unlocked on Paramount+.
America In Color
The second "in color" entry on this list, America in Color shows America through the lenses of the early 1900s, where color filmography was rare and barely used unless the production was incredibly expensive (at the time).
This series talks about the best and worst of times of America during the 1920s, 1940s, 1950s, and 1960s. They go over so many moments, such as the Roaring '20s and gangs, World War II, the rise of the Civil Rights Movement and so much more. And what makes this so fascinating is seeing everything in color, honestly. There have been so many movies that have taken place during this time – why not bring the old movies in and add some color?
Stream America In Color on Paramount+.
Apocalypse: The Second World War
Everyone has heard of World War II and the damage that is caused across the world, not only for the ones who faced defeat but the winners as well. Apocalypse: The Second World War takes a look at the complete history of the war, showing the true aggression and the horrors that rippled across Europe as well as the world, even if portrayed pretty often in films.
This docuseries is made even more captivating by not only showing plenty of recreated moments, but archived footage from years ago, most of which is straight from the battlefield or from battle camps, some even in the streets or from their homes – it was truly a terrible time, and the inclusion of that raw footage only amplifies those feelings. It's a great docuseries for the history buffs out there.
Stream Apocalypse: The Second World War on Paramount+.
Apollo's Moon Shot
Honestly, I'm surprised that there aren't more space documentaries on the platform with how much they have, but Apollo's Moon Shot is still one of the best that I've seen. This docuseries is all about the Space Race between Russia (at the time, the Soviet Union) and America, and who would get to the moon first.
We start off at the bare basics that everyone knows about – Sputnik – and continue on from there, seeing the growth in technology over the years as America and Russia both sought to outdo the other in trying to get to the moon first. The archived footage along with plenty of facts about the creation of the moon landing makes this entertaining for space fans. It even shows the trials and tribulations that the scientists behind the moon landing had to face, and how so many attempts ended in disaster. There were several moments I had absolutely no idea about – it will surely blow your mind.
Stream Apollo's Moon Shot on Paramount+.
I hope my friends are ready, because now I have a whole entire new package of random historical facts to spring on them – and how hopefully you will as well! Maybe there will be even more docuseries coming out in 2021 on TV - gotta go check to make sure.
Big nerd and lover of Game of Thrones/A Song of Ice and Fire. Will forever hate season eight. Superhero and horror geek. And please don't debate me on The Last of Us 2, it was amazing!
Your Daily Blend of Entertainment News
Thank you for signing up to CinemaBlend. You will receive a verification email shortly.
There was a problem. Please refresh the page and try again.