How The Kardashians Allegedly Feel About Caitlyn Jenner Running For Governor Of California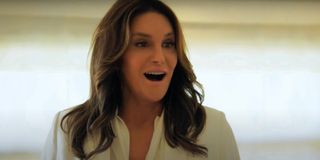 Ever since Caitlyn Jenner came out as transgender back in 2015, she has been met with hardships, criticisms and opportunities. The news strained her relationship for a time with her Kardashian-Jenner family, but it also allowed a much more thoughtful dialogue to open up about the trans struggle - as seen through her own reality show I Am Cait. Yesterday, Jenner shocked the world again when she confirmed the swirling rumors and announced that she's officially running for governor of California, and the Kardashians might feel some kind of way about it.
Despite their strained relationship that played out on Keeping Up with the Kardashians, the family allegedly isn't totally against the idea of California Governor Caitlyn Jenner. A source revealed to ET Online:
The California Governor seat has been a bit contentious of late. A petition has been gaining traction to unseat the current democratic governor, Gavin Newsom, in a recall election. In Caitlyn Jenner's bid announcement on her campaign website, she alluded that California has been "reduced by one-party rule" and "places politics over progress." The question remains how exactly she plans to shake things up.
Caitlyn Jenner has identified as Republican for most of her life, yet her campaign site doesn't indicate what party she is now. However, last year, the reality star and Olympic gold medalist told People that her views have changed slightly and she is "economically conservative, socially progressive."
In more recent years, Caitlyn Jenner has been advocating for transgender rights and thrown her backing behind gay marriage. Jenner shares her newfound spirit for activism with stepdaughter Kim Kardashian, who is currently studying to become a lawyer and is known to speak on the behalf of incarcerated individuals at the White House.
The I Am Cait star has publicly lent her support to Kim Kardashian amidst her divorce to Kanye West, saying how she's "a great person" and "I love her to death." If the sources are right, it seems the family has the same support for Caitlyn Jenner's political endeavors.
However, it has been no secret that Caitlyn Jenner became estranged from the Kardashians over the years, especially when it comes to her ex-wife Kris Jenner. Caitlyn Jenner was publicly critical of Kris in the wake of her coming out. But in a recent episode of Keeping Up with the Kardashians' final season, the two were seen communicating positively for the first time in years. Scott Disick said, "It was a huge step forward for their relationship." While Kim Kardashian noted that she was "proud" of her mom's ability to make "baby steps" with her former spouse.
The Kardashian-Jenner family indeed have their fair share of issues, as any family does, but it's clear that they are willing to close ranks in support in times of need. We'll see if Caitlyn Jenner's bid appears successful should the recall election for California Governor take place.
Freelance writer. Favs: film history, reality TV, astronomy, French fries.
Your Daily Blend of Entertainment News
Thank you for signing up to CinemaBlend. You will receive a verification email shortly.
There was a problem. Please refresh the page and try again.