The Red Queen: What We Know About The TV Show In Development And The Books It's Based On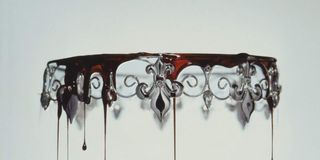 CinemaBlend participates in affiliate programs with various companies. We may earn a commission when you click on or make purchases via links.
The Red Queen TV show could be coming to a TV or computer screen near you, just not as part of the 2021 Summer TV show lineup. Red Queen is a best-selling book series that debuted in 2015. It has gained millions of fans over the course of the series' current 4-year run. Fans of Red Queen have wanted to see it become a series or movie for years. Now, it seems Peacock may just grant their wishes.
In May 2021, Peacock announced plans to develop a Red Queen TV show. As of June 2021, many details are still in the works, but we do know a lot about the book series source material. Let's explore what we know about the potential upcoming Red Queen TV show and the books.
The Red Queen TV Show Is In Development At Peacock
According to Deadline, Peacock is developing a Red Queen TV show. This means that they have bought the rights to the book series and begun taking the preliminary steps to start to put the pilot into production. Nothing has been filmed yet, but if the studio likes the script, has the budget for it, and wants to move forward with the project, they then begin the next step. The next step involves hiring the rest of the cast and crew, finding locations, designing costumes, etc., and then shooting the pilot.
If the studio likes the pilot, they will order the series for a number of episodes. If they don't like the pilot, then the project may end or some changes may be made to make it more appealing. Sometimes a series gets a season pick-up even before the pilot is filmed, but this is rare. The future of the Red Queen series is still a bit in limbo until it gets further in the development process, but it should enter the next stage of development sometime this year.
Elizabeth Banks Will Direct And Have A Supporting Role In The Red Queen TV Show
Peacock announced that Elizabeth Banks will direct the pilot, be a co-producer on the show, and have a main supporting role in the Red Queen TV show. Banks has been building her directing resume over the last few years. She directed Pitch Perfect 2 and the 2019 Charlie's Angels movie.
Peacock did not announce who Banks will play in the Red Queen adaptation, but if I had to guess, I believe she will end up playing Elara Merandus, the current queen of Norta when the first book starts, aka the most important queen among the Silvers. This is a meaty role that would give Banks a lot to do with it. But we'll have to wait and see once we get more information about the project.
Red Queen Writer Victoria Aveyard Will Co-Write The Pilot
Red Queen fans can release some doubts they may have about the series knowing that the author of the book series, Victoria Aveyard, will co-write the pilot script with the Red Queen TV show showrunner, Beth Schwartz. Schwartz was the showrunner on Arrow for Season 7 and Season 8. She also acts as co-showrunner for Netflix's series Sweet Tooth.
The Red Queen TV Show Will Be Based On A Four Book Fantasy Series
Red Queen has four main books in its series: Red Queen, Glass Sword, King's Cage, and War Storm. In addition to the four main books, it has four companion books or novellas set in the world of Red Queen. These books are Queen Song, Steel Scars, Cruel Crown, and Broken Throne.
As of June 2021, these eight books should give those curious about the potential TV series plenty to read to understand the world of Red Queen. All these books also give Peacock plenty of show material.
Red Queen Sets Up A World Divided by Blood Color And Magic
To avoid spoiler territory, in the general sense, the Red Queen books are about a world where Silvers rule and oppress Reds. Silvers and Reds are called that because of the color of their blood. Silvers bleed silver blood and Reds bleed red blood. The Silvers are the ones in charge because they have magic powers. The Reds don't have powers... at least they're not supposed to have them.
The Reds are poor, powerless, and often die on the battlefield because of the system of hierarchy. The Silvers are rich, powerful, and cruel, at least that's how Mare Barrow sees them.
Red Queen's Heroine Is Mare Barrow
The opening reveal of the first Red Queen book is that Mare Barrow, a Red, has powers. "Little Lightning girl," as she's not-so-affectionately called by the Silver royalty, has the power to control and manipulate electricity and lightning. No one, including Mare, understands how or why she has these powers.
The first season of the Red Queen TV show should follow the first book, which involves Mare's discovering her powers and what happens because of that discovery. Mare seems like just an ordinary girl until she finds out about her powers. Then she does many things that take her life in a grand direction. Because Red Queen is basically about Mare, this will be Peacock and the team behind the Red Queen TV show's most important casting decision.
Red Queen Has An Important Love Triangle
The second and third most important casting decisions for the Red Queen TV show will be who plays Maven and Cal. Maven and Cal are Silver princes. Cal is the oldest prince and heir to the Norta throne, and Maven is the younger prince and his mother is Elara. Cal's mother died long ago. In the first Red Queen book, Mare ends up falling for both brothers.
Love triangles are all the rage in young adult novels, movies, and shows, and if they're brothers? Even better! So the Mare, Cal, and Maven love triangle isn't anything out of the ordinary, but as the first Red Queen book progresses, it becomes an even more vital part of the story and its conclusion.
Red Queen is A Young Adult Series Similar To Harry Potter And Hunger Games
Fans of the Harry Potter books and movies may enjoy Red Queen because they both establish a very interesting world of magic and mayhem. However, the Red Queen book series is most similar to The Hunger Games movies and books. It's set in a dystopian world where one group rules over another, there are arena battles, a poor girl who seems like the only hope for her people, a rebellion, a love triangle that involves a friend from childhood, and many other similarities.
However, Red Queen is not a Harry Potter or Hunger Games copy. It has its own unique identity that makes it not feel like a repeat of these popular books and movies. It also has some twists and turns that give it some Game of Thrones elements, so it basically fulfills all your fantasy series needs.
Despite the Red Queen TV Show only being in the development stage at Peacock, we will likely get a little more news about the series in the upcoming months, especially since Peacock Premium seems to be increasing its original programming, especially in the teen show department, to draw in more paid subscribers. We could meet the screen versions of Mare, Cal, and Maven very soon. The entire Red Queen book series is currently available to purchase wherever books are sold, including Amazon.
Your Daily Blend of Entertainment News
Spent most of my life in various parts of Illinois, including attending college in Evanston. I have been a life long lover of pop culture, especially television, turned that passion into writing about all things entertainment related. When I'm not writing about pop culture, I can be found channeling Gordon Ramsay by kicking people out the kitchen.