Amidst Divorce, Kim Kardashian And Kanye West Have Started Spending Personal Time Together Again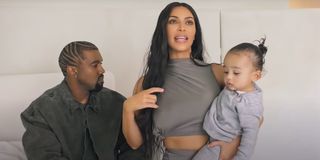 Based on what viewers saw on Keeping Up with the Kardashians final season, things were not going well for Kim Kardashian and Kanye West last year. Kardashian lamented on the show that she wanted someone she could do the "little things" with, which was complicated by West living mostly on a ranch in Wyoming. Their issues eventually snowballed into Kardashian filing for divorce in late February. The proceedings are still underway, but the two have been spending more personal time together as of late.
In fact, this past week, Kim Kardashian and Kanye West were spotted getting lunch together in Malibu, per ET Online. According to their source, they are on "great terms," despite their reported previous issues that triggered the divorce. The source also said:
Prior to their lunch date, the Kardashian-West family unit had been seen together several times. The first was a family outing in San Francisco in late July. Only a few days later, Kim Kardashian and their kids, as well as Khloe Kardashian, were seen at Kanye West's Donda listening parties. Kardashian even seemingly had color-coordinated with her soon-to-be ex-husband.
Many online thought it must have been awkward for Kim Kardashian to hear lyrics on Donda referencing their divorce. But according to reports, Kardashian had some artistic input on Kanye West's new album. According to ET Online's source, things are still moving in a positive direction. They said:
Indeed, Kanye West even took on babysitting duty of their four kids when Kim Kardashian jetted to Rome last month for some sauceless pasta noodles. Even more shocking than her outfits at the time is how far the two have seemingly come in such a short time. Previously, co-parenting was supposedly so difficult that they couldn't even be in the same room together. Rumors that West had started dating model Irina Shayk only further cemented the belief that a close relationship was all but impossible.
Alas, looks can be deceiving. Along with shooting down the idea that she is always late to events, Kim Kardashian opened up about public perception and how Kanye West helped her in that regard on the We Are Supported By podcast. She stated that West was "someone that absolutely didn't care about likability factor…as long as he was true to himself." She continued that his mentality allowed her to feel comfortable just being herself and "living in the moment."
Clearly, Kim Kardashian and Kanye West have different ideas of what living in the moment means for them individually. For West, it's working on his music in monk-like quarters. For Kardashian, it's bikini pics and Dolly Parton quotes.
The future is never set in stone, though, as can be seen by Kanye West and Kim Kardashian's transition into post-divorce friends territory. In regard to the future of that Donda album, fans shouldn't hold their breath because a third listening party is slated for August 26 at Soldier Field Stadium in Chicago.
Movies and TV News Writer
Freelance writer. Favs: film history, reality TV, astronomy, French fries.
Your Daily Blend of Entertainment News
Thank you for signing up to CinemaBlend. You will receive a verification email shortly.
There was a problem. Please refresh the page and try again.