Emily In Paris Cast: Where You've Seen The Actors Before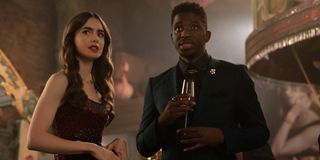 Netflix has a bounty of amazing shows for anyone to watch, such as the period drama, Bridgerton, or the upcoming The Witcher Season 2. However, there's one show that's gotten popular recently - whether for the right or wrong reasons - and that's Emily in Paris.
While I feel that everyone knows who Lily Collins is, you might not know where some of the other cast members hail from. They might have been in the 2021 Netflix TV shows, or in some of the best shows on Netflix. During this time while we prepare for Emily in Paris Season 2, let's take a look at where you might have seen the Emily in Paris cast before, including Lily Collins and Lucas Bravo.
Lily Collins (Emily Cooper)
As the titular character in Emily in Paris, Emily is a happy-go-lucky young woman somewhere in her twenties - exactly how old is she? - who travels to Paris for a work opportunity, and she's played by the wonderful Lily Collins, daughter of Phil Collins. Collins herself, prior to her role in Emily in Paris, has done plenty in Hollywood, and made her name known.
Collins' breakthrough was way back in 2009 when The Blind Side released, and ever since then, she's been in several different types of films. This includes the sci-fi film, Priest, the psychological film, Abduction, the fantasy film, The Mortal Instruments: City of Bones, and several romantic comedies, such as The English Teacher, Love, Rosie and more.
Lily Collins has also been in several films that have shown off her talent, such as Rules Don't Apply, To The Bone, and the Netflix original film, Extremely Wicked, Shockingly Evil and Vile. She was also in the biographical film, Tolkien in 2019, as well as the Netflix original film, Mank.
While she didn't do much in the TV realm prior to her role on Emily in Paris - since most of her work is focused in film - she was in the BBC miniseries of Les Miserables, where she portrayed Fantine. Hopefully with her as the lead in this popular Netflix series, we'll get to see her a lot more on the small screen soon.
Philippine Leroy-Beaulieu (Sylvie Grateux)
I think everyone sort of had a love-hate relationship with Sylvie on Emily in Paris, mainly because while she did treat Emily a bit poorly (some of it warranted because who goes to a French office and doesn't speak French?), she also was a boss who got stuff done and was good at her job, almost like Miranda Priestly from The Devil Wears Prada. Philippine Leroy-Baeulieu is responsible for this amazing portrayal of Sylvie.
Prior to her role in Emily in Paris, Leroy-Beaulieu primarily focused on her roles in several French films, such as Trois couples en quete d'orages or Jeanne et le loup. She also has appeared in several French TV shows, with main roles in Agatha Koltes as the lead, and Call My Agent!, and Mirage.
Ashley Park (Mindy Chen)
Mindy Chen is one of Emily's first friends when she arrives in Paris in Emily in Paris, a young nanny with a voice that shines above the rest, drawing ears for all to hear. Ashley Park plays Mindy Chen, and she's a woman who is full of many talents.
Before her role on Emily in Paris, Mindy Chen was big in the theater world, having roles in several Broadway productions. This includes, but is not limited, to Mamma Mia!, The King and I, Sunday in the Park with George, Grand Horizons, and her biggest role, Mean Girls: The Musical. In 2021, she also played a part in Ratatouille, the benefit concert that happened at the beginning of the year.
In TV, Mindy Chen has also appeared in a couple of other shows as well, including a role in the comedy series, Nightcap, as well as the drama series, Tales of the City. This year, she's also had a recurring role in the Peacock original series, Girls5eva, so hopefully we'll be able to see more of her soon.
Lucas Bravo (Gabriel)
Gabriel certainly looks like the dream guy that every girl would want in Emily in Paris. He is a chef, handsome, and seems to be a nice guy - except he is taken, unfortunately, spewing on mountains worth of drama for everyone to enjoy from their couches. Lucas Bravo portrays Gabriel in the show, and has been active in the film and TV industry for some time.
Like some of his co-stars, Bravo has mainly stuck to French film and TV. He's appeared in French films such as Smart Ass, and has popped up in a number of French TV series, including a guest role in Plus belle la vie, and a recurring role in Sous le soleil de Saint-Tropez. Coming up, he will be making an appearance in the drama film, Mrs. Harris Goes to Paris, so hopefully we'll be able to see a little more of Gabriel soon enough.
Samuel Arnold (Julien)
I have to say, Julien is one of my favorite characters in Emily in Paris. Not only was he sassy and didn't hold back his opinion in Season 1, but he is a good co-worker to Emily and tries to help her out as best he could - even if she sometimes annoys him, but all good friendships are like that. Samuel Arnold plays Julien in Emily in Paris.
Prior to his role in Emily in Paris, Samuel Arnold had a role in National Theater Live: Antony & Cleopatra, as well as a part in the TV movie, Tuer un homme. He also had a guest role in the French TV series, Platane, but Emily in Paris seems to be one of his first bigger roles. He also had a part in the Pandemica TV miniseries, where he voiced a character, but hopefully with Emily in Paris Season 2 coming out soon, we will get to see Julien a whole lot more - and that means more Samuel Arnold.
Bruno Gouery (Luc)
Another one of Emily's co-workers in Emily in Paris, Luc and Julien are top-tier comedy, and make this show freaking hilarious despite its dramatic moments. Bruno Gouery plays Luc in Emily in Paris, and has done plenty in French TV and film, much like the rest of his co-stars.
Gouery has made appearances in several French films, but has also been in many TV shows as well. He had a role in the French TV series, Doc Martin, as well as a role in President Alphonse and Super Jimmy. Recently, Bruno Gouery was also in a film titled Rose Island on Netflix. With Season 2 of Emily in Paris hopefully coming soon, we will get to see more hijinks between Luc and Julien soon.
Camille Razat (Camille)
I don't know if it's just me, but I wanted to hate Camille so badly. Emily and Gabriel have great chemistry, but when you find out that Gabriel has a girlfriend - Camille - and she's literally the nicest human on earth, you just can't hate her. Plus, she also becomes friends with Emily, which doesn't help Emily's feelings for Gabriel in the slightest.
Camille is played by Camille Razat, who has been active in the French TV and film scene for a little bit of time. She's appeared in a couple of French films, namely Rock'n Roll, Paris Pigalle, and more, but has had some roles in French TV as well. She had a main role in the eight-part French miniseries, The Disappearance, and had a guest role in Captain Marleau.
Coming up, she will be in two more French films, titled Les Choses humaines and Mastemah, as well as Emily in Paris Season 2, so hopefully soon we'll get to see her in TV or film again.
William Abadie (Antoine Lambert)
Antoine Lambert is almost the same as Sylvie in Emily in Paris, with the same work ethic and a success record to prove it - but he is a bit of a player, so we can't like him entirely. William Abadie portrays Antoine Lambert, and since his character was promoted to a series regular in Season 2, I have a feeling we're going to see a lot more of him soon.
Abadie has been active in film and TV for some time, with plenty of roles. He's had parts in Pink Panther, Resident Evil: Extinction, My Sassy Girl, The Human Contract and more. Abadie has also had several guest stars in plenty of TV shows, including Sex and the City (created by Emily in Paris creator Darren Star), CSI: NY, Entourage, Gossip Girl, 90210 and more. William Abadie also had a recurring role in the drama series, Homeland.
Kate Walsh (Madeline Wheeler)
While she didn't make that many appearances in the show in Season 1, Madeline Wheeler is responsible for sending Emily off to Paris in Emily in Paris, so she needs to be included with how much her one decision impacted the lives of others. Kate Walsh portrays Emily's American boss, Madeline, in Emily in Paris, and has done plenty in Hollywood.
Walsh has appeared in several films, such as Under the Tuscan Sun, Bewitched, the coming of age film, The Perks of Being a Wallflower, Girls Trip and more. Walsh has also had recurring roles on TV shows such as Fargo, The Fugitive, The Drew Carey Show, and others. One of her biggest roles was playing Dr. Addison Montgomery in the medical drama, Grey's Anatomy for several years, as well as her role in Private Practice.
After that, she went on to have roles in the NBC sitcom, Bad Judge, played Olivia Baker in the Netflix series, 13 Reasons Why, and plays The Handler on The Umbrella Academy, so there's truly no stopping this amazing actress. I can't wait to see what she does next - that is until she pops up in Season 2 of Emily in Paris.
With so many stars, both international and national, I'm eager to see what they're going to do next, both in Emily in Paris Season 2 and in their other projects. What are you excited about the most when the next season premieres?
Your Daily Blend of Entertainment News
Big nerd and lover of Game of Thrones/A Song of Ice and Fire. Will forever hate season eight. Superhero and horror geek. And please don't debate me on The Last of Us 2, it was amazing!