Emily In Paris: What To Watch If You Like The Netflix Dramedy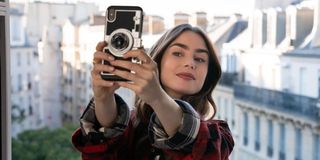 Last year, a show which received a lot of criticism premiered on Netflix, titled Emily in Paris. The series, while it did receive a considerable amount of backlash, was still a popular hit for the streaming platform when it came out and was renewed for a second season.
But, what exactly do we watch in the meantime while we're all patiently waiting for Emily in Paris Season 2? While we could spend our time watching the best movies on Netflix or the best movies on Amazon Prime, I think we could all spend our time a little bit better by getting obsessed with another TV series. Here are some shows like Emily in Paris that you can stream right now.
Sex And The City (HBO Max)
Sex and the City takes place in the wonderful world of New York City, where we get to follow the lives of a group of four women, three of whom are in their mid-thirties, with one in their forties, while they navigate their sex lives, and everything else as they remain friends.
Darren Star, the man behind Emily in Paris, created Sex and the City, and the show was a runaway hit for the writer. Not only was it so popular it spawned a couple of movies after the show ended, but there's also now going to be a revival on HBO Max soon, with most of the original cast is coming back. It's truly such a great watch, with plenty of jokes – even if some are a little dated nowadays.
Stream Sex and the City on HBO Max. (opens in new tab)
Rent Sex and the City on Amazon. (opens in new tab)
Never Have I Ever (Netflix)
This Netflix original series is exactly what you need on a chill day at home. Never Have I Ever follows the story of Devi Vishwakumar, a young teenager who just recently lost her father, and now has to juggle her life between two love interests, a cute nerd and a dreamboat jock – whatever shall she do?
I know that the premise of Never Have I Ever sounds like every other teen show out there, but I think it's a Netflix' show not enough people talk about. The way that they handle several serious topics, such as depression, grief, first loves, and so much more, is surprisingly realistic, and for fans of Emily in Paris, everyone loves a good love triangle.
Stream Never Have I Ever on Netflix. (opens in new tab)
Dash & Lily (Netflix)
I remember when I first watched this series, I thought it was the cutest little show ever. Dash & Lily takes place in New York City during Christmas time, and follows a boy who finds a book of dares left by another in a bookstore in Manhattan, when Dash finds the notebook, he decides to take the writer up on her challenge, which leads into a whirlwind of fun and love.
This is one of those series where it is so fluffy and romantic that it will make you feel warm inside. Like Emily in Paris, it takes place in a big city that's full of dreams and opportunities, but there's something about Dash & Lily that makes me like it a hint more. Maybe it's that they're so young and just learning how to really love, or the festiveness of the holidays – I'm not sure, but I know that if you decide to give it a chance, you won't regret it.
Stream Dash & Lily on Netflix. (opens in new tab)
The Bold Type (Hulu)
In The Bold Type, we get another tale of women just starting out in their industry in New York City, getting a glimpse into the life of what it's like to produce a woman's magazine. Each of these girls, with their own lives and loves and losses, experience their own issues, all while trying to stay bold and confident at the same time.
The Bold Type is what Emily in Paris is trying to be, except Emily is – I think - a bit older (how old is she, honestly?). It's about women who are just trying to make it in their respective careers, most of which are in the media industry (like Emily), all while dealing with real adult issues, such as finding their own identity, experiencing heartbreak, and managing friendships. It's a show for the young adults of today – and it's why I enjoy it so much.
Stream The Bold Type on Hulu. (opens in new tab)
Rent The Bold Type on Amazon. (opens in new tab)
Jane The Virgin (Netflix)
Stick with me on this premise here, my friends – Jane the Virgin is about Jane Villanueva, a 23-year-old virgin who ends up becoming pregnant after an accidental insemination by her gynecologist.
I know. It sounds absolutely bonkers and probably something you would see in a soap opera of some sort, but that's what makes Jane the Virgin such a great option for Emily in Paris fans. It constantly parodies Latin American telenovelas with some of its plotlines, but it also has amazing stories of love, loss, grief, heartbreak, and so much more. I swear you'll love it.
Stream Jane the Virgin on Netflix. (opens in new tab)
Rent Jane the Virgin on Amazon. (opens in new tab)
Ted Lasso (Apple TV+)
Hands down, one of the best shows Apple TV+ has offered so far. Ted Lasso is all about the titular character, Ted Lasso, an American football coach who only coached Division 3 college football, before he takes a job in England coaching a professional football team (otherwise known as "soccer" in America), trying to fix their losing record.
This is the perfect show for fans of Emily in Paris because it again deals with an American outsider adjusting to the culture of a completely different culture, except this time it's England. And, if we're being honest, Ted Lasso is better in so many ways, in my opinion. There are so many heartwarming moments, plenty of amazing comedy, and Jason Sudeikis kills it as Ted, alongside his amazing Ted Lasso cast members. Season 2 only just began, so please, watch this show if you haven't.
Stream Ted Lasso on Apple TV+. (opens in new tab)
The Marvelous Mrs. Maisel (Amazon Prime)
In this Amazon original series, The Marvelous Mrs. Maisel follows Miriam "Midge" Maisel, a young woman who had her whole life planned – college, marriage, family, and throw the best Yom-Kippur breakfasts out there. But, when her husband suddenly leaves her, it's up to her to figure out where she goes from there.
First off, The Marvelous Mrs. Maisel takes place in the 1950s and '60s, so the costumes and sets are awesome. Secondly, Maisel herself ends up finding out she has a knack for comedy, so her stand-up gigs will have you holding your side from laughter. And, third, the story is a lot of fun, too, with plenty of twists and turns. Emily in Paris always follows Emily trying to live her life without her American boyfriend. Maisel, in her own way, does a similar thing, and she does fantastically.
Stream The Marvelous Mrs. Maisel on Amazon Prime. (opens in new tab)
New Girl (Netflix)
This is the ultimate TV series that defines "a new girl in an unfamiliar place." New Girl is all about Jess, a young woman who was living with her boyfriend when she suddenly comes home one day and finds him cheating on her with another woman. So, she moves out of their home and into a loft with three strangers, Nick, Winston, and Schmidt, all of whom are special in their own ways.
I won't even lie – New Girl has to be one of my favorite comedies from the last decade. Like Emily, Jess is a different kind of girl with her own set of quirks, but the difference between this and Emily in Paris is that Jess has some of the funniest roommates ever. I could do a whole compilation of Schmidt's greatest moments from this show - the New Girl cast is perfection. Trust me, you'll end up laughing your head off.
Stream New Girl on Netflix. (opens in new tab)
Rent New Girl on Amazon. (opens in new tab)
Gilmore Girls (Netflix)
In this popular series, Gilmore Girls follows the story of the literal Gilmore girls, Rory and Lorelai Gilmore, a daughter and a mother who live in Hartford, as we watch Rory grow into a young woman, Lorelai find love, and so much more.
For a show like Gilmore Girls, I don't need to really convince you to watch it. The show was so popular that, years later, there was a Gilmore Girls revival series on Netflix. I think of Emily as being a bit like Rory from this show, except we really get to see Rory grow throughout the show, from this young woman just starting out in a private school to someone who ends up going to an elite college. Without giving much away, give this iconic series a chance. You'll fall in love with the Gilmore girls – and probably want to call your mother after.
Stream Gilmore Girls on Netflix. (opens in new tab)
Rent Gilmore Girls on Amazon. (opens in new tab)
Younger (Paramount+)
Another series created by Darren Star, Younger is about Liza Miller, a 40-year-old divorcee that has to somehow manage her life in a publishing company, even though she faked her identity to get the job, while also trying to keep her own personal romances and professional issues in check.
Since Darren Star created Emily in Paris, you know that Younger has that same exact quirkiness that both Emily in Paris and Sex and the City had. There's so much silliness that pops up from time to time, and I absolutely love the friendship between Sutton Foster's Liza Miller and Hilary Duff's Kelsey Peters. Really, the two of them carry this show. They're so amazing.
Stream Younger on Paramount+. (opens in new tab)
Rent Younger on Amazon. (opens in new tab)
Valeria (Netflix)
In this international series from Netflix, Valeria follows a young woman named Valeria, who lives in Madrid, Spain. She feels like there is something missing from her writing, as well as her marriage, and it's up to her to try and figure out what.
With only eight episodes, Valeria is the shortest series you can binge on this list, but it's worth every second. Like Emily in Paris, this Spanish show tackles the feelings of love and loss regularly, while also trying to find that one thing that makes you passionate, such as writing. Plus, you also get to explore the city of Madrid right from the comfort of your couch – I think that's a win in my book.
Stream Valeria on Netflix. (opens in new tab)
While Emily in Paris Season 2 probably won't arrive until later this year, we can at least have these shows to watch in the meantime to prepare us for it. Now, what to watch? Sex and the City or Younger?