American Dad! Will Move to TBS in 2014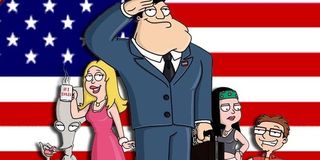 The upcoming season of American Dad! is due to air on Fox this September, but it looks like the following season, the show will move on from Fox's "Sunday Animation Domination" block. Don't worry, fans of American Dad!, your favorite animated comedy isn't canceled, only making a move to another network.
So why the switch? Not exactly sure, but Deadline reports that TBS has picked up the rights for American Dad!'s 2014-2015 season, ordering 15 episodes that will reportedly be used to help lead-in to its flagship talk show, Conan. TBS was already running reruns of American Dad, and, once TBS takes over airing new episodes, encores of new episodes will also air on fellow Turner network Adult Swim. The show has been airing on Fox since 2005, and was created by Family Guy creator Seth MacFarlane and writer/producers Mike Barker and Matt Weitzman.
"American Dad! is a great fit for TBS, a favorite of comedy fans who like smart, irreverent humor with ample doses of biting wit and skewering satire," said Michael Wright, a TBS president and head of programming. "We look forward to welcoming Seth MacFarlane and the rest of his team as they bring this iconic show to TBS."
Make what you will of the "biting wit and skewering satire" line, TBS has made a concerted effort to make itself a destination for comedy fans, with original sitcoms like Are We There Yet?, Men At Work and Sullivan and Son, as well as picking up Cougar Town after ABC canceled it. Other original programming includes the reality competition series King of the Nerds, prank show Who Gets the Last Laugh? and viral video show Deon Cole's Black Box.
American Dad! follows the eccentric Smith family and their housemates. Patriarch Stan is a conservative CIA agent who often clashes his moralistic wife Francine and hippie daughter Hayley. Fox renewed American Dadthrough its upcoming season last May, but apparently wasn't interested in bringing it back for another season. For those unfamiliar with the show, the below supercut of Stan's activity from Season 1 ought to bring you (more or less) up to date.
The upcoming season of American Dad! will premiere on September 29th. Family Guy writer and executive producer Steve Callaghan was brought in as showrunner earlier this year, replacing Barker and Weitzman. Ellie Kemper will provide her voice for the character of Jenna in the upcoming season, as a love interest for Steve (Scott Grimes), Stan and Francine's son.
Your Daily Blend of Entertainment News
Thank you for signing up to CinemaBlend. You will receive a verification email shortly.
There was a problem. Please refresh the page and try again.