Californication's Jason Beghe To Guest On Last Resort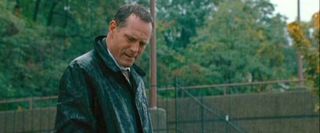 Californication's Jason Beghe has landed another guest spot on a new fall drama. This time he'll be popping up on an episode of Last Resort. Beghe is still working on his previous guest gig, finishing up an arc on Chicago Fire as a tough gang unit police officer. His Last Resort character sounds equally tough.
The Hollywood Reporter says Beghe has been tapped to play the role of a former Navy SEAL on the ninth episode of ABC's freshman series Last Resort. Wes Porter (Beghe) is a retired SEAL who is a former mentor to James King (played by Daniel Lissing), also a Navy SEAL, and has put all of the action and danger in his past behind him to live a quiet and humble life in Manila with his wife and child.
Beghe has been making the rounds doing various guest spots in addition to his recurring role on Californication as Hank Moody's friend Richard Bates. He has also popped up on The Finder and Body of Proof. He and Californication co-star David Duchovny have a big-screen appearance together on the way as well in the thriller Phantom, due out in 2013. Coincidentally, that film has something in common with Last Resort - submarines.
Last Resort surrounds the crew of a U.S. submarine who escape to an island to seek refuge after disobeying an order to fire a nuclear weapon on Pakistan. The show hasn't earned a full season order yet, but did receive an order for additional scripts not long ago, keeping it afloat for now. The episode starring Beghe will air on December 13th; Last Resort airs Thursdays at 8 p.m. ET on ABC.
Your Daily Blend of Entertainment News