Community's Danny Pudi And Grimm's Claire Coffee To Guest Star In Royal Pains Season 5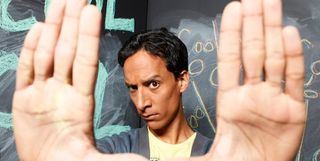 Among the series slated to return at USA this summer is Royal Pains, which debuts its fifth season in June. It appears the drama, which centers on a doctor who treats wealthy clientele out in the Hamptons during the summer, has tapped into NBC's pool of talented actors for its guest stars, as Community's Danny Pudi and Grimm's Claire Coffee are both set to appear in the series in Season 5.
TVLine says Pudi will guest star as a radio personality whose career is on the rise. He visits HankMed when he begins to lose his voice, which - inconveniently - just so happens to be right before an event that could make or break his career. Pudi's likely best known these days for playing the ever observant Abed in Community. Prior credits include recurring roles on Greek and Gilmore Girls. I'm so used to seeing him as Abed now that it should be fun to see him playing a different kind of role than the quirky BFF to Troy in the NBC comedy series.
As for Claire Coffee, whom Grimm fans will know as the occasionally trouble-making Adalind Schade in the supernatural drama, she's set to appear in Royal Pains, playing the owner of a doggie hotel in the Hamptons. Prior to Grimm, Coffee appeared in Franklin & Bash and The League.
Also set to appear in Royal Pains this season is Tony Award winner Stephen Spinella, who will play Paige's difficult new boss. In addition to winning Tonys for his performances in Angels in America: Millennium Approaches and Angels in America: Perestroika, Spinella's credits include appearances in Desperate Housewives, Lincoln and Grey's Anatomy.
Royal Pains Season 5 premieres June 12 on USA.