NBC 2012 Fall TV Premiere Schedule Has Grimm Premiering In August, Sneak Previews Of Two Comedies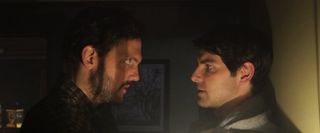 Thanks to the Olympics, it looks like NBC's aiming to get a jump-start on the fall season this year. This isn't exactly surprising news. We'd heard word last month that the Peacock was thinking about doing some early launches of new and returning shows. NBC has released the Fall 2012 primetime premiere schedule and sure enough, those looking forward to the return of Grimm, and getting a peek at Animal Practice and Go On will be pleased to see them on the schedule for early/mid-August.
Given the likelihood of improved ratings for NBC during the Olympics, the network has a real opportunity to point viewers' attention toward their upcoming programming. So the strategy to roll out a few shows early and give viewers an peek at some of their new comedies seems like a smart one.
The Matthew Perry starring comedy Go On is first on the list, with a sneak peek scheduled to following some of NBC's Olympic coverage on August 8. Animal Practice will get similar treatment on August 12. But these are just early looks at upcoming series. Both shows will be previewed in August and then make their "official" debuts in September. But the new competition series Stars Earn Stripes will kick off with a two-hour season premiere on August 13. Immediately afterward, Grimm's second season will premiere, and it looks like both shows will continue to air each week from there.
And once September arrives, we'll start to see some of NBC's other new and returning shows, including The Voice, Parenthood and the JJ Abrams/Eric Kripke created drama Revolution.
Your Daily Blend of Entertainment News
Thank you for signing up to CinemaBlend. You will receive a verification email shortly.
There was a problem. Please refresh the page and try again.