A Young Man Proposed To His Girl While Taylor Swift Performed 'Love Story.' Now, The TikTok Is Going Viral
Could he have picked a sweet moment to pop the question?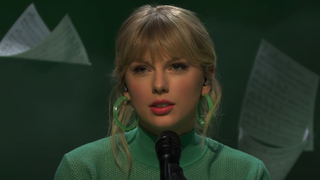 (Image credit: NBC)
Taylor Swift's Eras Tour is finally underway, much to the excitement of fans. Months after a wayward ticketing process, the tour kicked off in Glendale, Arizona where the superstar performed a whooping 44 songs to a sold-out stadium all weekend. One of those tracks was "Love Story" from her Fearless album. The lovely tune was a massive hit when it was released in 2008 and remains a fan favorite today. In fact, one fan connected with the song so deeply that he chose the moment to pop a very important question while it was performed at the concert, and it's now gone viral.
In a popular video that's been circulating TikTok, a young man decided to propose during Taylor Swift's performance of "Love Story." His girlfriend excitedly accepted the marriage proposal, and the two lovebirds went back to enjoying the concert. It was an adorable moment that was only made better by the fact that the Swifties around the couple all cheered when she said yes. You can check out the adorable video below:
The song probably means a lot to the couple, considering that the man chose that moment to ask such an important "Question...?" (Sorry, I couldn't resist.) The romantic tune is definitely fitting for the occasion, though, as it follows an infatuated young couple, who try to run away together. During the song's bridge, the Grammy winner sings about a romantic marriage proposal, during which her love interest professes his devotion to her. Those exact lyrics were playing when this recent proposal occurred, so the fan was clearly waiting for the exact moment to take a knee. You can't help but love his beautiful musical selection and, as a result of it, Taylor Swift is now cemented in their "Love Story" forever.
While it sits among Taylor Swift's most popular songs, it's also worth noting that "Love Story" was one of the first singles she dropped before truly skyrocketing to superstardom. It's also one of many musical selections that deftly shows off the singer's storytelling prowess (which will likely be showcased when Swift directs her first feature film.) The tune is also a staple of her country-girl Fearless era, which is one of the many being showcased amid her latest tour. The concert fittingly takes fans through the several musical "eras" of Swift's career, showcasing her evolution as an artist.
A surprise proposal isn't the only exciting moment from the Eras Tour this weekend. Laura Dern and Emma Stone both attended the concert and looked like they were having an absolute blast. The songstress also made the crowd go wild when she did the "Bejeweled" TikTok dance, which circulated on the app after the Grammy winner's Midnights album was released. The Ticketmaster fiasco was far from ideal, but it's sweet that fans who were able to score tickets can have such fun and sentimental moments during one of the shows.
Taylor Swift will be on tour throughout the summer. The tour is practically sold out, so fans who missed out can experience the magic of a Swift stadium performance in the concert film Taylor Swift Reputation Stadium Tour, which is streaming now for those with a Netflix subscription. For information on more upcoming projects hitting the streamer this year, make sure to check out our 2023 Netflix movie release schedule.
Your Daily Blend of Entertainment News
Writer, podcaster, CinemaBlend contributor, film and television nerd, enthusiastic person. Hoping to bring undying passion for storytelling to CinemaBlend.