Taylor Swift Did The Viral TikTok Bejeweled Dance During The Eras Tour, And Swifties Are Freaking Out
Best believe she's still bejeweled when she walks in the room.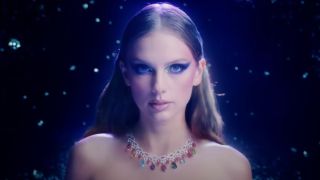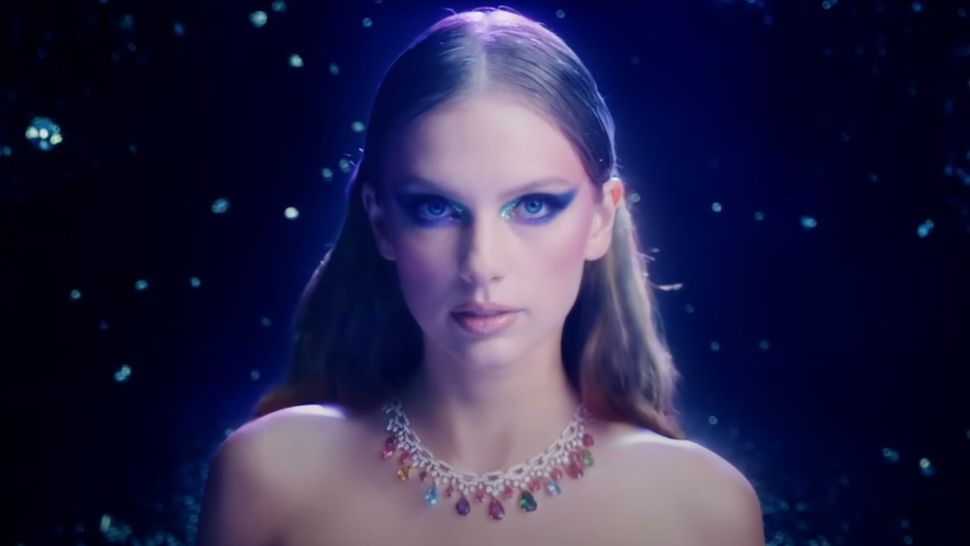 (Image credit: Republic Records)
Strut, turn, sparkle fingers. That's what makes up the "Bejeweled" dance, and when Midnights dropped, these three moves went viral, and the Swfties of TikTok were recreating them left and right. Well, now that Ms. Taylor Swift herself has officially kicked off her Eras Tour, she's decided to incorporate this viral choreography into her performance, and the fans are freaking out.
As Taylor Swift embarks on a tour that covers all her eras, she is giving audiences a glimpse into every album she's ever made, including her latest project Midnights. Her set includes hits from the album like "Anti-Hero" and "Bejeweled," and it was during this sparkly song that she and her dancers brought out the lovely little TikTok moves that took over the internet a few months ago.
This is only one video of the viral dance being done on stage, many people who managed to secure a ticket during the Ticketmaster fiasco, and attend the show in Glendale, Arizona also excitedly posted the short clip to their socials. However, in this one instance inbluejaywayy's video has well over 3 million views, so clearly Swifties are stoked about these viral moves being used in the Eras Tour.
The comments on the video reiterated this point as a few read:
I'M DEAD SHE SAW EVERYTHING WE DID ON TIKTOK!! -rachigi3
omg she really did it 😭😭 -ella (taylor's verserion)
✨ICONIC✨-Juana Sosa
Others took to Twitter to share their enthusiasm about the viral moves being done by Swift herself, like reputatio_n, who posted the video with an excited caption that read:
Amelie had a similar level of enthusiasm on Twitter, posting the video and this caption:
Just to make the excitement about this moment clearer, Katrina also tweeted about it in all caps, writing:
Others made sure to shout out Mikael Arellano, the person who created the dance after the Easter egg-laden "Bejeweled" video came out, posting comments like this one:
The TikToker also excitedly responded to the moment, posting about how he barely slept that night because he was so shook:
His reaction is priceless, and I think I'd have a similar freak out if one of the world's biggest pop stars did dance moves I made up. However, while I'm as shook as all the Swifties that the singer incorporated the choreo, upon reflection, I'm not all that surprised she used the moves, because how could she not want to do this extremely fun little dance? The woman is known for strutting down the stage, and Arellano gave her the perfect choreography to do just that during "Bejeweled," so she did.
Much like when the Wednesday dance went viral, and Lady Gaga recreated the popular moves, Taylor Swift doing this dance affirms how much she cares about her fans, and how aware she is of what Swifties are creating around her work online.
It seems like the Eras Tour had a wildly successful first show, and fans were overjoyed that they got to be transported through all of Taylor Swift's career. The cherry on top was the little Easter eggs along the way, like the fun viral TikTok dance that complimented the Midnight's hit.
As Swift continues her sold-out Eras Tour and prepares to release her upcoming projects, like the heavily teased Speak Now (Taylor's Version), I'm sure we'll be seeing the "Bejewled" dance over, and over again as the singer pays homage to her fan that created the iconic moves.
Your Daily Blend of Entertainment News
Riley Utley is a Weekend Editor at CinemaBlend. She spent many years working in local journalism across the country writing about art, news and sports. One of her favorite films is When Harry Met Sally and she walks around constantly quoting Ted Lasso.