Dead Or Alive Extreme 3 In VR Is Exactly As Wrong And NSFW As You Think It Is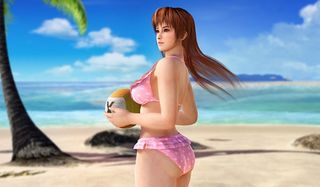 Well, we all knew that more "adult" moments in VR gaming would make an appearance and, so far, the VR mode in Dead or Alive Extreme 3 seems to be leading the charge. Obviously, this might not be the best thing to watch if anyone else is in the room. Consider yourself warned.
When Dead or Alive Extreme 3 arrives on PlayStation VR, it'll come with a mode that let's you (and I can't believe I'm saying this), get handsy with the game's scantily clad characters. The folks over at Gamenejp have a first look at the VR features in action, and they are every bit as upsetting as you might assume they would be.
Anyone who has read my reviews of games like Senran Kagura, Onechinbara and Akiba's Trip knows that I'm not one to just write off sensuality in video games as a bad thing. I believe there is a time and a place for it, so long as it's done with something resembling taste. A little fan service never hurt anybody.
What I'm having trouble wrapping my brain around, though, is a mode that is so clearly focused on letting players be the creepiest of creepers imaginable. Admiring the female form is one thing, but giving players the chance to fondle virtual vixens is, in my opinion, in very poor taste.
I probably wouldn't be taking this stance if the VR mode for DoAE3 just let you walk amongst the game's characters in a virtual setting. I mean, the game is 100 percent about women in bathing suits playing volleyball and taking part in goofy games. Maybe not my cup of tea but, as I was saying earlier, certainly the "time and place" for risque gameplay.
Where I draw the line, though, is this feature that lets you get right up in the characters' business and, using the PS4 controller, grab and slap their bodies to get plenty of jiggle physics and occasionally a worried reaction from the avatar. That last bit is the truly worrisome part of all of this. The VR avatars clearly don't want to be touched, and I'm not sure how that's considered all fine and dandy. No, I'm not saying the characters have feelings but, if this is just supposed to be a little lighthearted virtual slap and tickle, why do the reactions basically scream "sexual harassment?"
Again, not for me, but there's probably a way to go about this that's fun, sexy and not something that feels like a training simulation for future sex offenders.
What we're seeing here from DoAE3 needs to be discussed, and I hope folks will use our comments section to do exactly that. Just remember to keep it clean, respect one another, and we can all share our thoughts and talk about why this is or is not problematic. We'd be interested to hear your take.
Your Daily Blend of Entertainment News
Staff Writer for CinemaBlend.
Your Daily Blend of Entertainment News
Thank you for signing up to CinemaBlend. You will receive a verification email shortly.
There was a problem. Please refresh the page and try again.