How Gears Of War 4 Was Like Star Wars: The Force Awakens, According To Cliff Bleszinski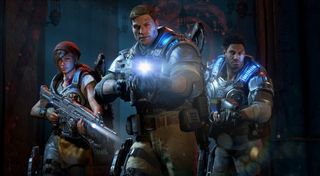 (Image credit: Microsoft)
Gears of War 4 is generally received well by die-hard fans and critics. Those who only occasionally dip their toe into the series weren't too impressed, but those who also worked on the series weren't entirely won over either... such as the original creator, Cliff Bleszinski.
Cliff Bleszinski, who is now working on Lawbreakers, managed to share some wisdom about Gears of War 4 and how it made him feel. Gamespot picked up the quote from the former front man at Epic Games, who explained....
There's a lot to unpack here, but first up... I never thought I would see Gears of War and Star Wars being compared to one another, but there you have it.
To be completely honest, Bleszinsky hits the nail on the head. Gear of War 4 looks good, and the story wasn't too bad, but the execution was the epitome of safe storytelling.
When you measure up the journey in the original Gears of War (and a bit of Gears of War 2) and compare it with Gears of War 4, you'll find that the hardships the characters go through are vastly different. Marcus starts his journey getting busted out of jail, and battles through an assault on the prison as helicopters crash down around him and the Locusts swarm him and his friend Dominic. The journey in the first game doesn't get any easier for the duo as they join Delta Squad, which grows and shrinks throughout the journey. This was also true for Gears of War 2.
For J.D. Fenix -- the son of Marcus Fenix -- the journey felt more like Ferris Bueller's Day Off with guns.
There were a few harrowing moments, particularly one scene in the village, but, beyond that, the story was relatively tame and the gameplay experience was equally safe. They added some new special weapons, but they didn't drastically add or change the gameplay experience.
Additionally, there weren't any standout moments that really put the characters in danger like Marcus and Dom when they encounter the Kryll, and the duo have to stay quiet and in the light to avoid being eaten alive; or when Delta Squad first met General Raam and were being hunted down in the streets like dogs; or when they were being chased through the abandoned buildings by a Berserker. There was also a lack of desperation in Gears 4, like when the Assault Derricks get overrun by the Locusts, led by Skorge, in Gears of War 2.
Bleszinski is definitely right that the game gets some things right but could have gone a little deeper, a little darker, to make it feel like J.D., and his friends had to really earn that victory. Some gamers in the comment section feel as if Gears of War needs a little bit of reinvention to help kickstart interest in the series again. While it received a lot of middling-to-positive feedback and critical review scores, it wasn't like Gears of War 4 was really setting the gaming world on fire the way the original trilogy did so many years ago.
The Coalition, of course, stepped into some really big shoes and they'll likely need time to get acquainted with the series and the characters before we see them really try something wild and crazy with Gears of War.
Your Daily Blend of Entertainment News
Staff Writer at CinemaBlend.