Bloodborne Creator Says Weapon System Is Just As Diverse As Dark Souls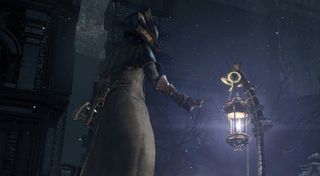 Bloodborne is prepping to launch on March 24th in just a few days and Sony has been going over and beyond to promote the game with everything they've got before the launch date finally hits, including spilling the details on the weapon system and customization features.
In a recent interview that the PlayStation blog conducted with From Software's Hidetaka Miyazaki, the creator behind Bloodborne, the topic of weapon diversity and weapon count entered the discussion. According to Miyazaki, Bloodborne doesn't have as many physical weapons as Dark Souls but the game will make up for it with the weapon customization and the weapon extension system, saying...
The Blood Gems and weapon extension system was detailed recently in a trailer for Bloodborne that you can check out right here.
Basically, as players go through the funky Gothic town killing monsters and spilling blood like it's nobody's business, they can collect the Blood Echoes from the fallen foes and use it as currency to buy items. However later on in the game you'll come across the other form of currency known as Blood Gems that Mizaki mentions. These Gems can be used to upgrade weapons in the rest zone known as the Hunter's Dream.
Players can use the Echoes to upgrade their hunter or purchase goods or they can use the Gems to upgrade their weapons.
According to Miyazaki, Bloodborne's weapon upgrading system enables players with more weapons choices than Dark Souls due to the customization variety. Hence, being able to add more stamina or power to a weapon will have it vary greatly in battle, extending the game's replay and gameplay depth. Miyazaki states...
I don't know how well that's going to work out. Customizing weapons can sometimes work as a great way to placate engagement over the stockpiling of weapons, but at the same time there's that whole search-and-grind element to finding new and rare weapons that you don't quite get from a set series of weapons that you can only upgrade. For instance, one of the things that makes Call of Duty: Advanced Warfare as addictive as it is is due to all the new weapons and weapon customization features players can unlock and earn. There's always a reason to play and always a reason to seek out the goods, the same as Skyrim or Kingdoms of Amalur.
Whether or not Bloodborne can retain the same level of love and replayability as its multiplatform relative, Dark Souls, remains to be seen but we'll definitely find out come March 24th when the game releases exclusively for the PS4.
Staff Writer at CinemaBlend.
Your Daily Blend of Entertainment News
Thank you for signing up to CinemaBlend. You will receive a verification email shortly.
There was a problem. Please refresh the page and try again.