DDR Discovers Arms As Gameplay Component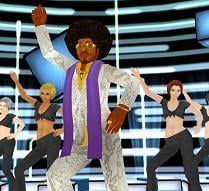 Thanks to the Wii's motion sensing capabilities, Dance Dance Revolution: Hottest Party is unleashing its latest technological innovation – your arms. It turns out that in addition to using their legs, funky, soul-laden freaks have long used their arms while enraptured within the art of dancing. Now, you too will finally be able to get down with your whole body (and maybe your soul too) as you dance along to tracks like 99 Red Balloons, Disco Inferno, and Hot Stuff. Though how you might actually look while accomplishing this is another story…
Those of you who are lifelong fans of DDR and have always felt there was something missing, are unlikely to be disappointed by Dance Dance Revolution: Hottest Party. But if you're like me, you might be left wishing DDR would do something to fix the real problem plaguing the series – a relentless influx of powerfully lame J-pop songs that invariably make you feel like a tool "dancing" to them. Don't be shy Konami, popular music worked for Guitar Hero, and it can work for DDR too. Is it too much to ask for a little mainstream hip-hop? Possibly something other than Captain Jack?
Your Daily Blend of Entertainment News
Thank you for signing up to CinemaBlend. You will receive a verification email shortly.
There was a problem. Please refresh the page and try again.