Need For Speed World Goes Free-To-Play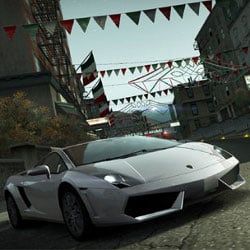 EA is changing the payment model for their MMO racer Need for Speed World. The new payment model is as follows: you don't have to pay anything.
"We've listened to the comments from our community and we've decided to make a change," says a dev post on the NFS World website. "Previously, gamers who didn't buy the Starter Pack were unable to progress past Level 10. Beginning today, anyone will be able to race all the way through to Level 50 and will have full access to the entire World, all Events and Game Modes, both present and future."
Naturally, those of you who bought the Starter Pack might feel a bit screwed. To ease the pain, EA's giving you three free 7-day car rental vouchers for the BMW M3 GTR, the Lamborghini Gallardo LP560-4 and the Audi R8 4.2 FSI Quattro.
Staff Writer at CinemaBlend.
Your Daily Blend of Entertainment News
Thank you for signing up to CinemaBlend. You will receive a verification email shortly.
There was a problem. Please refresh the page and try again.