Obsidian's South Park Game Gets Named, New Screens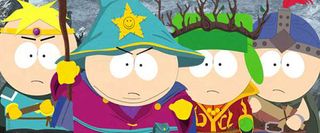 Previously entitled simply South Park: The Game, the forthcoming Obsidian-developed role-playing game's proper name has been outed via a listing on Xbox.com.
South Park: The Stick of Truth is the official name of the title, which is being published by THQ. The listing delivers a brief summary of the RPG: "From the perilous battlefields of the fourth-grade playground, a young hero will rise, destined to be South Park's savior. From the creators of South Park, Trey Parker and Matt Stone, comes an epic quest to become... cool. Introducing South Park: The Stick of Truth."
On the listing, offline cooperative play is mentioned. However, online play won't be present in the game. Downloadable content packs, meanwhile, are planned. New screenshots have also surfaced in the Xbox Live Marketplace listing, as seen below.
The listing pegs South Park: The Stick of Truth as a May 5th release, but that's obviously not correct. A late 2012/early 2013 launch, however, is a more realistic launch period, given that THQ has decided to delay the game's release until the design team has finished up nice and neat and given it a nice coat of polish.
Image 1 of 6
Image 2 of 6
Image 3 of 6
Image 4 of 6
Image 5 of 6
Image 6 of 6
Your Daily Blend of Entertainment News
Thank you for signing up to CinemaBlend. You will receive a verification email shortly.
There was a problem. Please refresh the page and try again.